In response to a survey made on this website asking what people give the highest priority to when choosing a watch, a great many people, regardless of gender, answered "design." Yet, many users seem perplexed about what specific aspects they should consider when choosing designs. So, in this volume, three designers from the Design Center Department at Seiko Watch Corporation—Shinji Sato, Gaku Komatsu, and Wakaba Hayashi—provide advice on "the basics of watch design" and "tips for choosing watches" to assist those who find it difficult. (July 16, 2020)
Are the directions of designs determined
by the shape of the watch and the indexes on the dial?
Sato: For this volume, the by Seiko watch design website conducted a survey of 1,000 people regarding watches. Based on the results, I would like to discuss watch design together with two young, fellow designers.
Hayashi: It's my pleasure. In response to the question, "What is the point that you give the highest priority to when choosing a watch," the most common answer was "design."
Komatsu: That's great to hear for watch designers.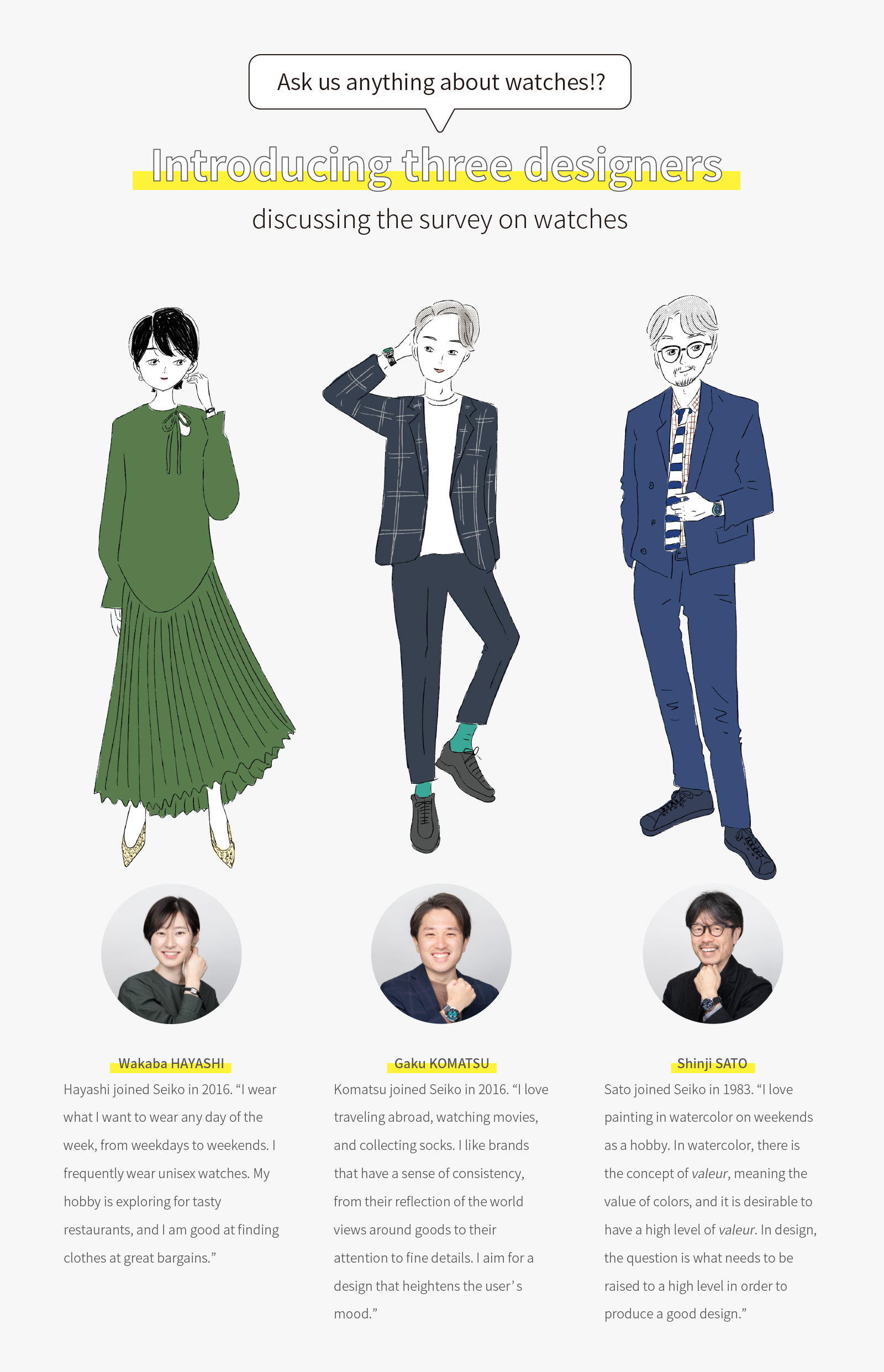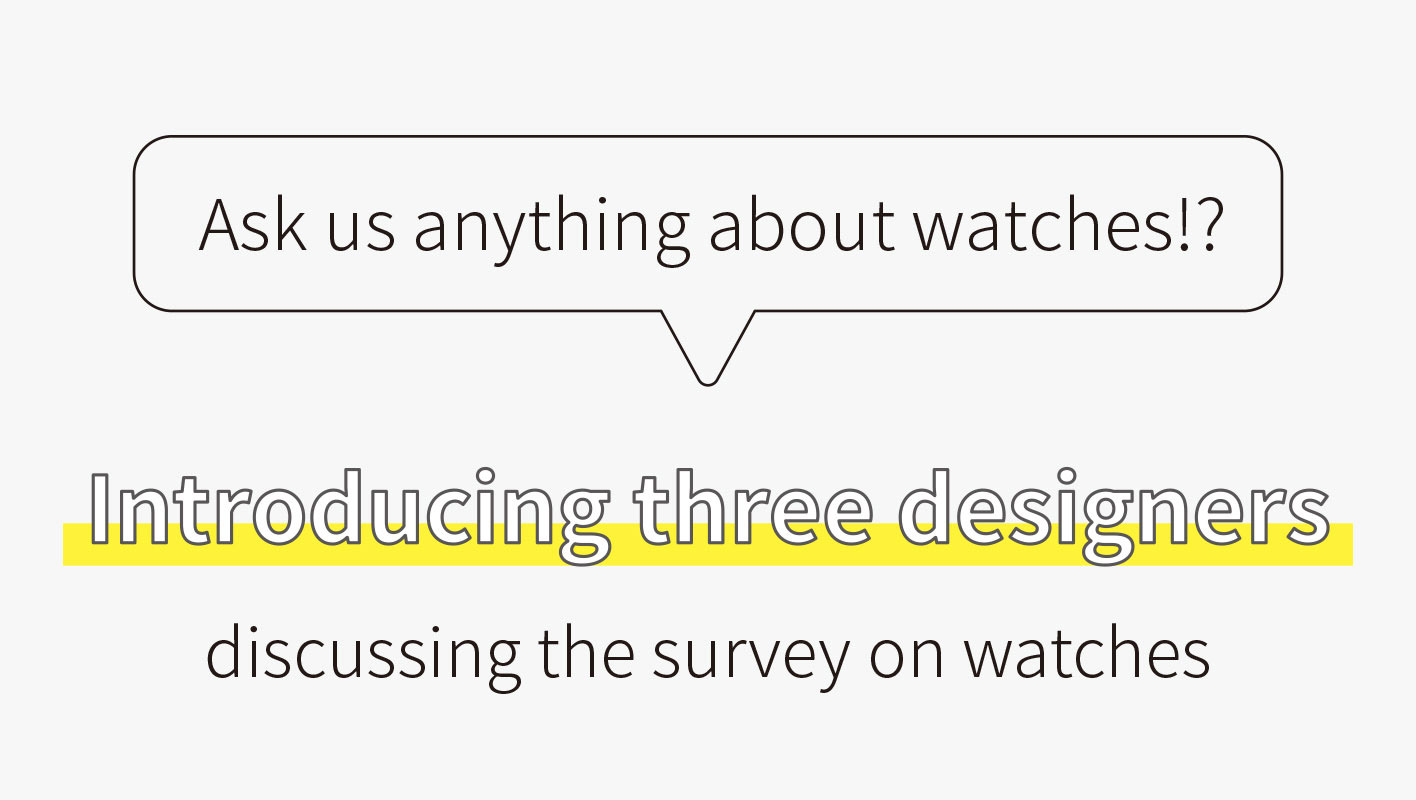 Sato: So today, we will examine watch designs, starting from the basics, with the intent of helping people become more familiar with watch designs that anyone would be interested in.
Komatsu: The deeper your understanding of design, the more fun choosing watches becomes.
Sato: Starting from the most basic elements, watch shapes are largely divided into two main types: round and square. There is also the tonneau shape, but it is really just one of the square types.
Komatsu: Comparing those two, I think the square types tend to be more "unique" designs.
Hayashi: Yes, I agree.
Komatsu: To begin with, we first had the development of the round pocket watch, which evolved into the wristwatch, and then designers began to explore unique designs. In the process of that evolution, the square designs emerged.
Hayashi: Considering legibility and utility, a round shape makes sense, but then deliberately choosing a square design shows uniqueness. The premise is that people will notice your style. Which is to say, these watches tend very much to be dress watches.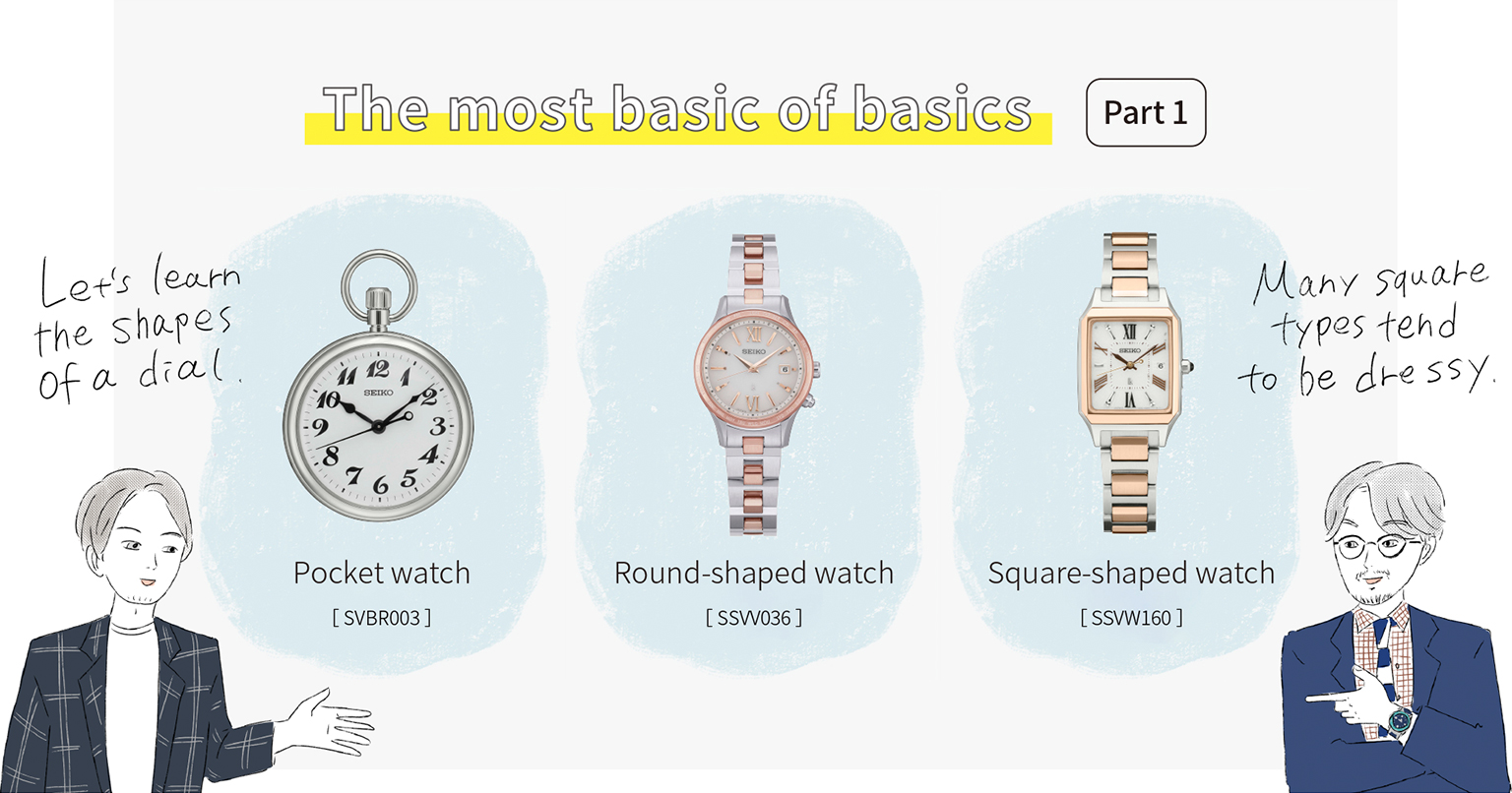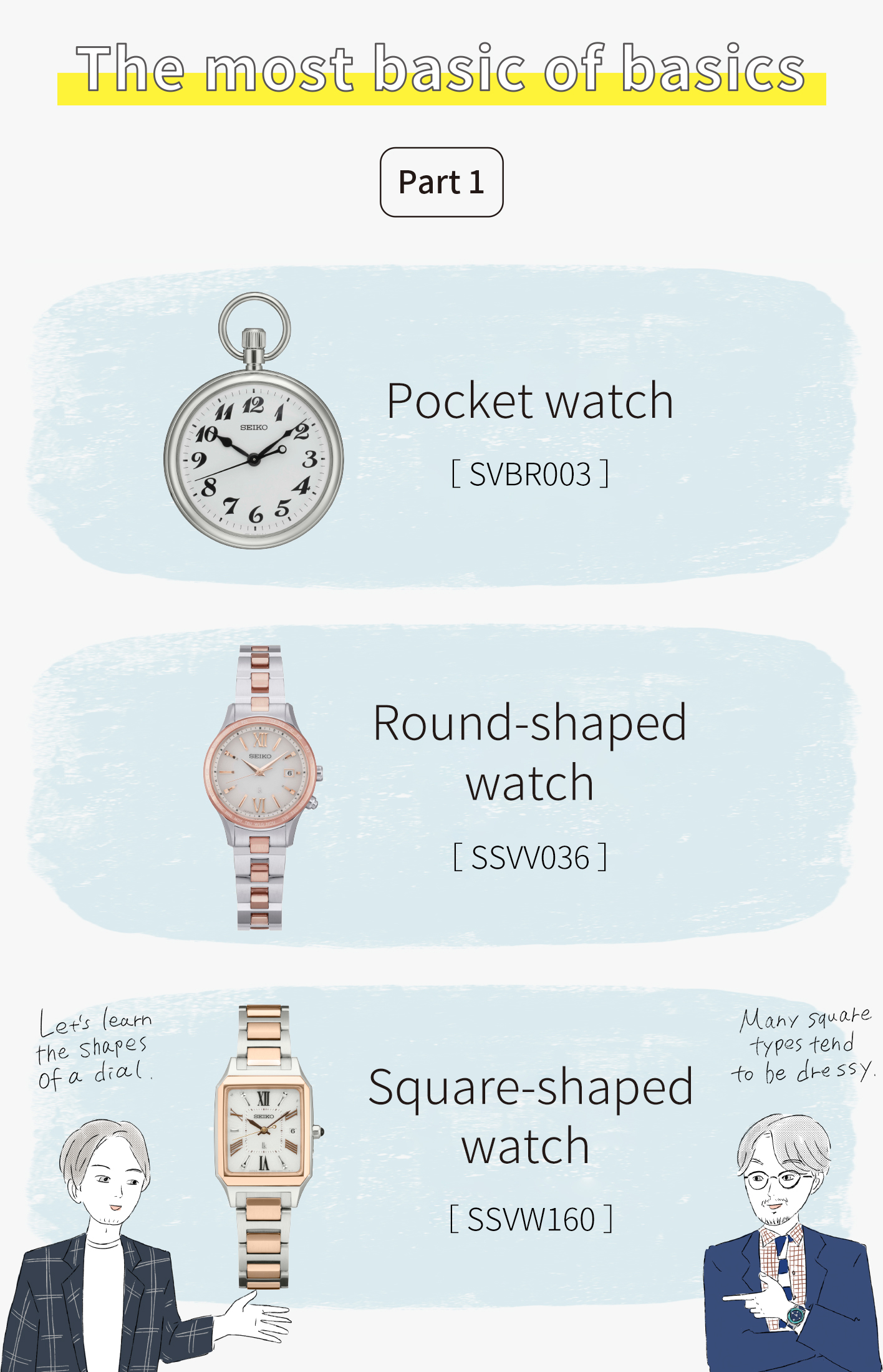 Sato: The numerals on the dials are also broadly classified as three types. The first is Roman, the second is Arabic, and the third is not numerals but bar indexes.
Komatsu: If you are looking for functionality, then Arabic numerals are best, since they are easy to read at a glance. They create the image of a measuring instrument and lend themselves to sporty designs.
Hayashi: In contrast, Roman numerals create a feeling of good old-fashioned watches. When imagining a classical watch, a tonneau shaped watch with Roman numerals comes to mind first.
Sato: That's right. Aside from the other elements, if the indexes are Roman numerals, then the watch gives off a dressy aura to some extent. Are bar indexes classical or sporty? It's hard to say.
Hayashi: Hmmm. Compared with Arabic and Roman numerals, it could be said that bar indexes don't interfere with other design elements. Also, bar indexes fit well when the dial is small.
Komatsu: This is a bit of a curve ball, but when looking at this model from the Brightz brand (SAGZ097) for example, the indexes are not all Roman numerals but are combined with bar indexes, giving it a modern look. So we see there are also combinations like this.
Hayashi: That's true. In the case of this model, if all the indexes were Roman numerals, it might be excessive.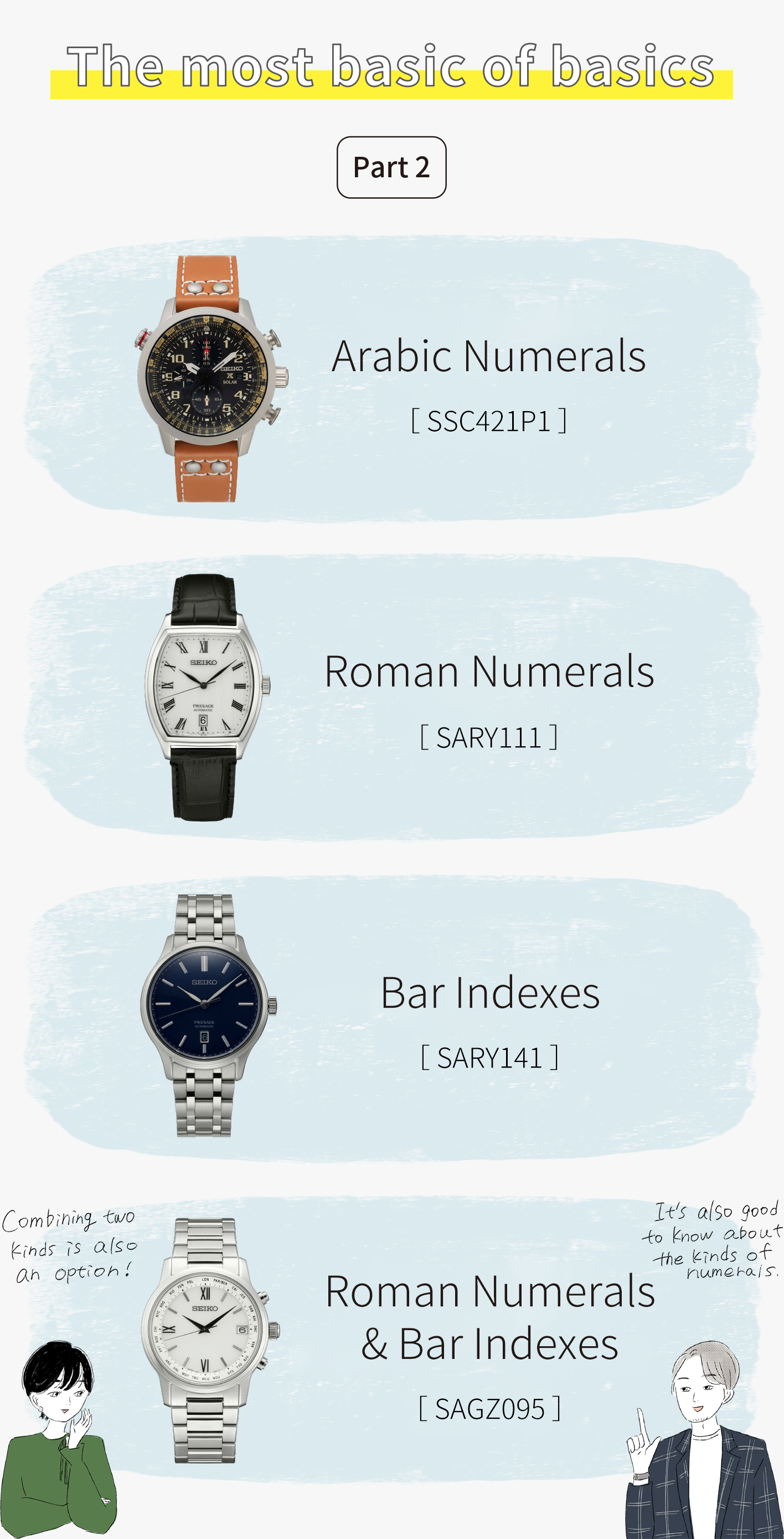 Sato: Just like this, when purchasing a watch, if you have an image in mind of what kind of situation you want to use it in, and if you keep in mind which type of dial would suit that situation—one with Roman numerals, Arabic numerals, or bar indexes—it may be a useful reference for making your choice.
To new recruits;
How would you like these kinds of watches?
Sato: From now, we would like to give some advice on what kinds of watches particular types of people should buy, mixed a little with our own dogmatic opinions. Firstly, here's Mr. A, who is a new recruit.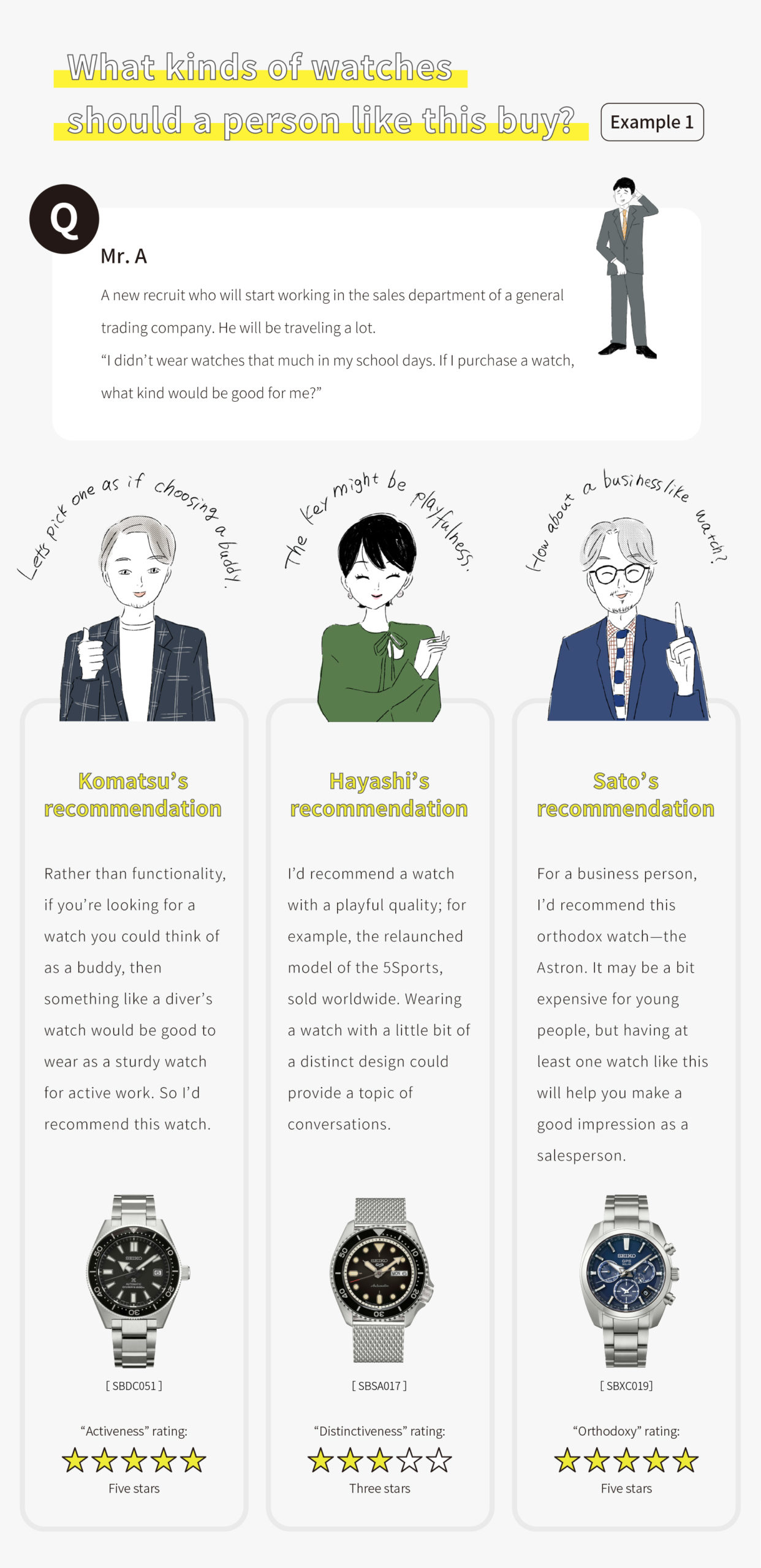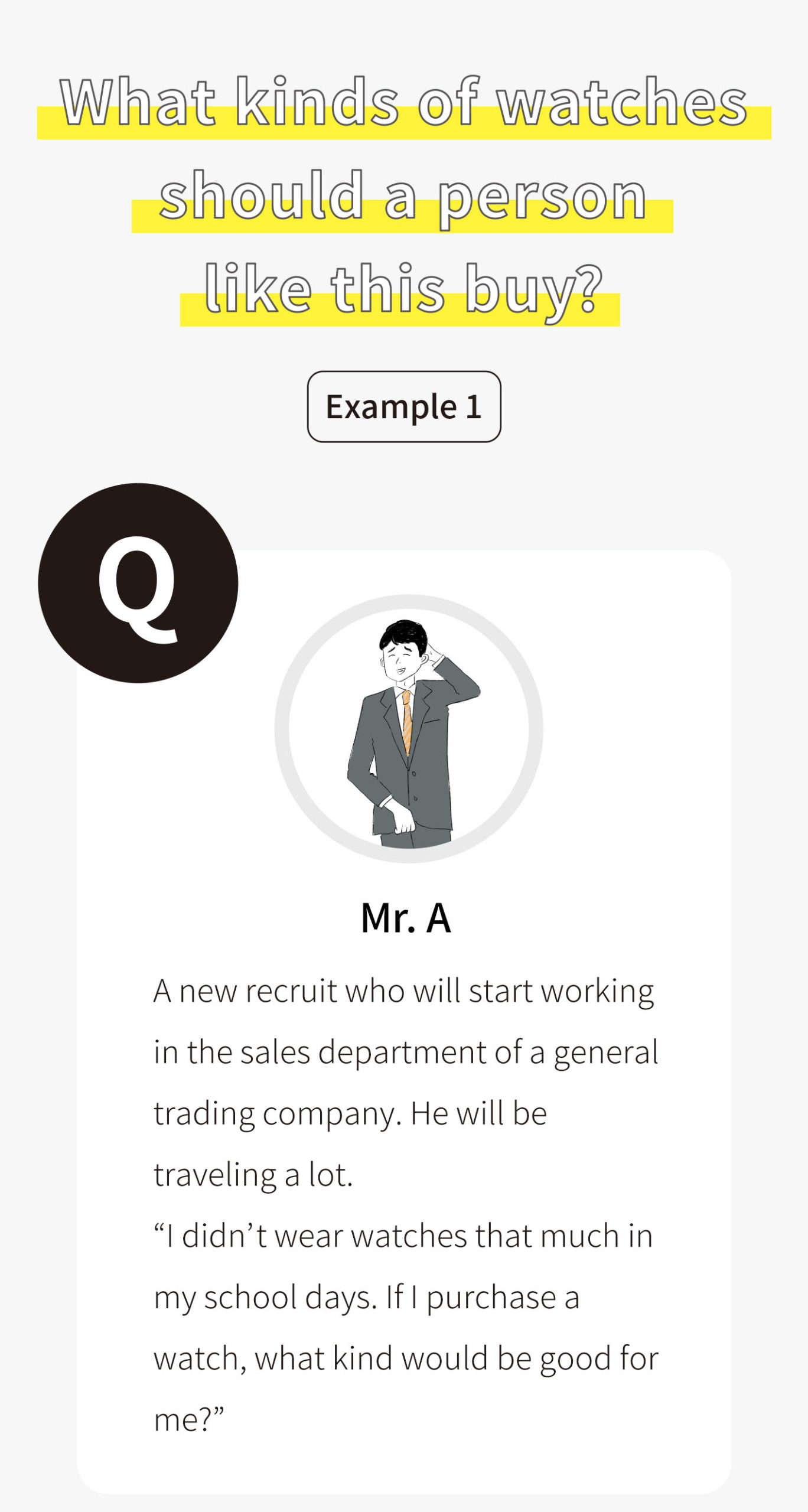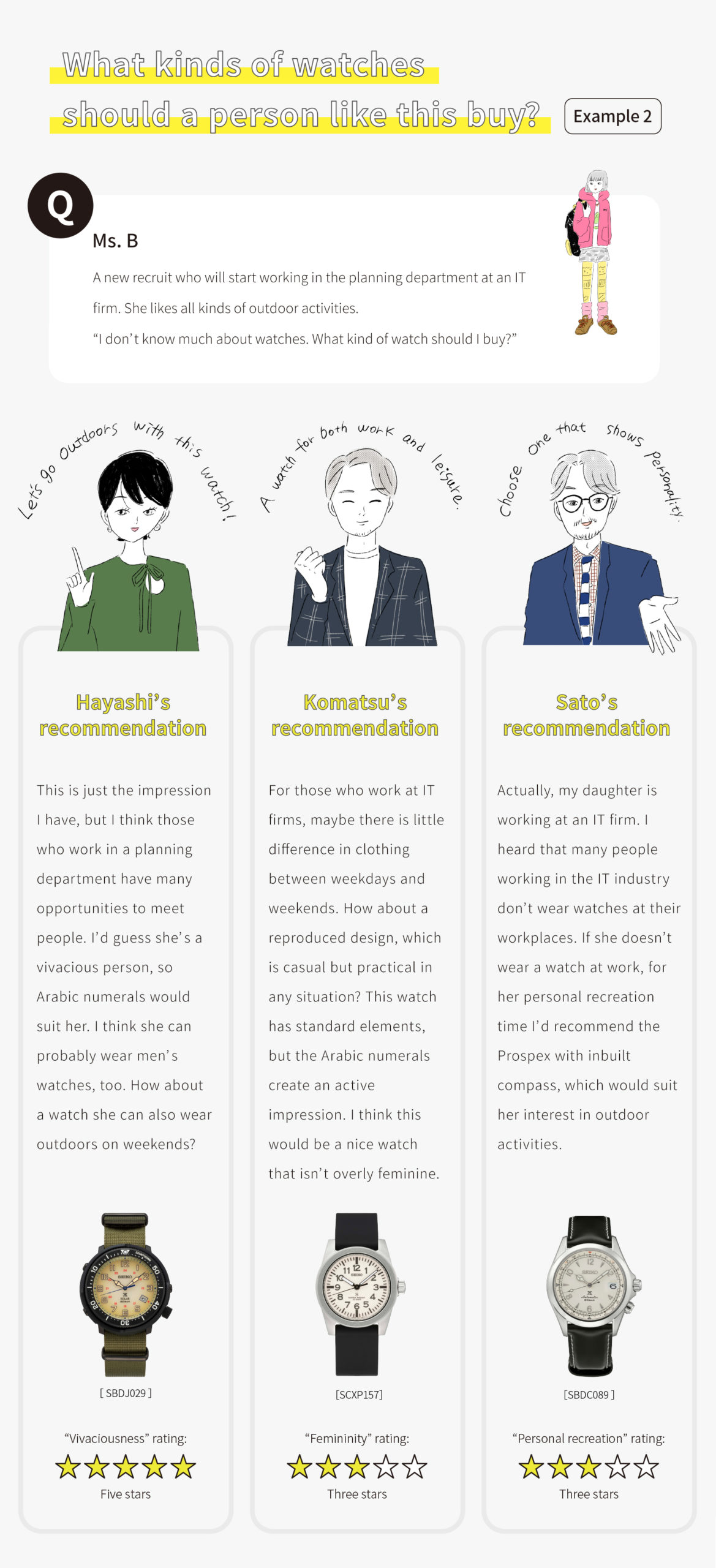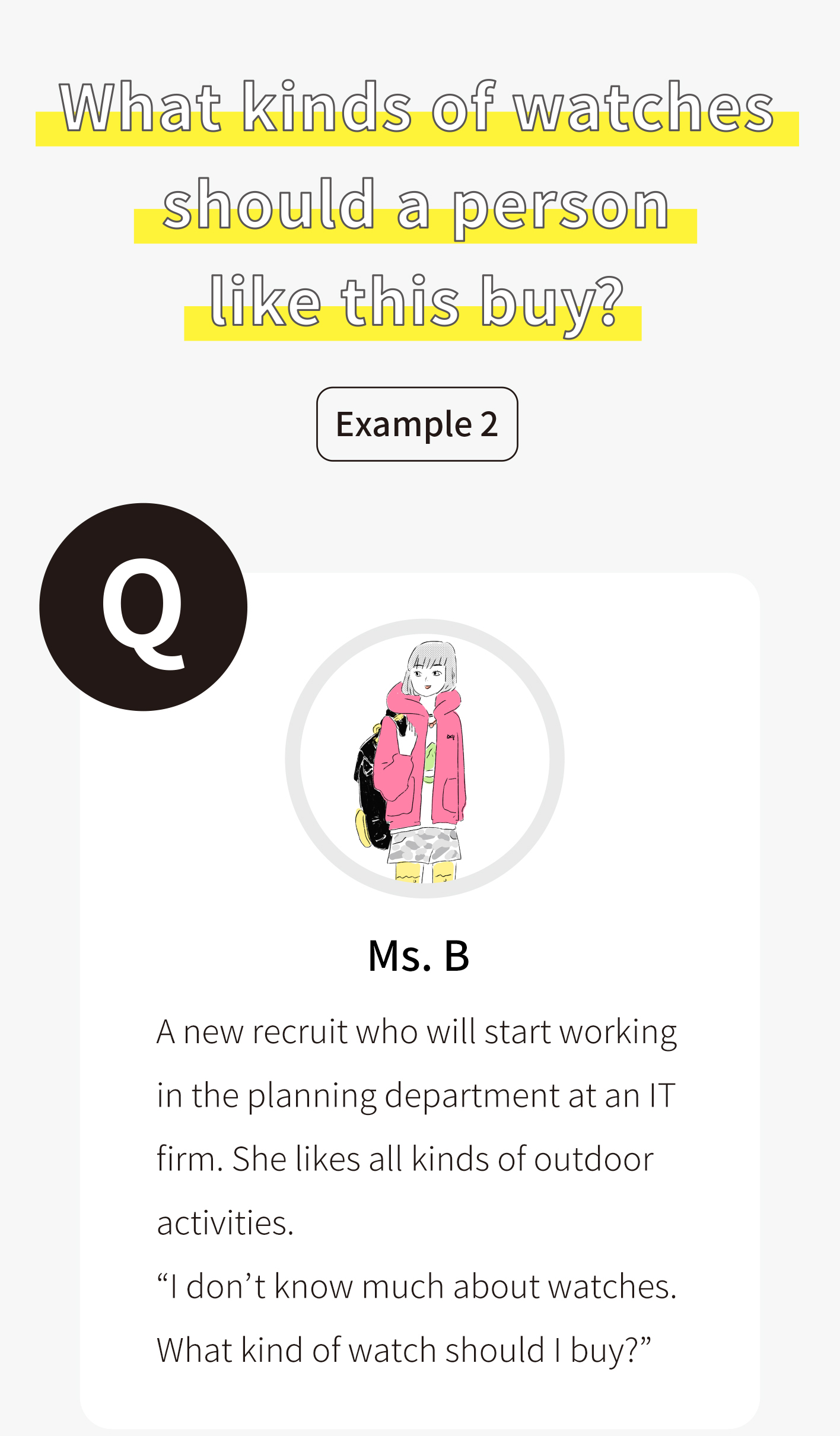 Komatsu: Since Ms. B likes going outdoors, all three of us chose watches with somewhat masculine designs.
Hayashi: There are many watches that fit fashions for active situations, so I would like people like Ms. B to check out not only women's watches but also men's and boys-size watches.
Failproof selection of watches.
What is the most important point?
Sato: As opinions vary quite a bit even among designers, there is no "this is the one!" kind of answer for choosing watches. But there may be some points that we should at least keep in mind.
Hayashi: This is my personal opinion, but compared with women, I feel that men are more likely to choose watches without questioning whether the watches look good on them.
Komatsu: That's the situation where you purchase a watch just from looking at it, but when you actually wear it, it doesn't feel right. On the other hand, there is also the case where you mistakenly assume that a particular watch wouldn't suit you even though it actually would. I want everybody to try on many watches first. Some people may think that they have to buy a watch after a try-on, but that's not true.
Hayashi: Salesclerks don't care about that at all. Try-on is an important point. As you try on various kinds of watches, you will begin to see what kinds of watches look good on you.
Sato: I strongly recommend visiting stores wearing the clothes you want to wear with the watch and check yourself trying on watches in a mirror. When you actually put them on, you may discover that an unexpected design suits you well.
Komatsu: By the way, I personally care about coordinating watches with socks and match them in similar colors. I own about 50 pairs of socks, and I enjoy matching the color of my socks with the overall color or accent color of my watches, according to how I feel on that day.
Sato: That's really something! I suppose that's more a matter of coordination than selecting watches. This is very important. I've never heard of coordinating watches and socks before, though.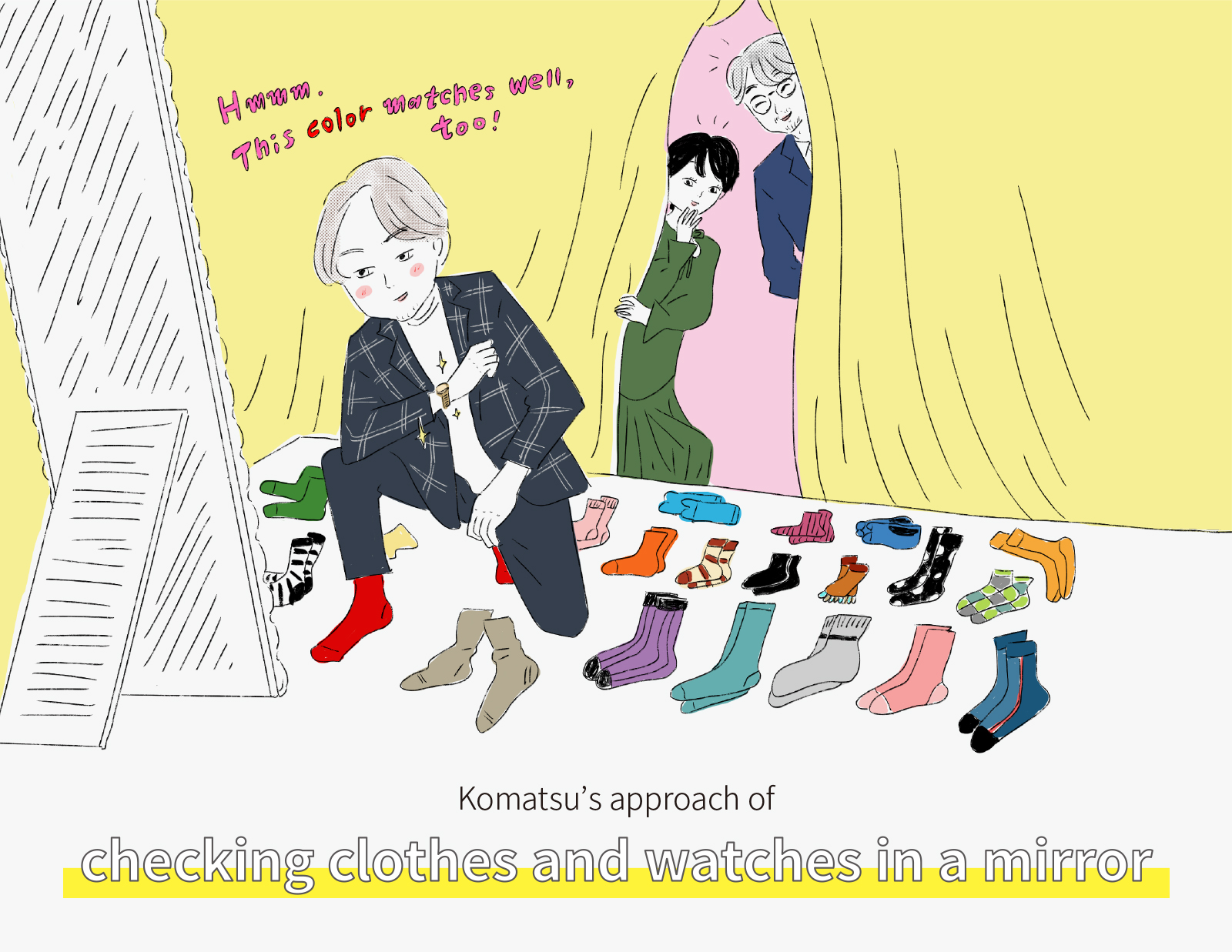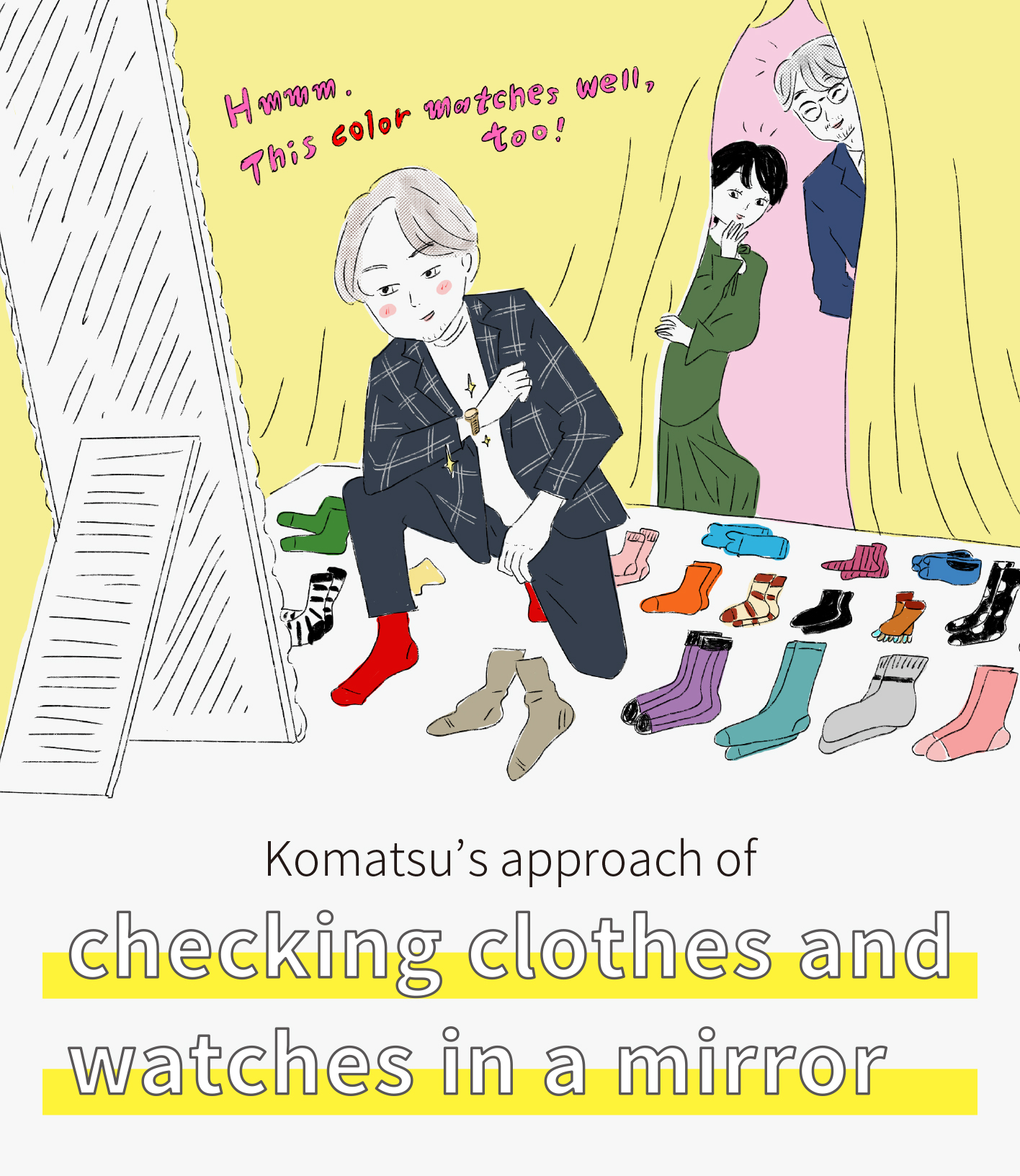 Sato: Since I usually wear glasses, I'm conscious of their coordination with the materials and colors of a watch.
Hayashi: In my case, when I change my hairstyle, I become conscious about clothes that fit the hairstyle. And changing clothes means a change in the watches that suit my look. So, that kind of chain reaction occurs, too.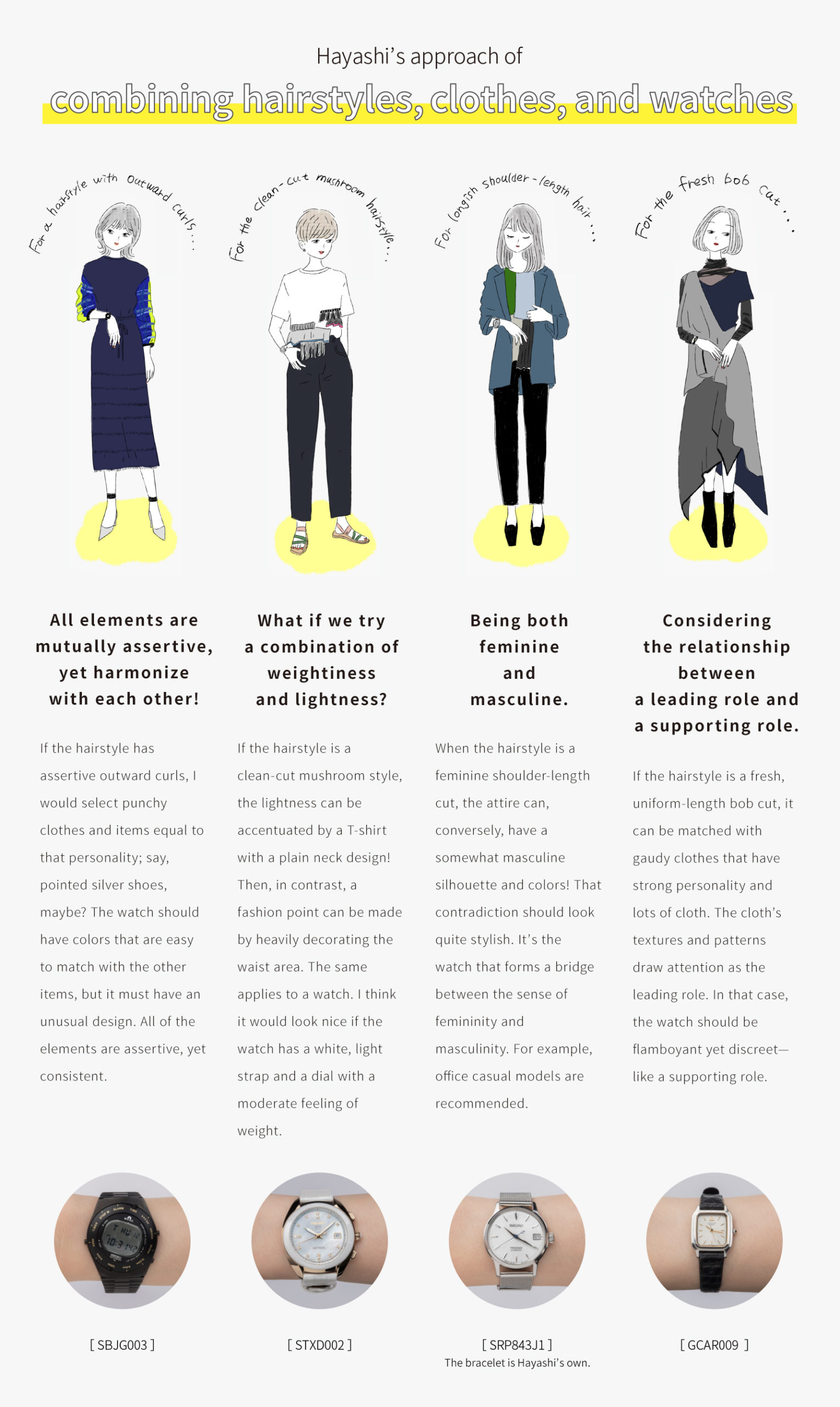 Sato: Today we talked a little bit about how to choose a watch that suits you, based on our perspectives as designers. There are various other elements: band materials, the colors of dials, functions, etc. I would be delighted if this article becomes the impetus for our readers to start looking at and trying on a wide range of watches. There are watches to suit each and every person.
Hayashi: I couldn't agree more. I think not only those who work in the design industry like us, but a lot of people in general observe the watches worn by others. I would like everybody to have fun finding a watch that suites their style and personality.