While a watch is a useful tool for keeping track of time, it's also an important fashion item that communicates the wearer's personality and sensibility. As an extension of this fact, there is one element that no one can be indifferent to: whether the wearer is romantically attractive or not. For this volume, we conducted a survey of women working in various kinds of jobs, regarding "men's watches and their appeal." Picking up on some unique answers, Shinji Sato and Makiko Handa from our Design Center Department discuss the relationship between watch design and romantic attraction from their respective points of view. (March 11, 2019)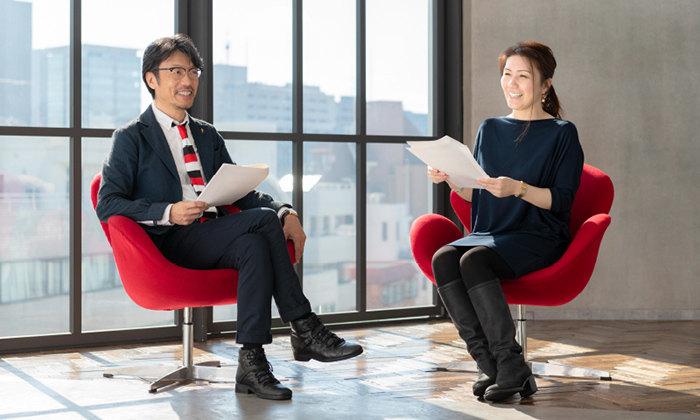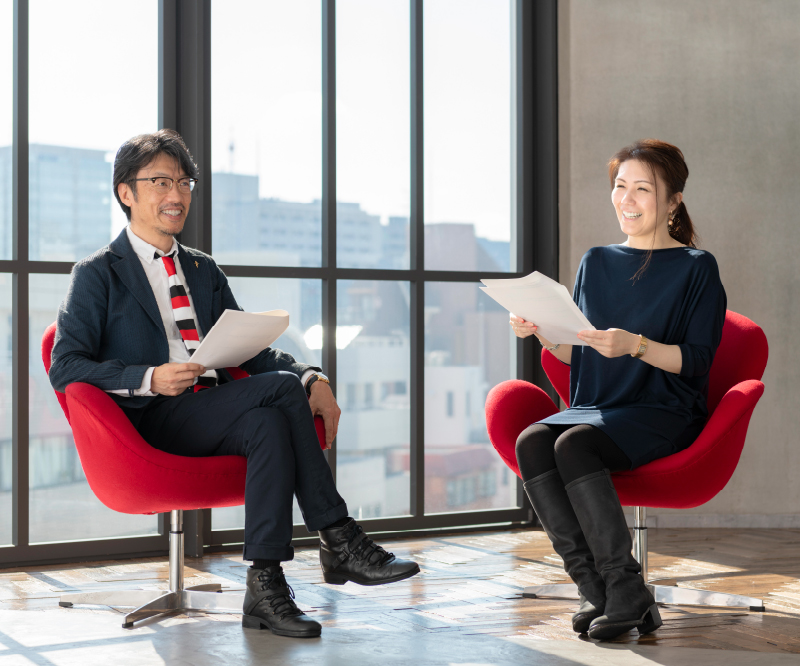 Shinji SATO
Sato joined Seiko in 1983 and has experienced Italian culture through his time in Italy as a representative at the Milan Representative Office. Having worked as a design general manager, he now oversees the overall design direction. The Kinetic Chronograph (9T82) is typical of the watches he has designed.

Makiko HANDA
Handa joined Seiko in 2002 after working for jewelry and watch band makers. Although she is a design team leader of watches destined for the North American markets, she designs a wide variety of watches, including Japanese domestic watches such as LUKIA and watches for international markets.
Women check men's watches. Designers even observe them.
Sato: We designers don't necessarily design watches with a view to whether they will affect wearer's romantic attractiveness.
Handa: But a watch can be a clue to help you know a little more about the wearer, so we can say that a watch is inseparably linked to romantic attraction.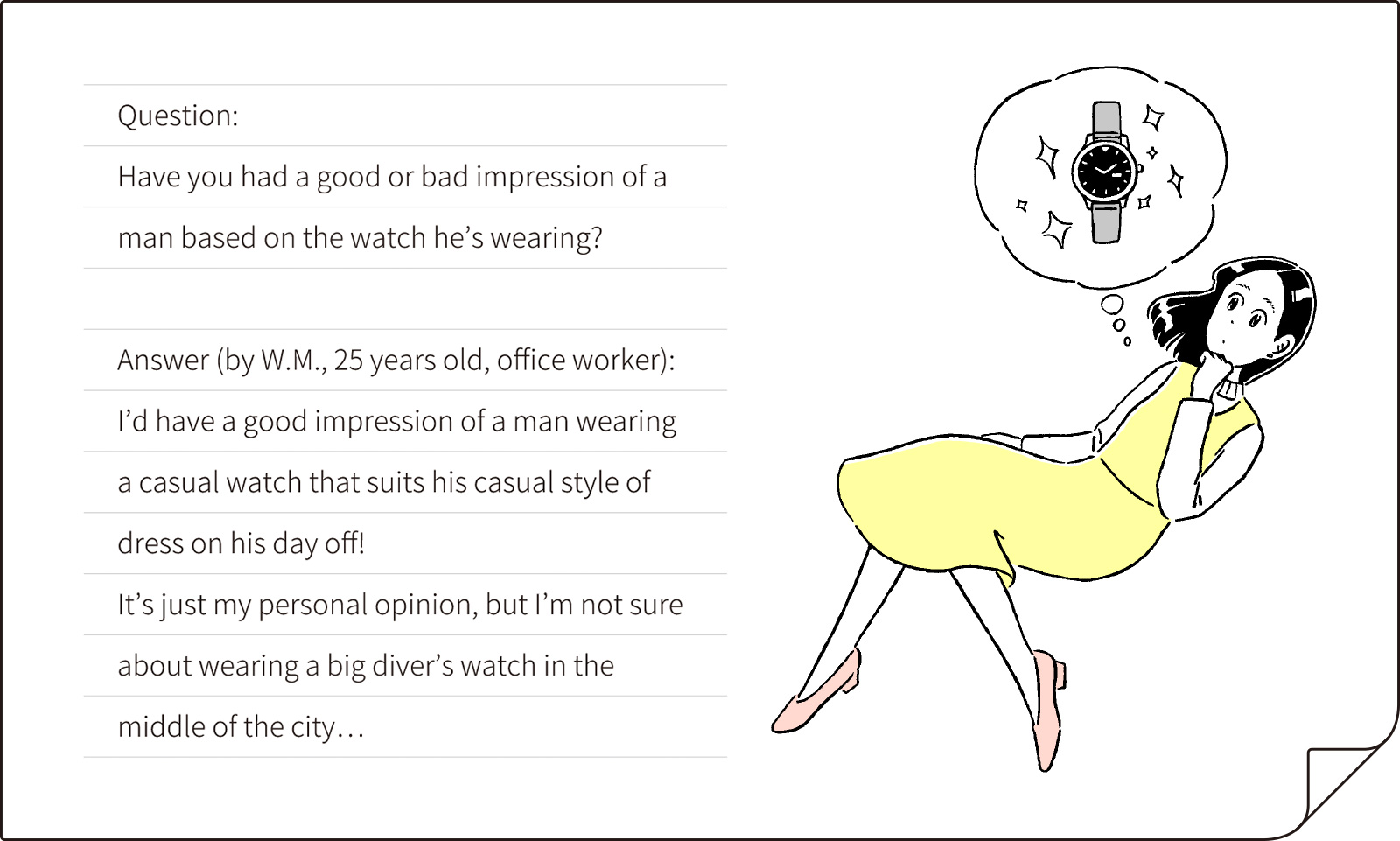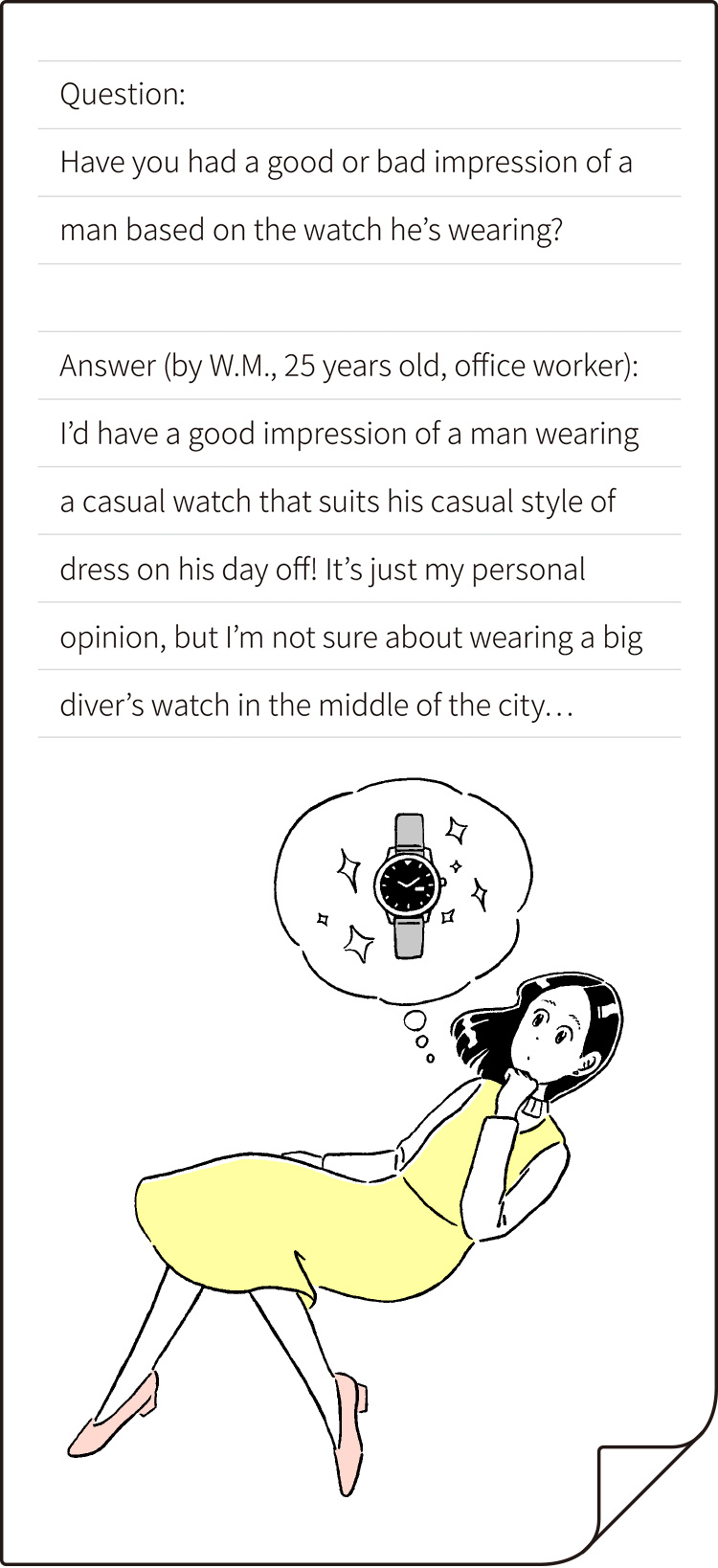 Handa: That makes sense. I understand that "not on this occasion" kind of feeling. It seems like such a watch would be inappropriate for the setting.
Sato: When I come across a man wearing a professional diver's watch in the city, I would only think "ah, he really likes diver's watches." I suppose women's perspectives might be more critical in many ways when it comes to men's watches.
Handa: That may be true. Women check men's watches frequently. Because of my job as a watch designer I can't help looking at watches even in the city. I sometimes find combinations of watches and attire a bit disappointing.
Sato: I guess you have a point. A professional diver's watch with a long polyurethane band in particular doesn't go well with a shirt. The watch doesn't fit under the shirt cuff and the excess band will be dangling, which doesn't look cool. That said, I don't feel bad that the wearer loves the watch that much.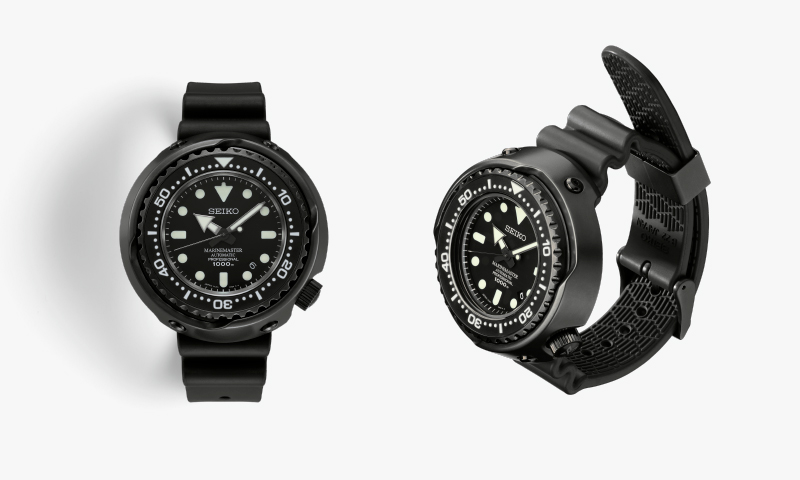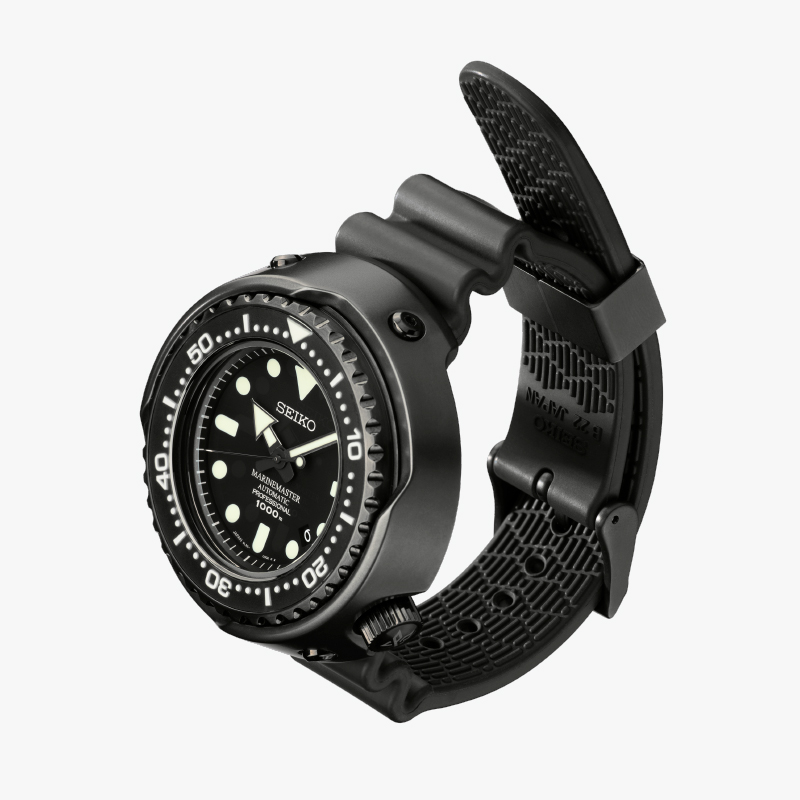 Handa: Recently we've been producing watches for urban use which inherit the diver's watch design.
Sato: Right. For example, this Prospex (SBDL035) has a metal bracelet, not polyurethane. It's compact, too. Unlike a professional diver's watch, we can wear this simply as a sporty watch in the diver's watch style in the city without discomfort. If you want a more casual feel, a watch with a gold case and a nylon band (SBDJ028) would suit urban use.
Handa: The women who answered this survey might rather have a good impression of this type of watch.
Sato: In addition, although we talk about a watch for the city, it depends on the situation. For instance, a diver's watch peeping out from the wrist of a man driving an SUV will give a sporty impression and is not bad at all. But I think with a business suit, a bulky diver's watch won't fit.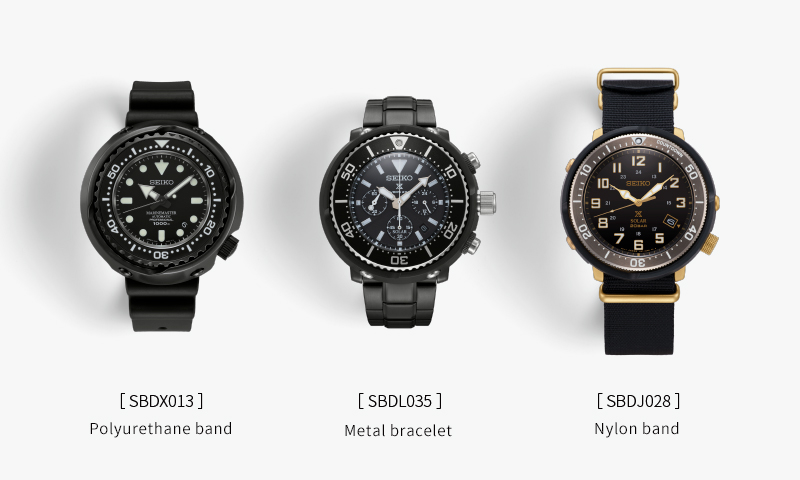 If an adult male was going to have three watches, what kind should they be?
Sato: The answer to this question suggests "I'd have a good impression of a man wearing a casual watch suited to his casual style of dress on his days off." From a woman's perspective, what kind of watches—including but not limited to casual watches—would give you a good impression?
Handa: Well, it's hard to say "this is the one." I'd like them to choose a watch according to the time, place, and occasion—or their mood. Having at least three different types of watch would be great, even though my ideal is five. For instance, the first watch could be this Presage with a white enamel dial (SARW035). The Roman numerals and enamel dial of this watch exude calmness and mellowness, so it can be used to bring harmony to a meeting or for desk work. Next is a Grand Seiko (SBGE209) for work—but especially when you want to test your mettle in an important situation. I believe this watch's bold hands and indexes uplift the spirits and exude confidence and success.
Sato: You mean, two out of three watches are for work?
Handa: We spend more time wearing a watch at work than that on our days off. Women glance at someone's watch at the office, too, so it's cool to have the leeway to wear different kinds of watches depending on the mood or situation. And the third watch can be this kind of playful model (SSC667P9) for a day off. This may be just my taste, but this kind of gap is attractive.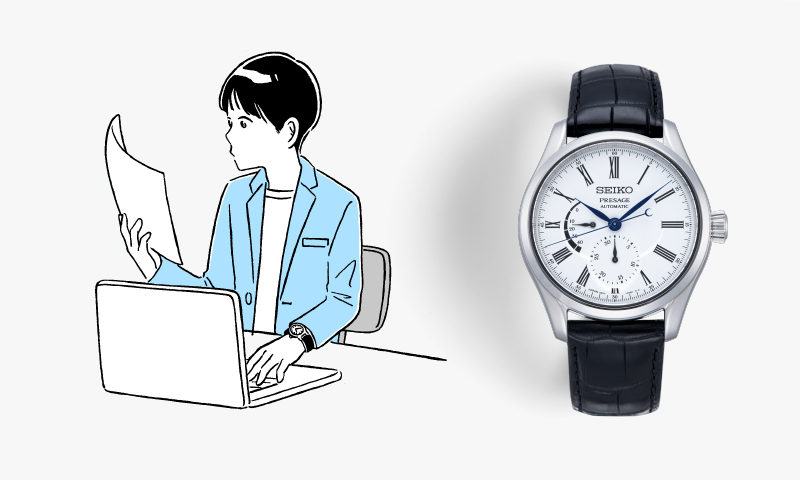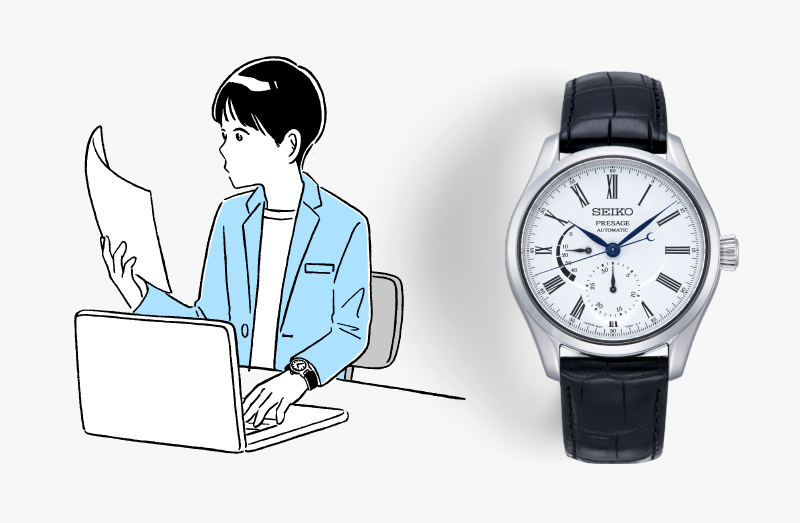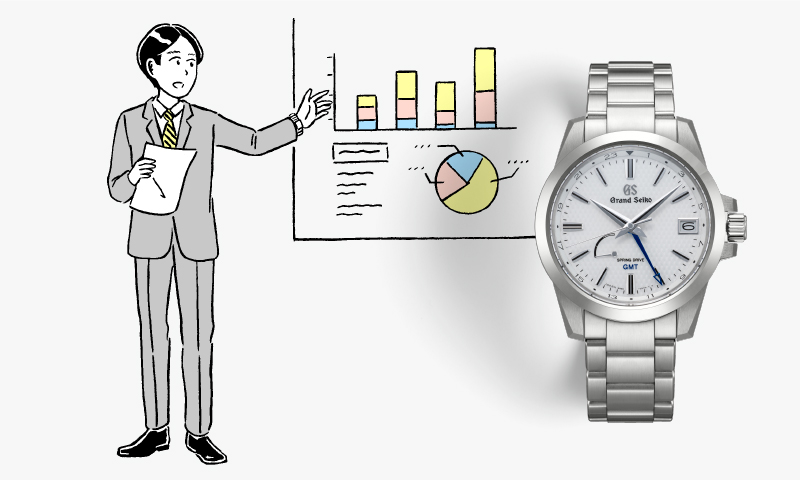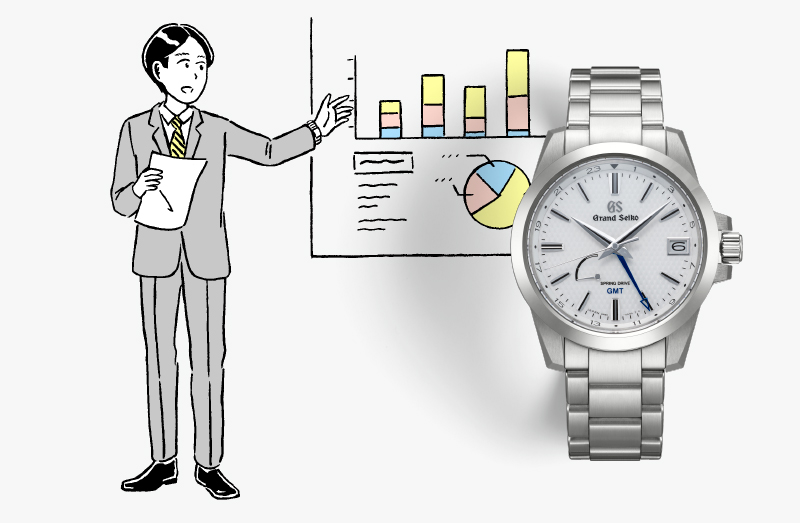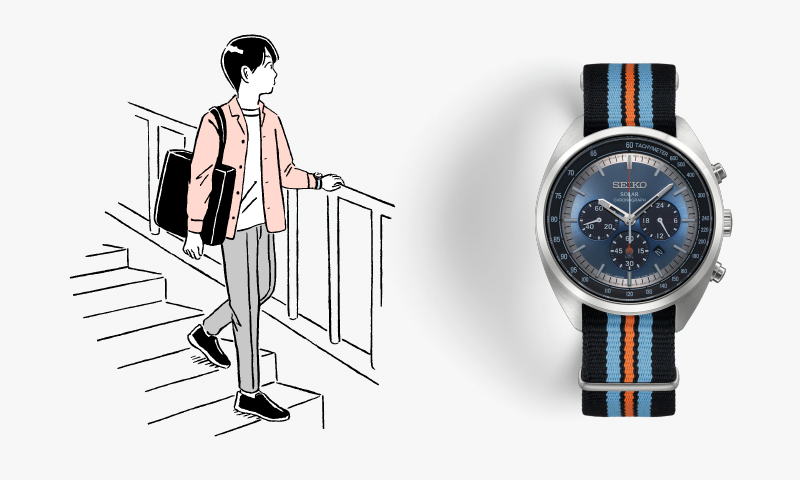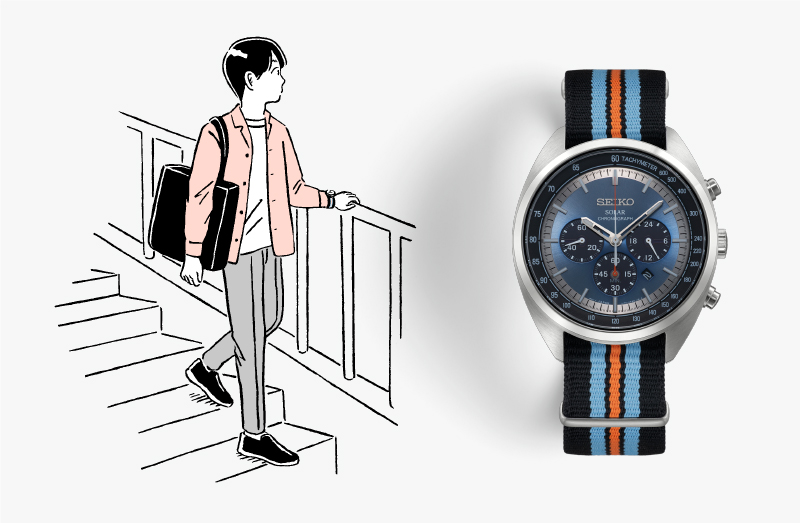 How can you know when a watch looks good on you?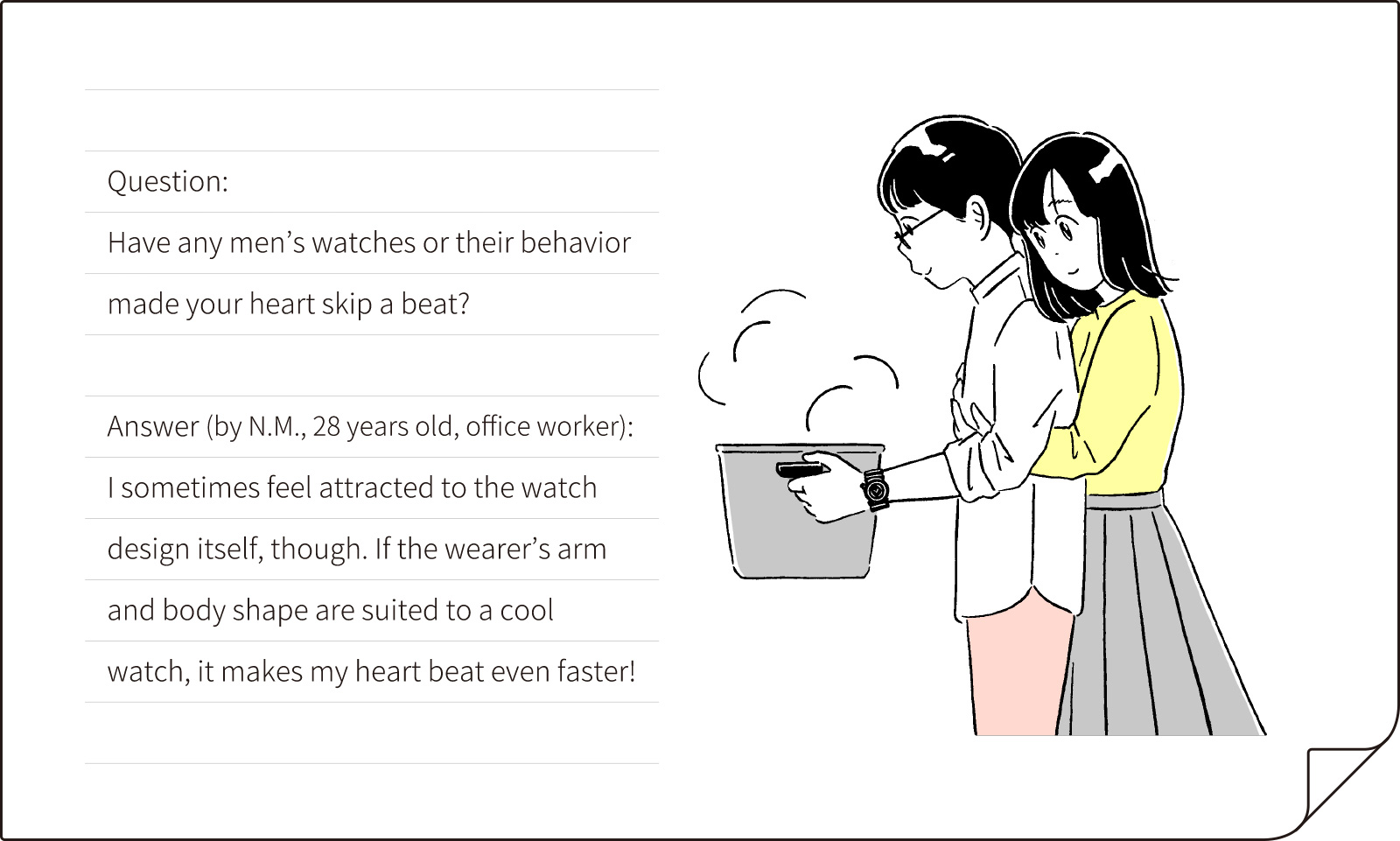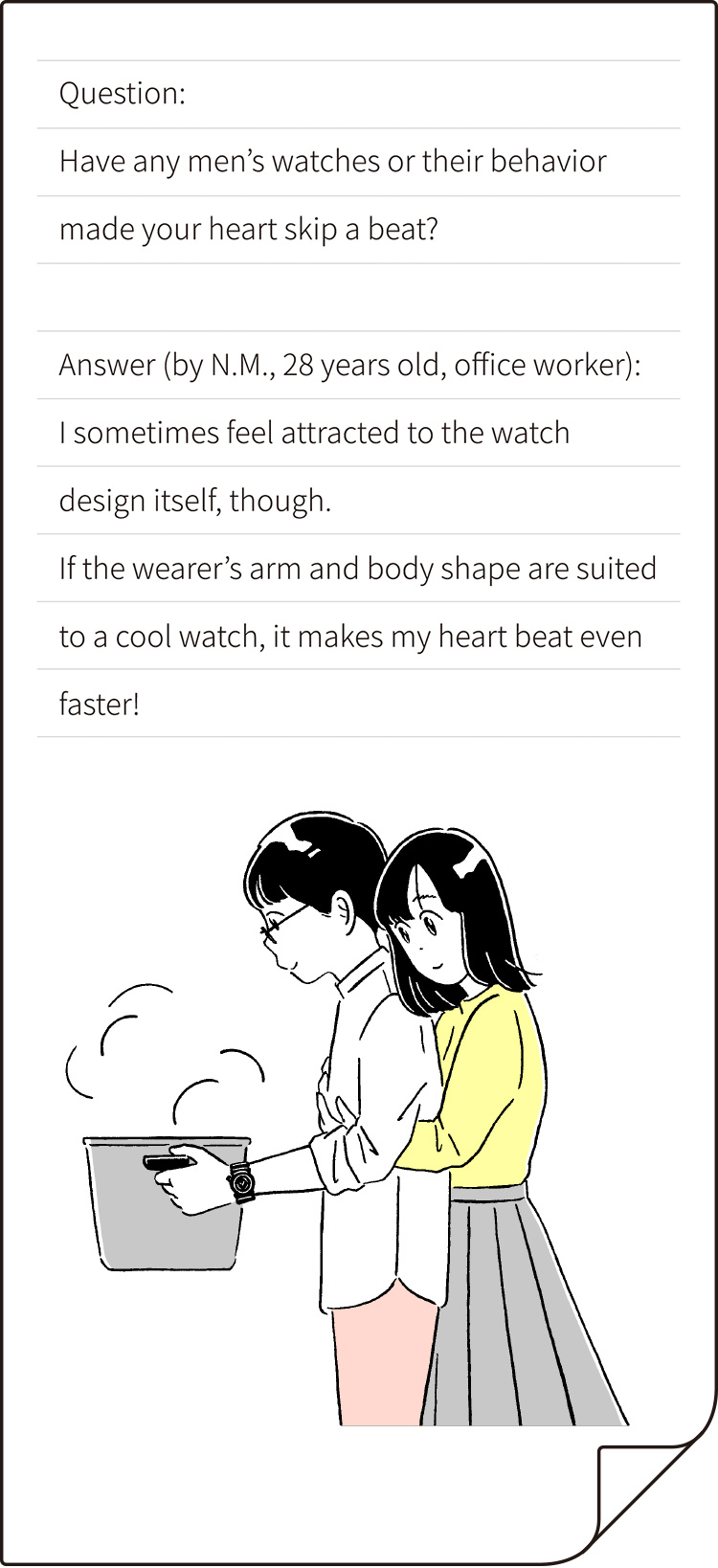 Handa: I understand this feeling, too. It's important that the watch looks good on the wearer. Conversely, sometimes "the watch a man wants to wear" and "the watch that really looks good on him" are two different things, taking size as an example.
Sato: Unlike clothing stores, watch stores often don't have large mirrors, but I believe they need ones. I would like our customers to not only look at the products themselves when choosing their watches but also to check in the mirror to see how they actually look wearing them.
Handa: When a woman purchases a watch, in comparison with a man, she is more apt to have in mind the full-length figure of herself wearing the watch. Taking this into account, a man who can accessorize his look in such a way would have a favorable impression on women.
Sato: I agree. And a sense for matching colors is also essential. I wear a gold wedding ring and it matches this gold Grand Seiko (SBGW238) nicely. These glasses do, too. Glasses are one of the few accessories for men, so I highly recommend coordinating your glasses with your watch. On that point, I have glasses of my favorite shape in different colors, and I choose which pair I'll wear based on the watch I'm wearing that day.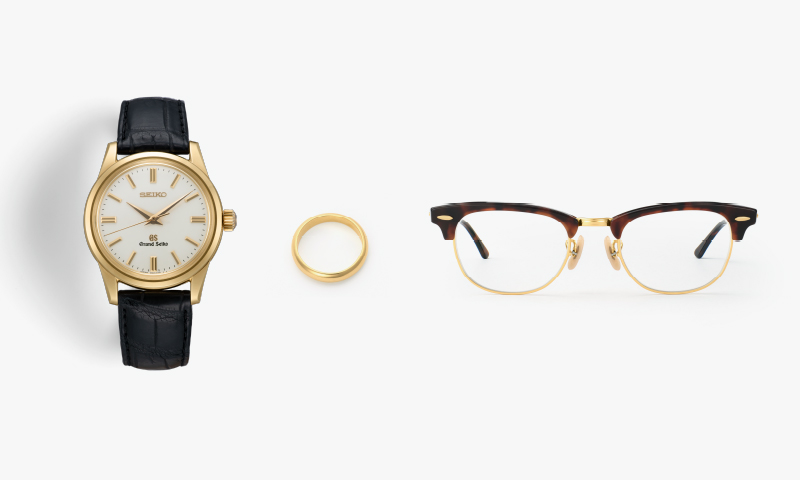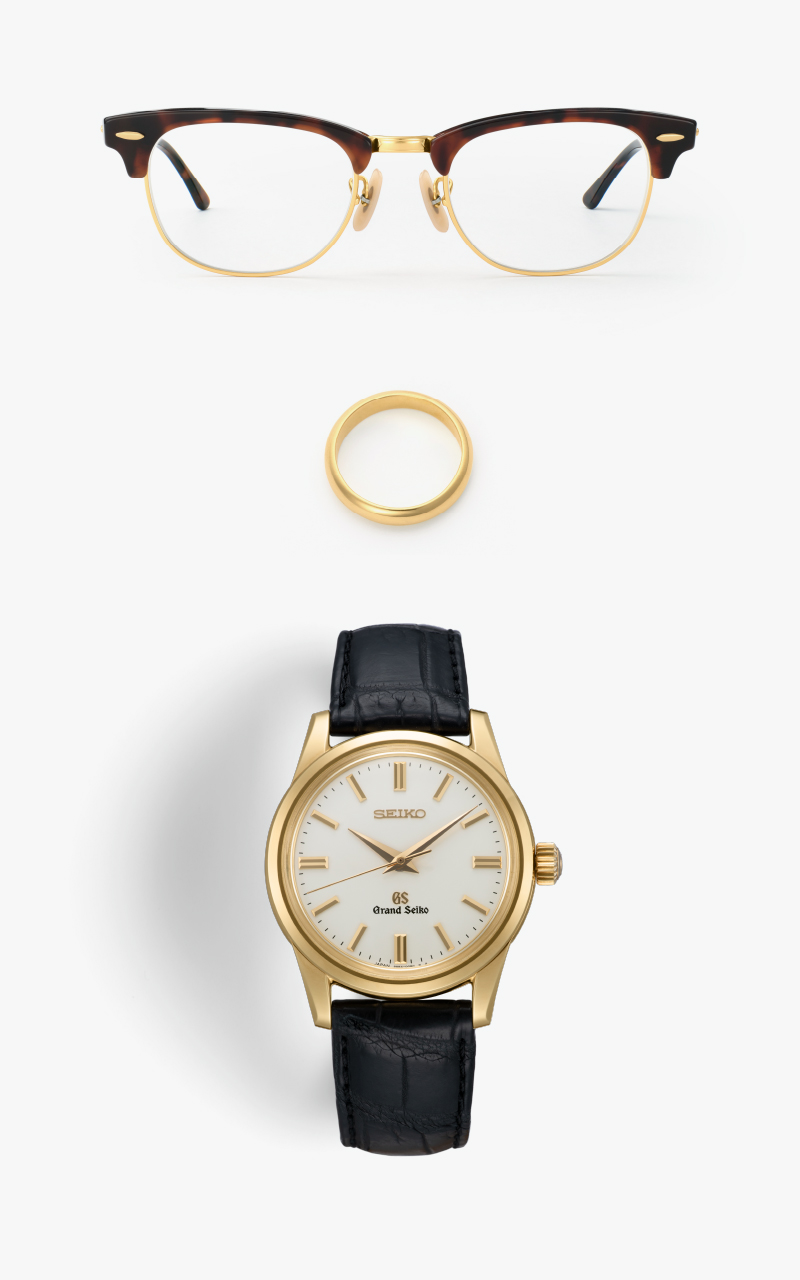 Handa: In terms of watches that look nice on the wearer, I often observe the differences between the Japanese and local people in foreign countries out of curiosity. Because arm thickness differs between Japanese and Western people, the sizes and designs that suit them also differ. The watch designs favored by American men are distinctive. As one of the trends there, watches with a bit of a glint like jewelry and a wide bracelet attaching to the casing, which gives an impression of thick-necked masculinity—like this Coutura (SSC376P9)—are popular and actually go well with their wrists and fashions. On the other hand, Japanese men may be more suited to a moderately bulky watch that has a sense of high quality and gives an impression of neatness, like this Astron (SBXC003) for example.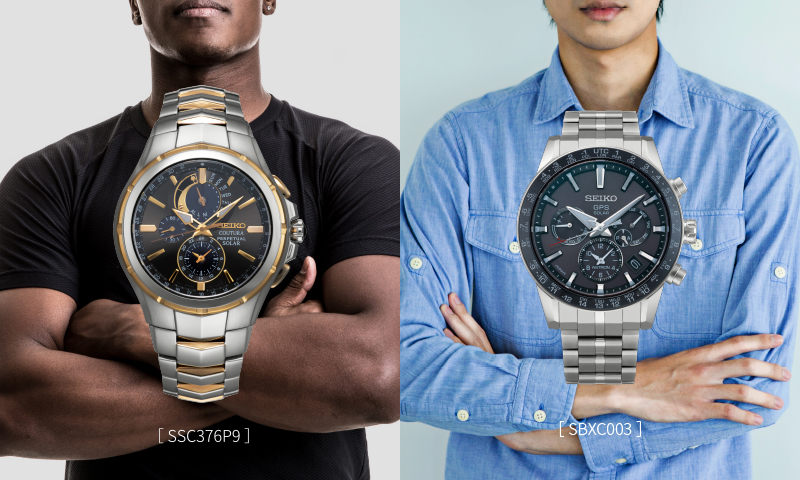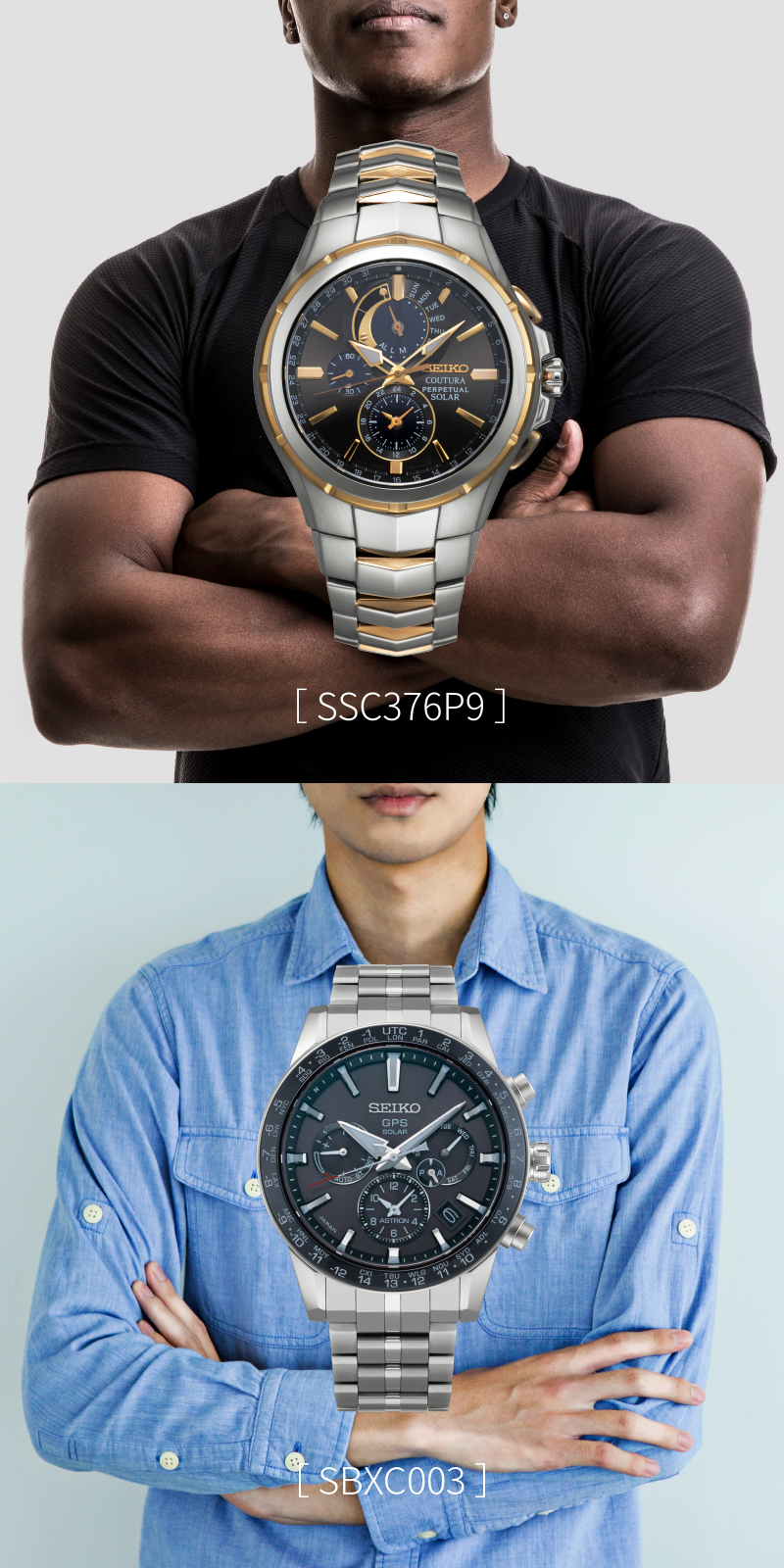 Sato: A watch is a perfect item for showing your personality, so it would be a shame not to consider how you want to express yourself when choosing one. When designing watches, we designers always imagine scenes of our products being worn so that our customers can easily imagine the situations where they would use them. Then we suggest that this type of watch design will look great in this kind of situation. The significance of our design work is not only the watch design itself but also the total design taking into account the situations where our customers use the watches. So when selecting your watch, it would be best to consider that point, too.
Handa: Exactly. In addition, we designers have a better insight into the most suitable watches than non-designers. In my case, when I present someone with a watch, I assume that they are likely to have one that suits them already. So I put aside the obvious choices and dare to suggest one that they don't already own but which would look surprisingly good on them.
Sato: I see. You are a connoisseur of watches. That is the "one-step-ahead" perspective that only a designer could have.