One of the factors in watch design is gem stones that provide the product with an ornateness, and the wearer with an uplifting feeling. Among these gem stones, diamonds have an overwhelming presence, and throughout the ages they have continued to mesmerize us. How should designers use these superlative diamond materials, apply all kinds of imaginative powers in their pursuit of a new brilliance, and shape it all together into a new design? And how should they give birth to a product that brings a new radiance to the wearer? Miho Wada talks about these issues. (March 16, 2018)

Miho WADA
Wada joined Seiko in 1989 and launched the Seiko LUKIA line in 1995. Thereafter has been in charge of Japanese domestic women's watches. Since 2007 she has worked on the design of the Credor, Grand Seiko, and other high-end brands, and has been involved in an extensive range of Japanese watch manufacturing from standard models on up to jewelry watches.
Designers, too, love diamonds.
Gem stones that are used in watches are, naturally, not just limited to diamonds. They include rubies, sapphires, and emeralds as well. However, I feel that diamonds really do have a special and overwhelming presence. Of course, they are beautiful. Diamonds, precious stones born millions of years ago as a result of natural activities within the Earth and characterized by being the world's "most scratch-resistance" substance. I believe the image of the "passing of time" and "eternity" that they represent has had a deep affinity with watches.
"Designing a luxury watch using diamonds" is one of the ultimate aspirations of every watch designer. Even when making the rough watch design, picturing the exquisite light emitted by the diamonds is the moment that they find the most thrilling.
So when we see a watch with sparkling diamonds it sets our hearts aflutter. And we designers, too, stare at these precious jewels with a look of affection and envy while we ponder how we should best go about setting these exceptional materials into the watch.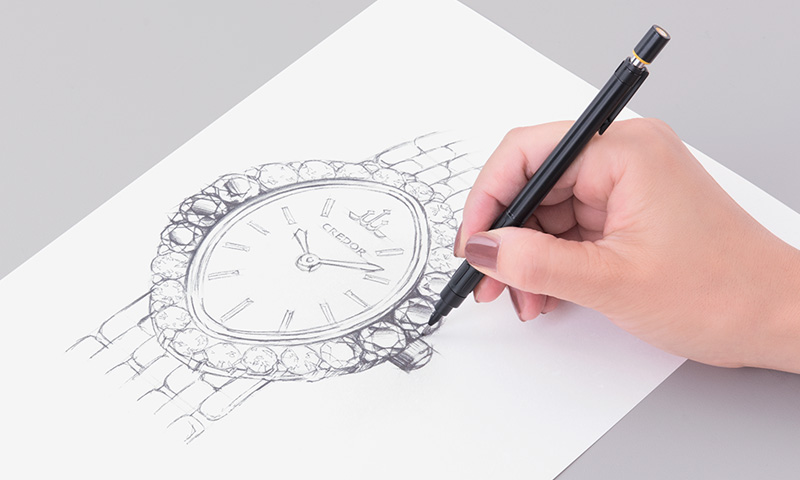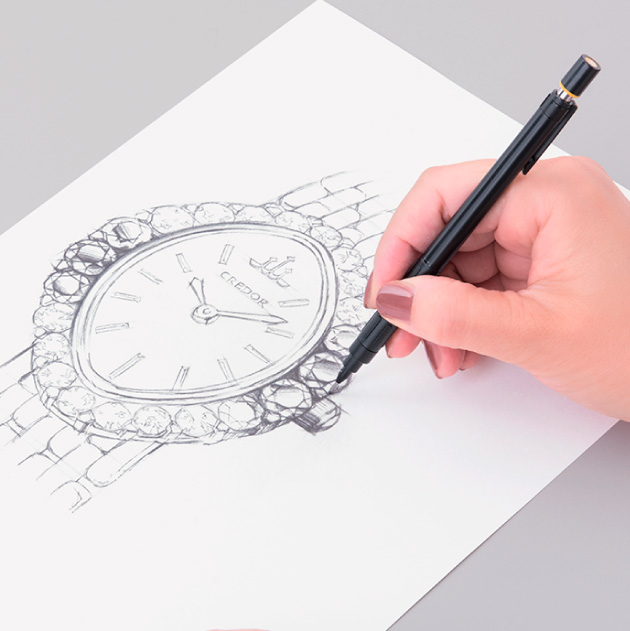 Designing the new synergy between watches and diamonds.
Diamonds cannot be explained in just one word; they are a product of the natural world and exist in various sizes and colors. The surface of the diamond has few scratches, and depending on the dispersion (the beauty of their light reflection) and the cut, they can be categorized into a number of ranks. Only diamonds that meet fixed standards for "clarity," "flawlessness," and "proportions" are used in Credor and Grand Seiko watches.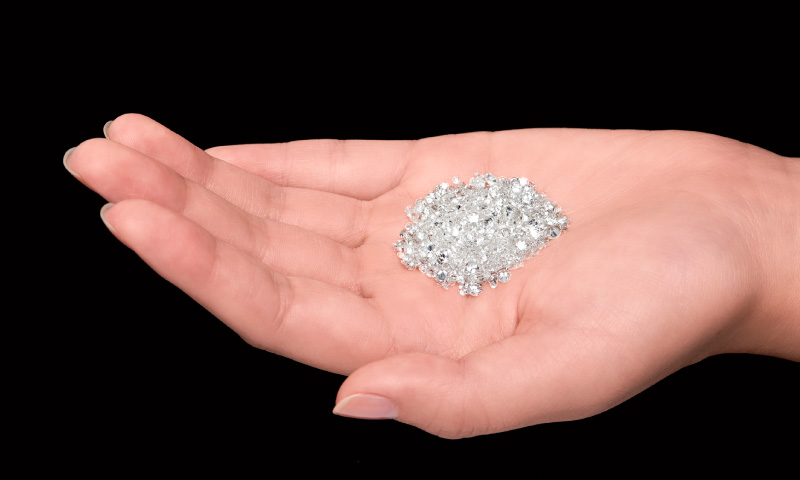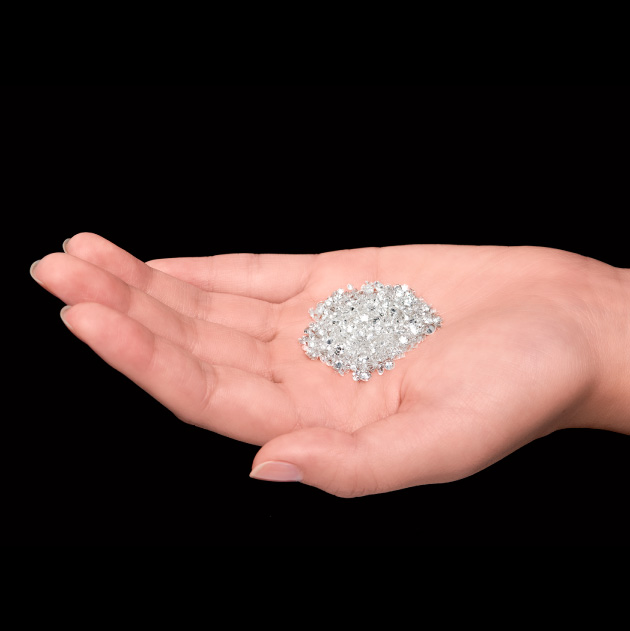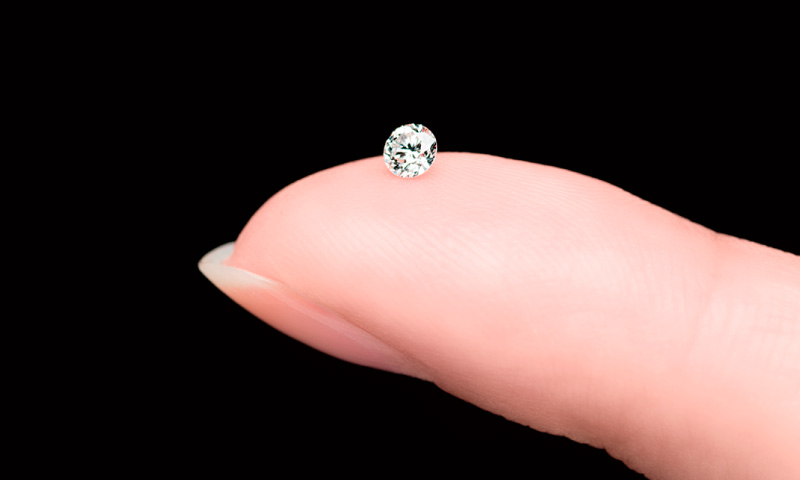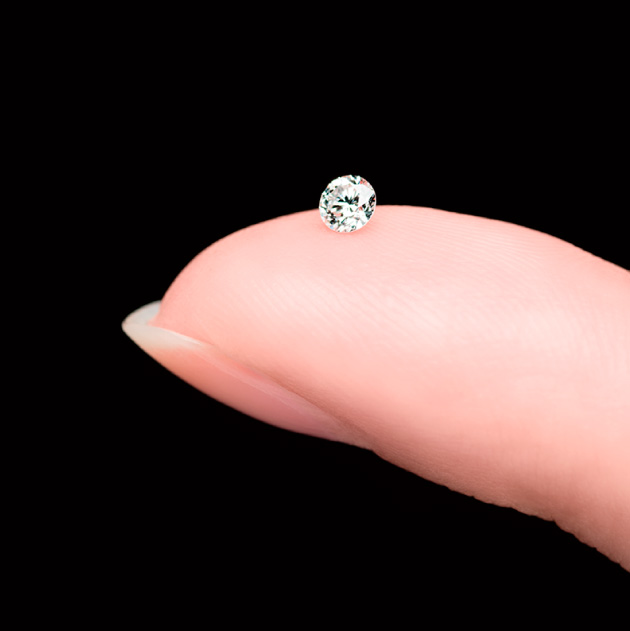 The "size" and the "quality" of the diamond are important but, more than that, what we have learned through trial and error is that knowing "where and how the diamond will be inset" is even more essential. What characteristics will the watch have that you want to design using the diamonds? To achieve this design, what kind of diamonds will be used, how will they be placed, and how will they be inlaid? By checking into these questions thoroughly, a new relationship between the diamonds and the watch — a beautiful design that had been previously impossible — can now be brought to life.
For Seiko, the standard most type of diamond inlay (setting) is what is called the "engraved setting." A protrusion called a "claw" is made around the recess into which the diamond is to be embedded and then the cut gem is inserted. After that the inside of the claw is folded down to hold it in firmly. Then the claw is polished and rounded and set so that the gem and claw display a beautiful sparkle. But using this setting method alone restricts the prospect for new designs. That's why, in order to take full advantage of the vast "potential beauty" that diamonds exhibit, we designers must continue our pursuit for new methods of setting these precious stones into our watches.