Seiko Watch Corporation has introduced a wide variety of watches to the world. Among them, the prices range from several tens of thousands of yen for some watches to even millions of yen for the luxury watches. This luxury watch category has its own distinctive method of designing. In this volume, designer Kazutoshi Itsubo talks about the special design considerations unique to luxury watches. (August 22, 2019)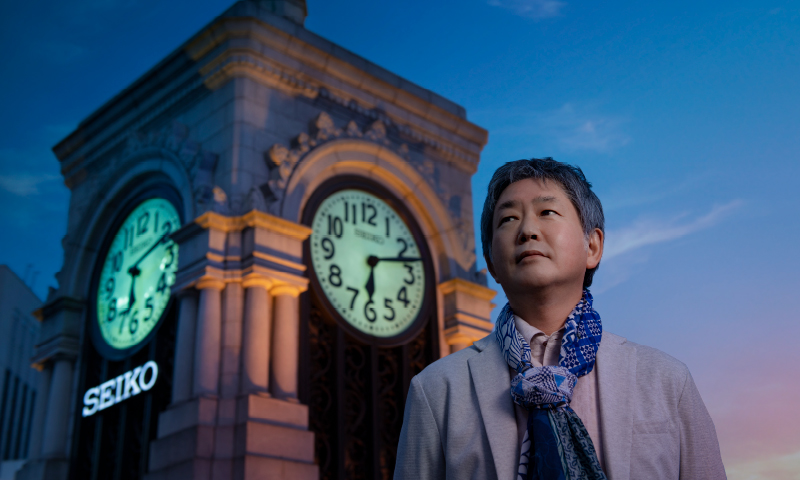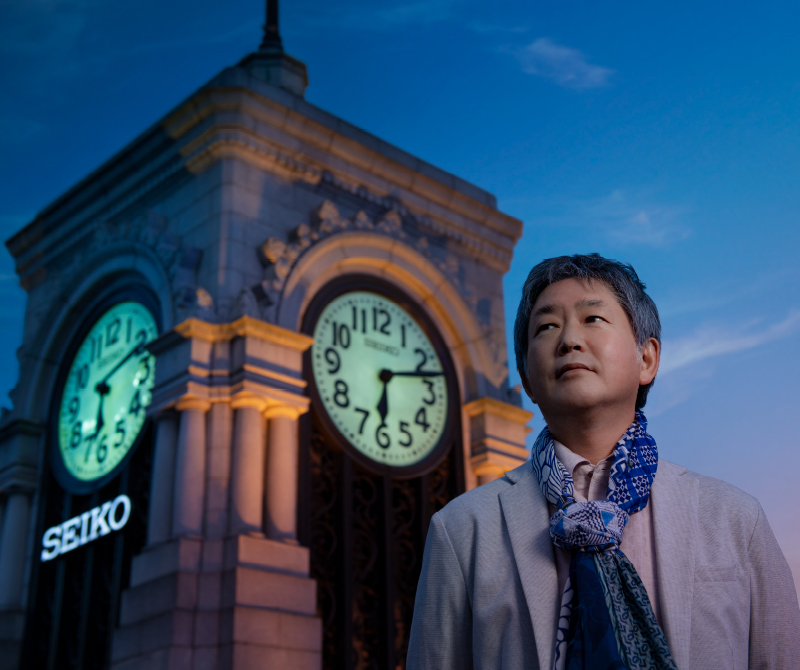 Kazutoshi ITSUBO
Itsubo joined Seiko in 1983 and with his professional skills he received the in-house certification of Product Specialist in 2018. He is currently engaged in brand development and luxury and dress watch design development as a design director of watches destined for both the Japanese and international markets.
Luxury products and expensive products are similar yet different.
Luxury watches are more likely to be designed by experienced designers rather than by young designers. However in my early 20s, I happened to be assigned to designing a luxury brand called Credor. That was how I began to receive instruction and training from my senior colleagues regarding luxury watch design. Now, I design not only high-end models but also entry-level ones concurrently. When the price range differs, the way of designing also differs.
Designing entry-level models is often strongly affected by marketing elements including customer demand, but when I design high-end models, I try to change my stance a little. I intend to design the watches with a confident and gracious feeling, thinking "This is a great design that has the air of luxury. Some people may not like it, but that can't be helped." Luxury products must have creative designs, so it is okay if people clearly love it or hate it. This kind of clear-cut mindset is necessary for a designer engaging in luxury products. I also think that luxury products and expensive products are different. Extravagant use of diamonds make a product expensive, but it is important to have a perspective of wondering if that is a design truly meant for a luxury product.
It is absolutely essential for luxury product designs to have their own story, care and attention to detail, and dignity. These elements can be integrated at a higher level by leveraging the style for luxury watch designs that Seiko has cultivated and passed down over many years. In order to explain concretely about such luxury watch designs, this time I would like to bring up the women's luxury mechanical watch that I designed in 2016, which was unprecedented in the Seiko's history.
Limited edition of 30 pieces with the theme of "Ginza at dusk."
Today I would like to introduce a Credor brand mechanical watch, GETE998, which was released as a limited edition of 30 pieces. The theme of this watch is "Ginza at dusk." I designed the dial by incorporating a scene of Ginza, the birthplace of Seiko, taking on the sunset glow viewed diagonally from above. The white lines crossing the dial represent the streets that brightly liven up the city of Ginza.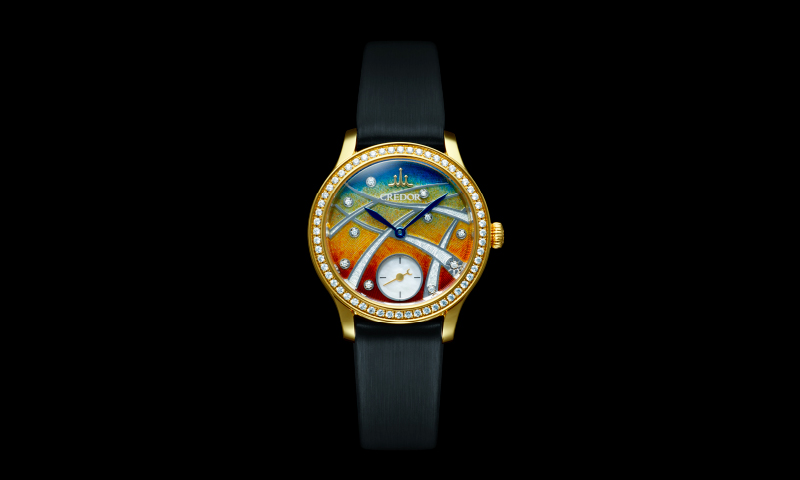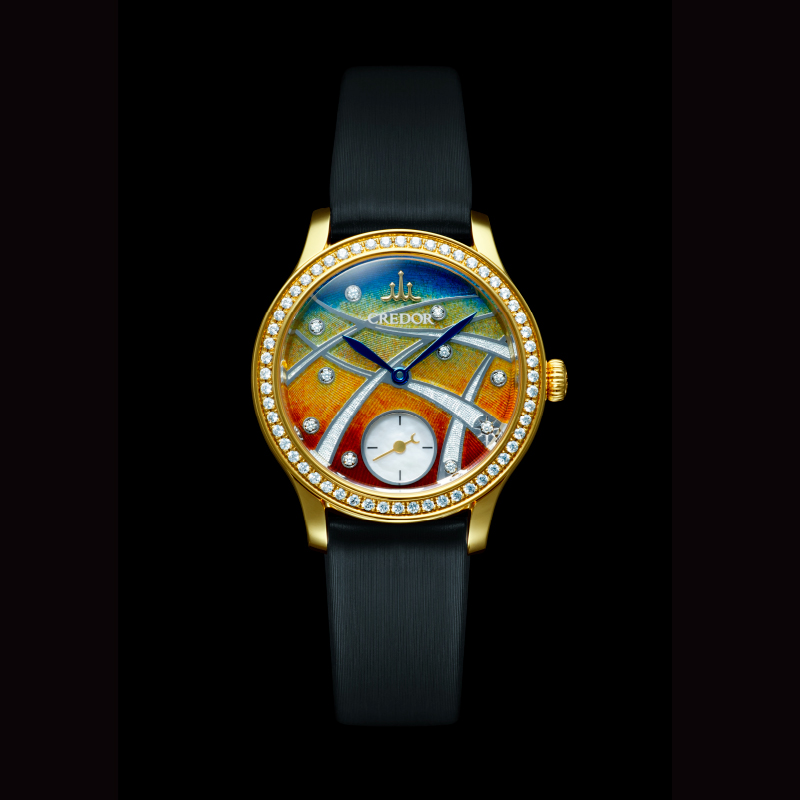 The reason why I selected Ginza as the theme is that throughout the ages this city has been full of elegance and refinement as well as an uplifting feeling and innovativeness. Plus, I thought that glamorous women with urban and exquisite senses walking through Ginza portray the perfect image for a women's luxury mechanical watch.
I decided to express the city of Ginza taking on the sunset glow on the dial as a symbol of quality time that women spend in Ginza. This kind of idea is the story behind the design that I mentioned earlier.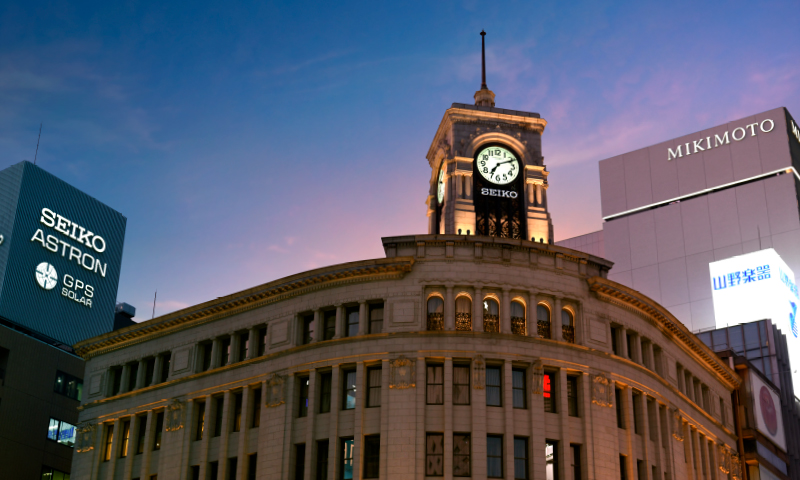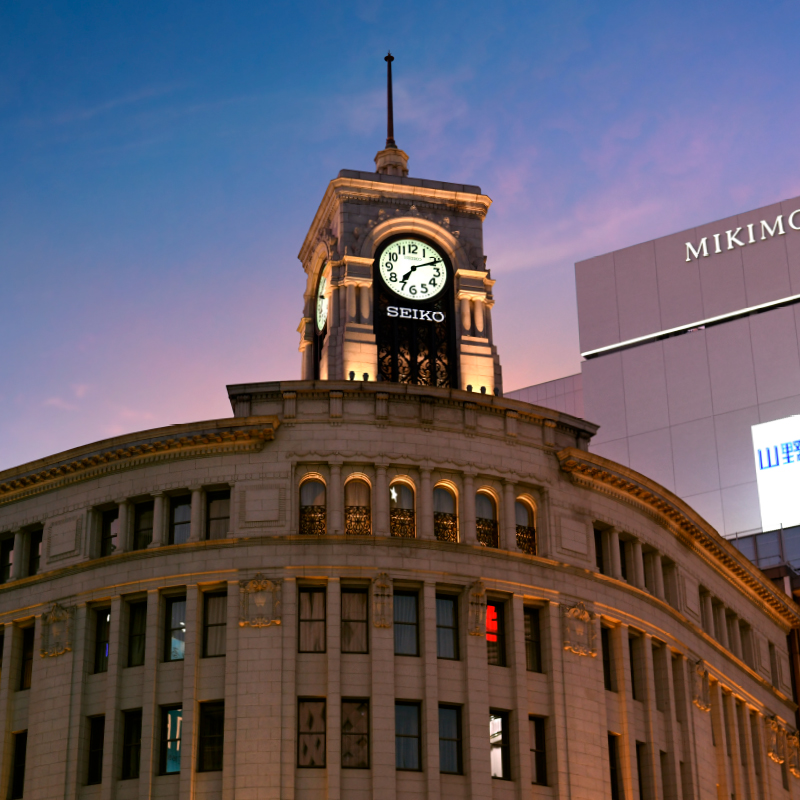 As a method for expressing the theme, I used enamel, one of the traditions of Japanese craftsmanship. I asked Ando Cloisonne, a specialist manufacturer founded in 1880, to develop glazes in seven colors specifically for this design. I used these glazes to make a gradation to convey the elegance and glamor of Ginza. Just this enamel dial itself is a highly valuable masterpiece that deserves appreciation.
When collaborating with a craftsman who uses traditional techniques, it takes a long time to match an imagined product with the final product. An example for this dial is a color balance of enamel. If green had too strong of a presence, it would have given a tropical impression, not one of dusk. In order to improve this, all you can do is to create test products repeatedly through close communication with the craftsman, and then elaborate and complete the products as imagined.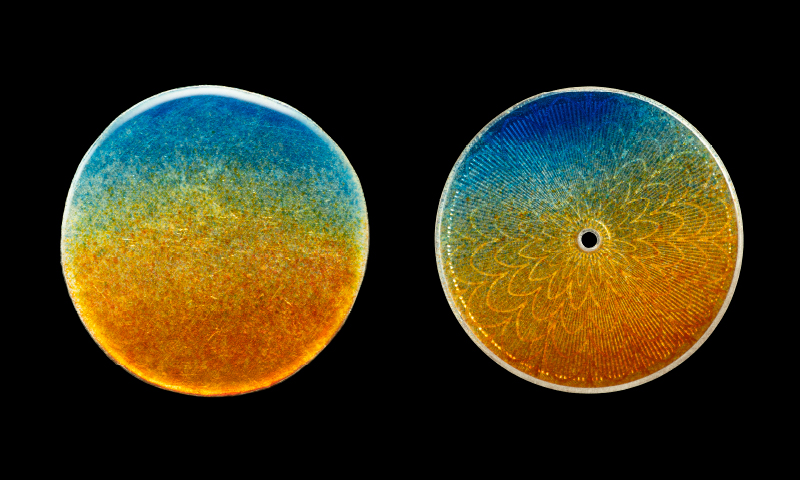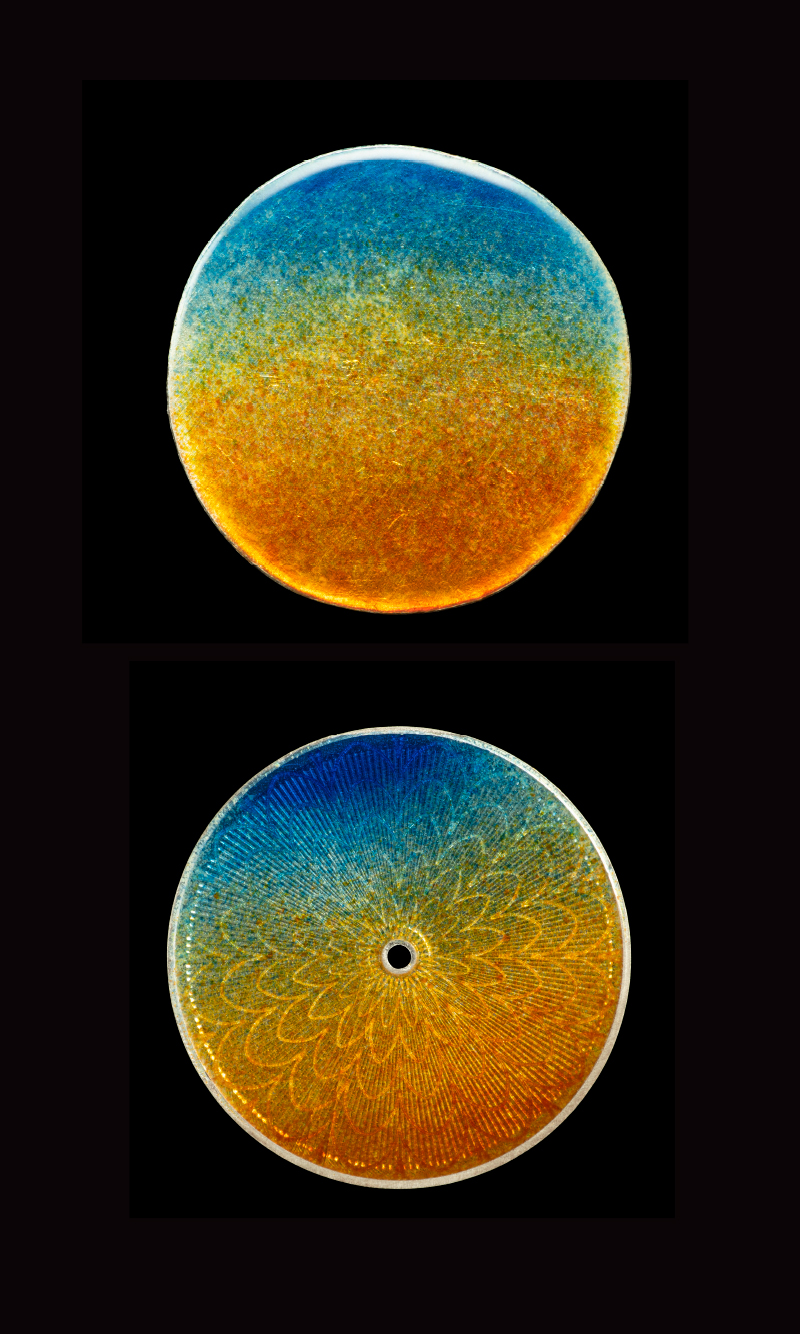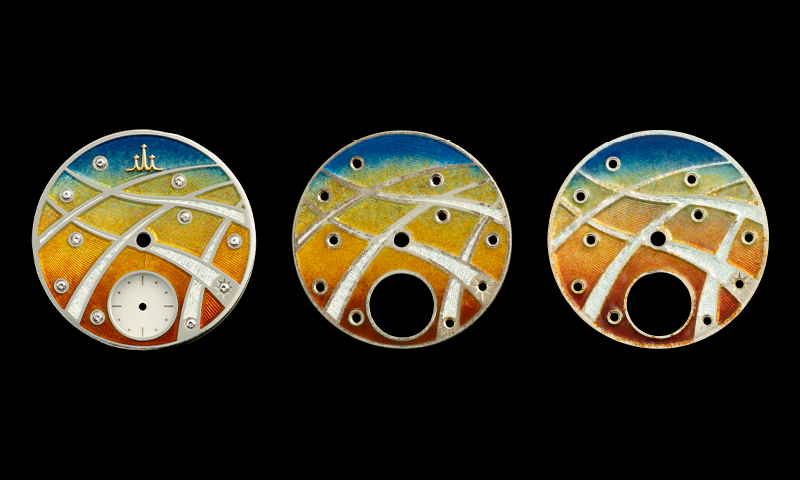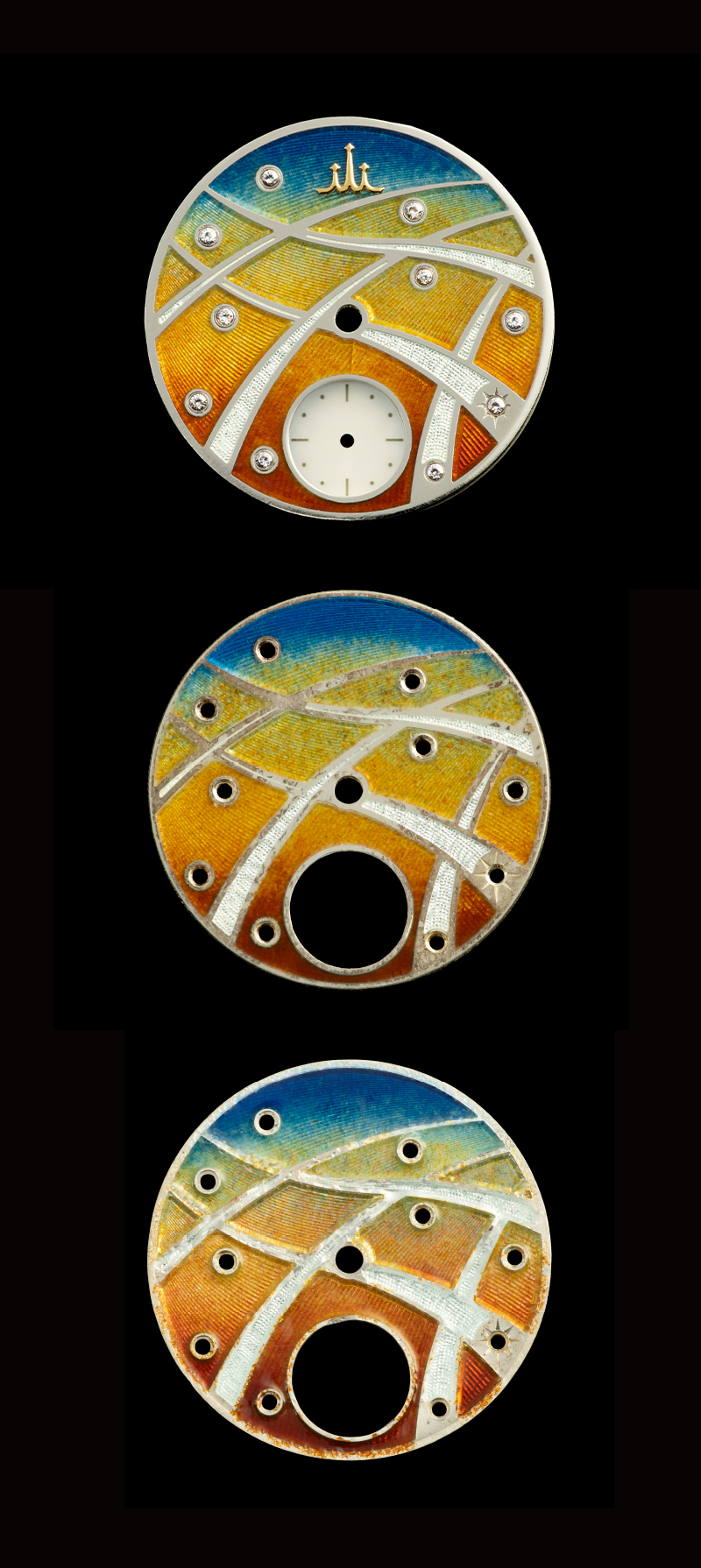 I also made extra effort in the dial's texture processing before enameling. Leveraging a special processing machine owned by our manufacturing division, I achieved a delicate three-dimensional surface that a standard molding technique could never produce. Additionally, glazes in seven colors were applied using a traditional technique and the dial was fired at 800 degrees Celsius. This process gave rise to the creation of this exquisite gradation.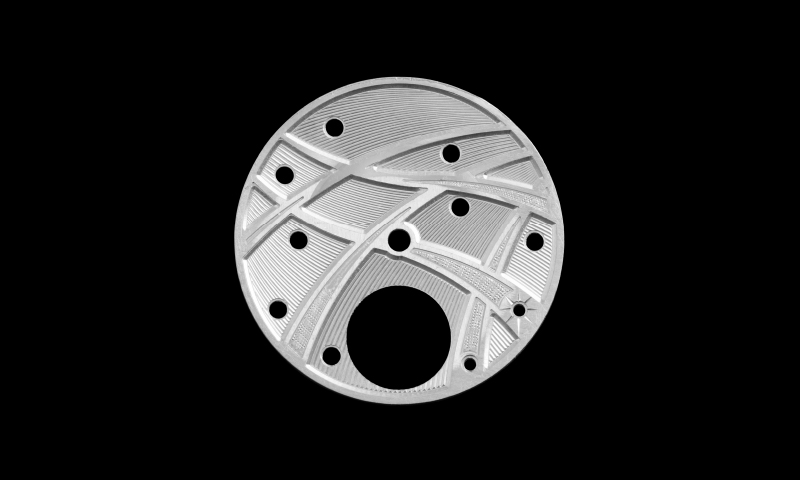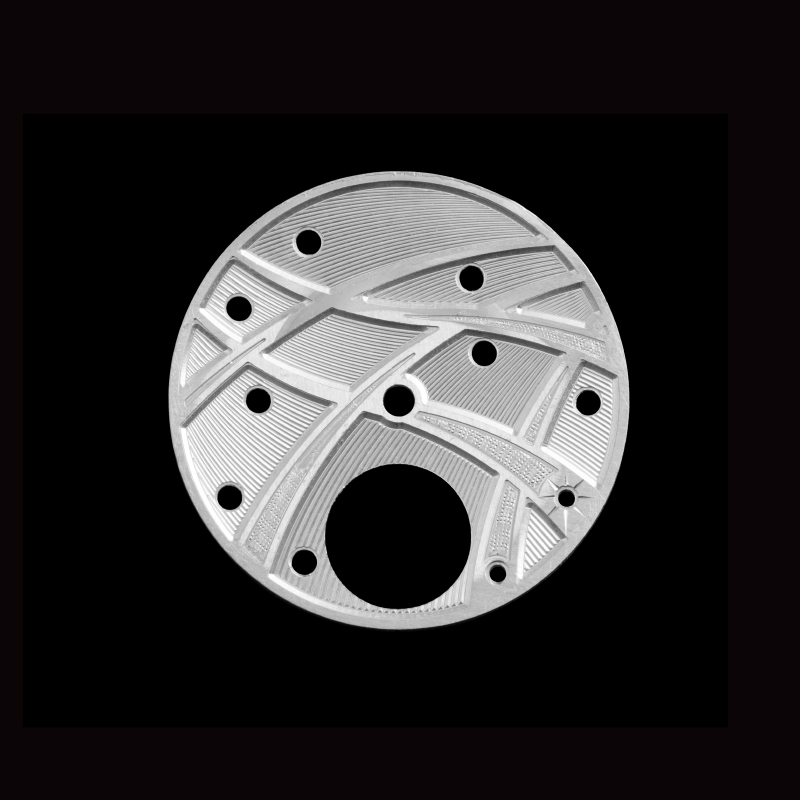 The in-dial at the six o'clock position shows the birthplace of Seiko and the randomly allocated diamonds present an image of landmarks seemingly saying, "Here are the well established stores in Ginza." These diamonds are, in fact, embedded at every 30-degree angle position from the center, playing a role as indexes, as well. This design isn't merely unique but has a basic function as a watch that tells the time.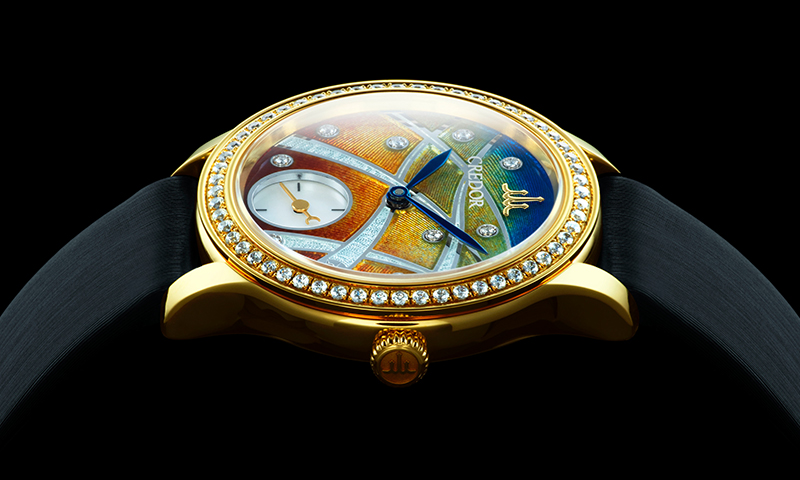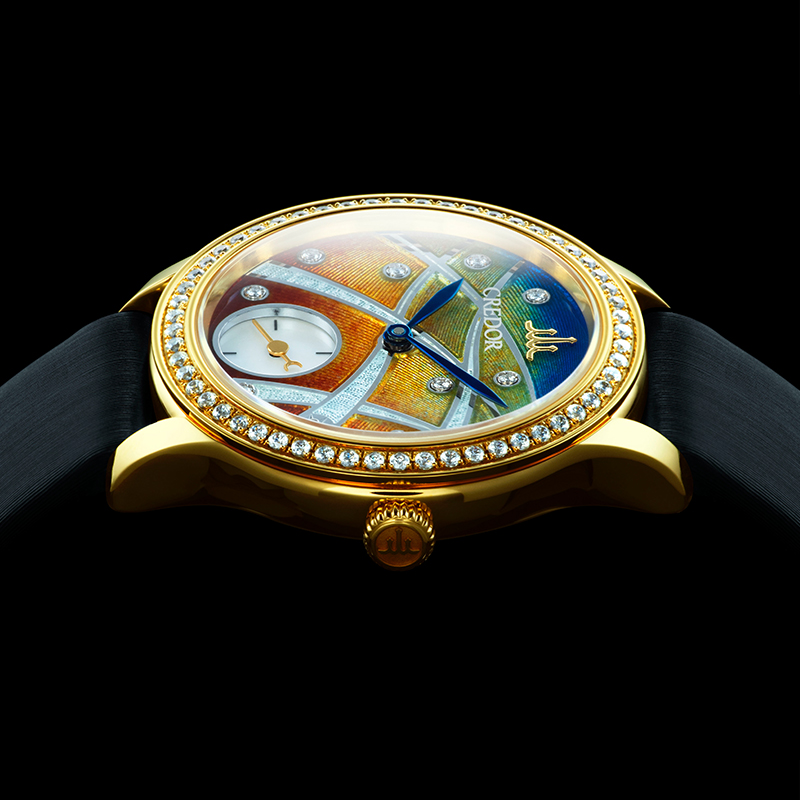 Finished products with the authentic gold look possible only with gold material.
Including these elements that many people can notice only after receiving explanations, these luxury watches each have a certain story and I believe that the design must incorporate the condensed description of the story.
I make an image in my mind first before designing. In the case of this watch, the image is "Ginza at dusk." This starting point must be established, otherwise designs would waver when sketching out ideas, ultimately failing to become a beautiful or appealing product.
Next to the story is establishing and pursuing the care and attention to detail in terms of shape. Converting the detail into a design with dignity is a key aspect in developing luxury watch designs. Designers' competence and senses are tested here.
For instance, the material of this model is 18-karat yellow gold. I wanted to make the product with a gold-like shape and finish as long as I was using gold as the product's material. This is a type of thinking that follows the style.
In order to achieve this aim, I constructed the watch with a solid plane with a tense feeling and a well-rounded surface to express a sense of warmth and a noble image that gold has. I developed the design that bears dignity and an air of luxury.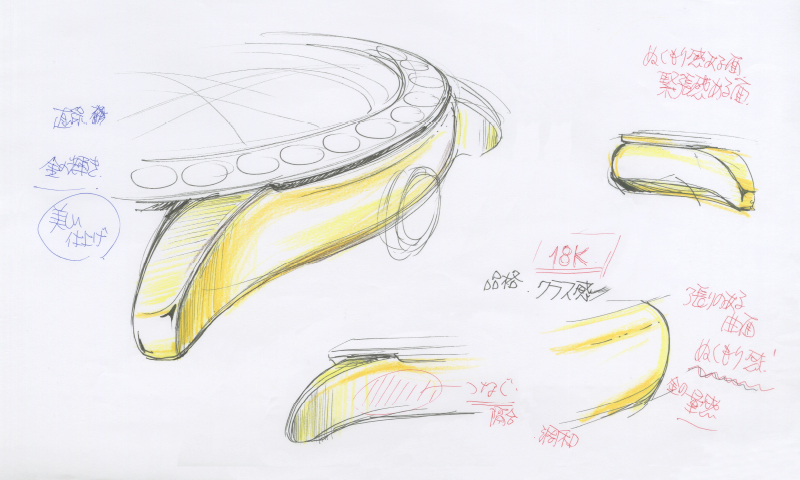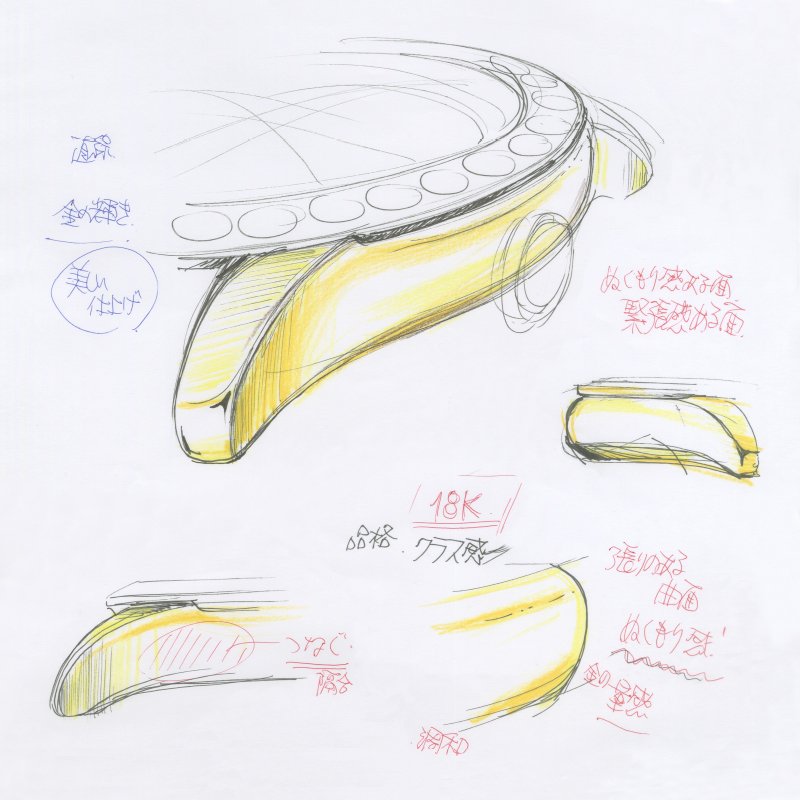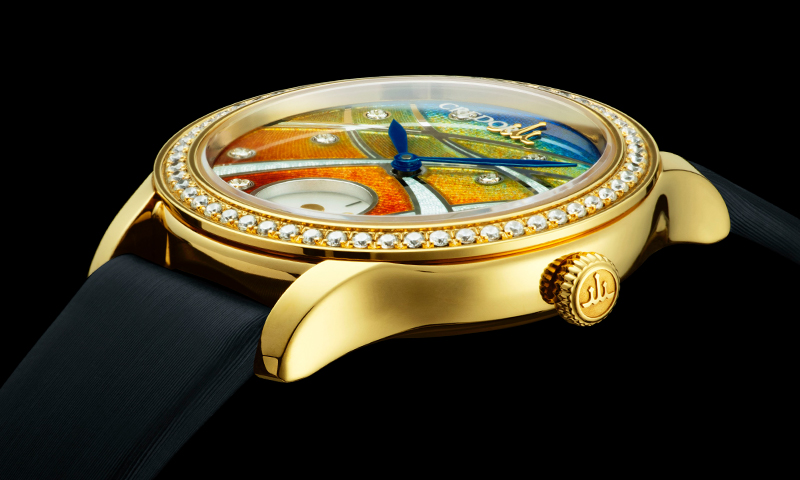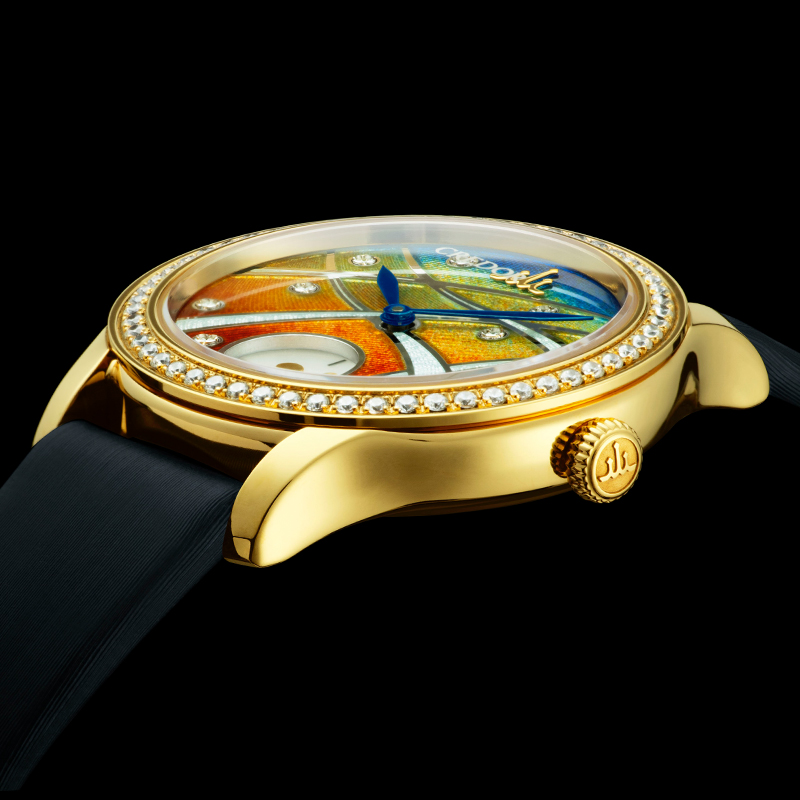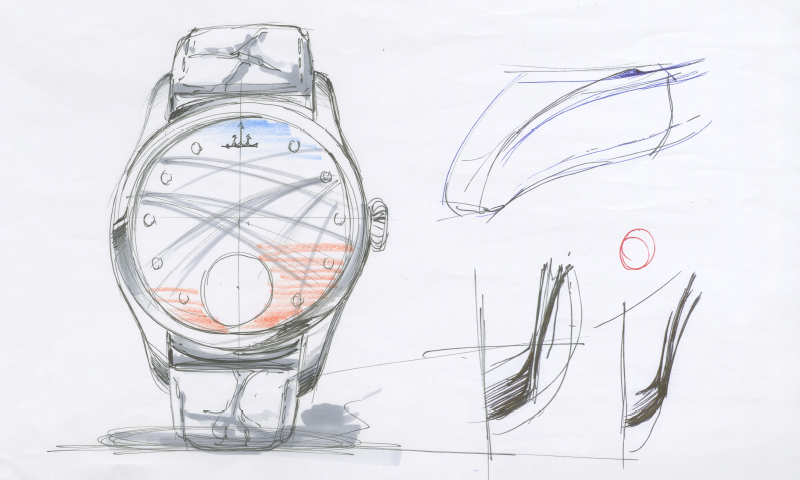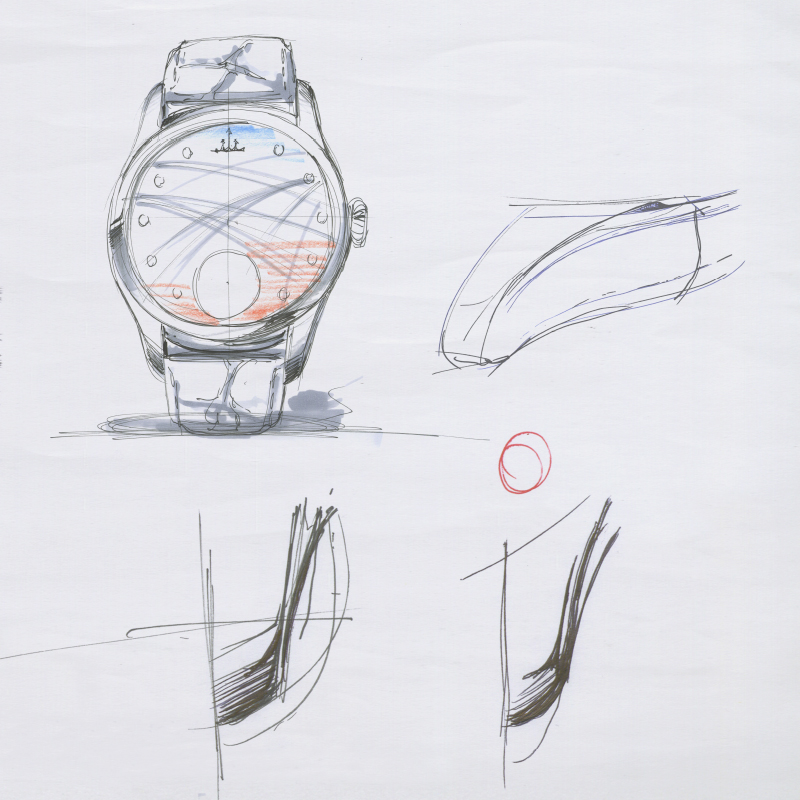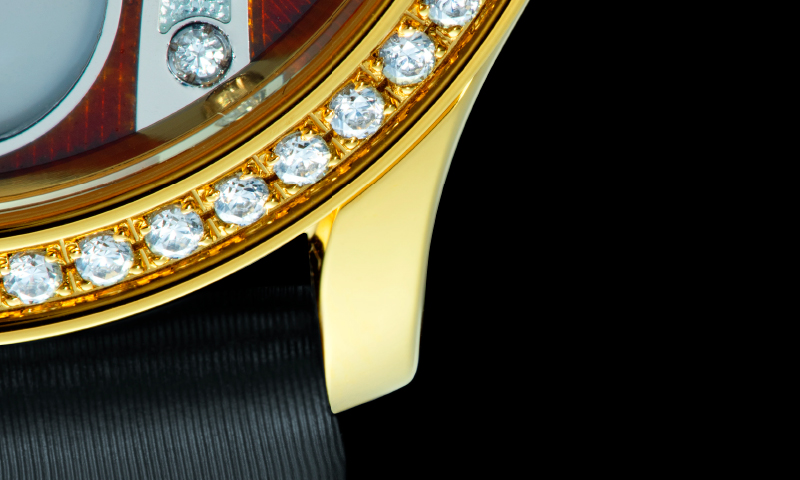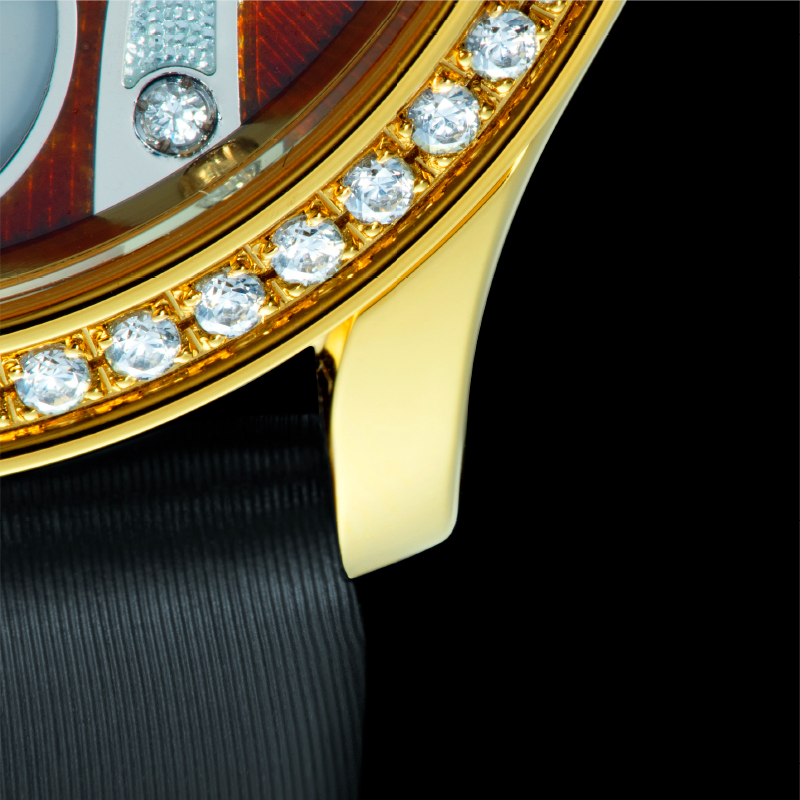 When we look at the back of the watch, the back of the lug is finished with a parallel curve, not a spherical curve. In deciding purely from an aesthetic perspective and with it being a luxury watch style, it must be a parallel curve. Although it is the back of the watch, the shape of the parallel curve has a more prestigious feel, and just looking at it gives the impression that this watch fits gently on the wrist.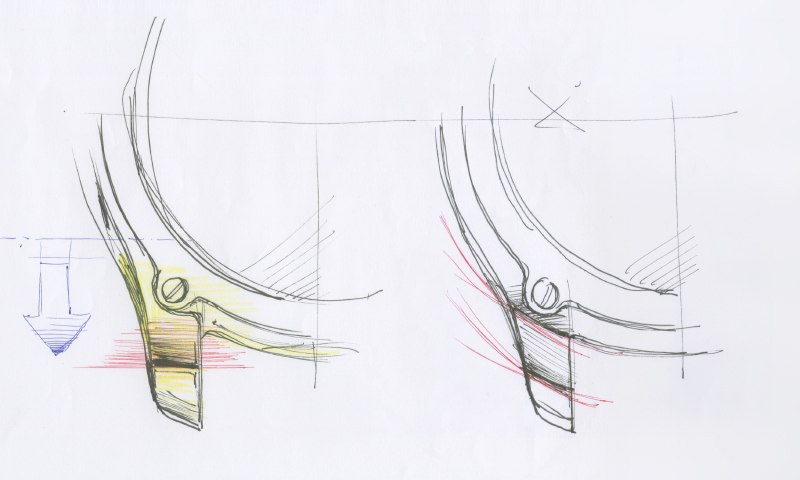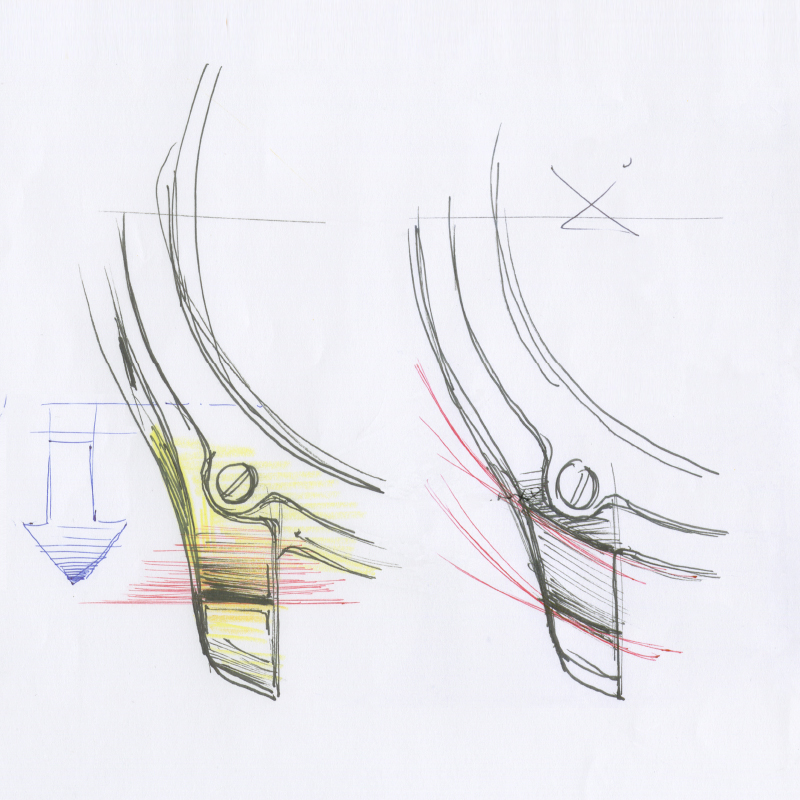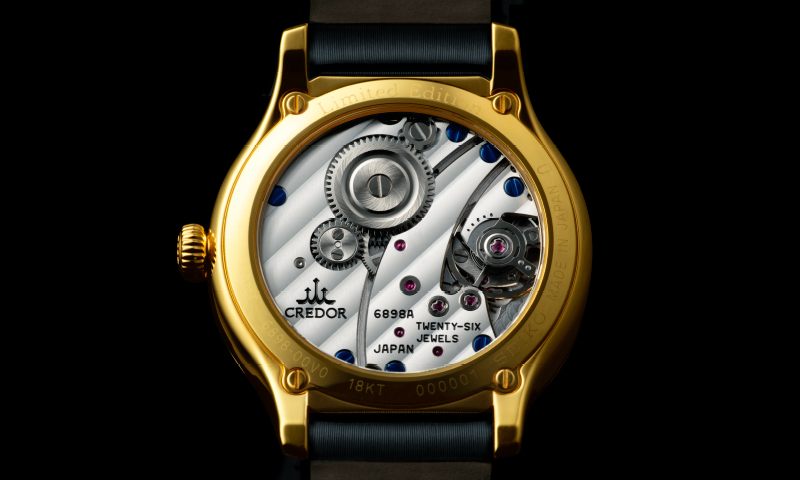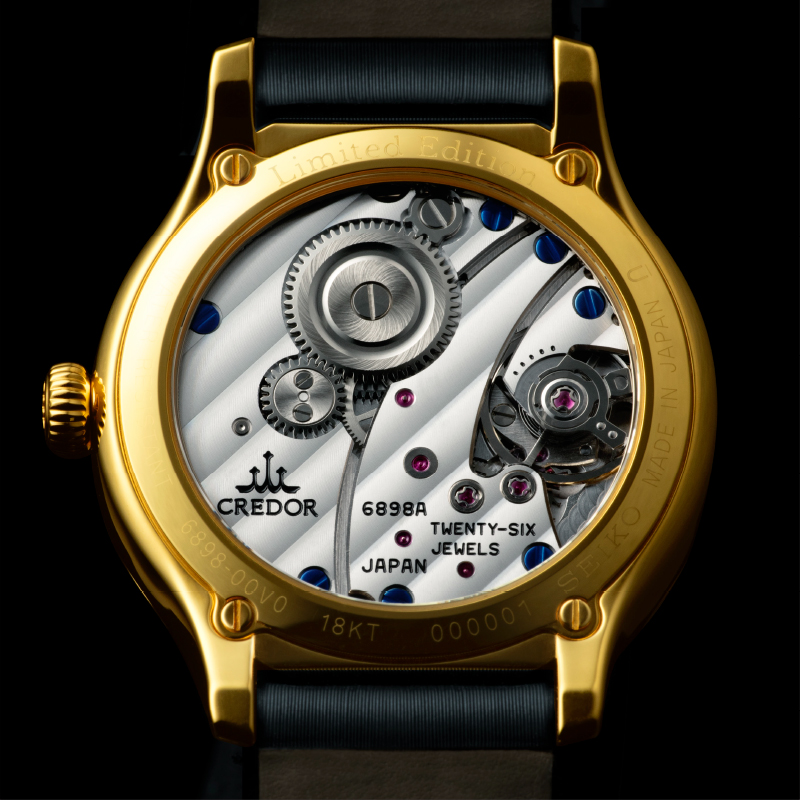 With the combination of the dial and the diamonds set into the bezel giving off gentle yet strong sparkles, the Credor "Ginza at dusk" is a distinctive women's luxury mechanical watch that exudes a sense of elegance and refinement of the city of Ginza. I really would like you to actually hold it in your hand.
It is important for designers to ask themselves through to completion about how much they had thought out in determining that design. This is the story, care and attention to detail, and following of the style for luxury watch designs that I have shared.
There are just as many unique stories and much care and attention to detail by designers as there are luxury watches. I'm sure that knowing them will deeply broaden your world view and aesthetic sense for luxury watches.