Since 2017, Seiko Watch Corporation has introduced fictional watches as an April Fools' Day joke. In 2018 we announced a Ninja Watch based on the Grand Seiko Spring Drive. These projects are mainly planned by our Design Center Department members who usually design watches. Yugo Hibayashi and other project members of Team KAZAANA will discuss the difficulties and joys of doing such "unusual work." (June 14, 2019)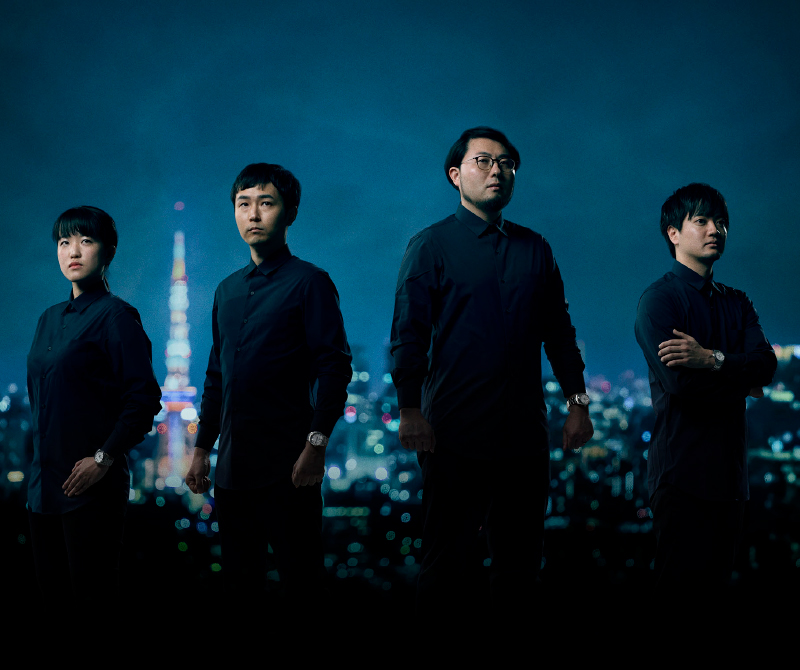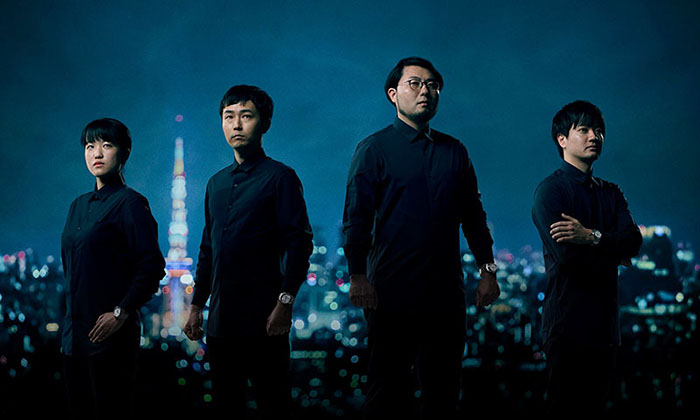 Project members (from the left): Kanako Koriyama, Kiyotaka Sakai, Yugo Hibayashi, Akira Yoshida.

Yugo HIBAYASHI (Third from the left)
Hibayashi joined Seiko in 2007, and for several years he was engaged in development design for digital watches and Brightz with Electrophoretic Display (EPD). Since 2012, he has been primarily engaged in designing watches for the Asian markets. Currently, he is leading one of the development teams of the Design Center Department, providing proposals for advanced models and promoting projects to increase brand value.
Change the image of a serious and conservative company!
Hibayashi: Before getting into a discussion of the April Fools' Day project, please let me preface it by explaining the background. For several years, there had been a growing momentum within the company for sharing our thoughts and feelings for the Seiko brand with the world.
We wanted to make Seiko, which tends to be thought of as a serious and conservative company, into a company with a playful attitude that excites people. With that idea, a project team named KAZAANA was set up within the Design Center Department in 2016 with a mission to bring a new perspective to the Seiko brand by thinking outside the box and adopting free-minded ideas. This April Fools' Day project began as a part of this initiative.
We brainstormed a variety of ideas before finally settling on the idea for 2017's April Fools' joke: "The ultimate diver's watch, Tuna Can, makes its debut!" This idea is derived from the actual diver's watch nicknamed the Tuna Can, as introduced in the article "Watches with nicknames" on this website.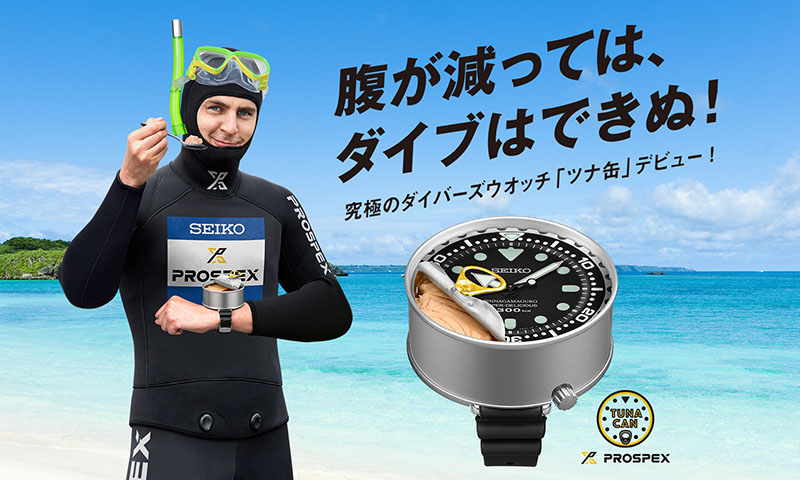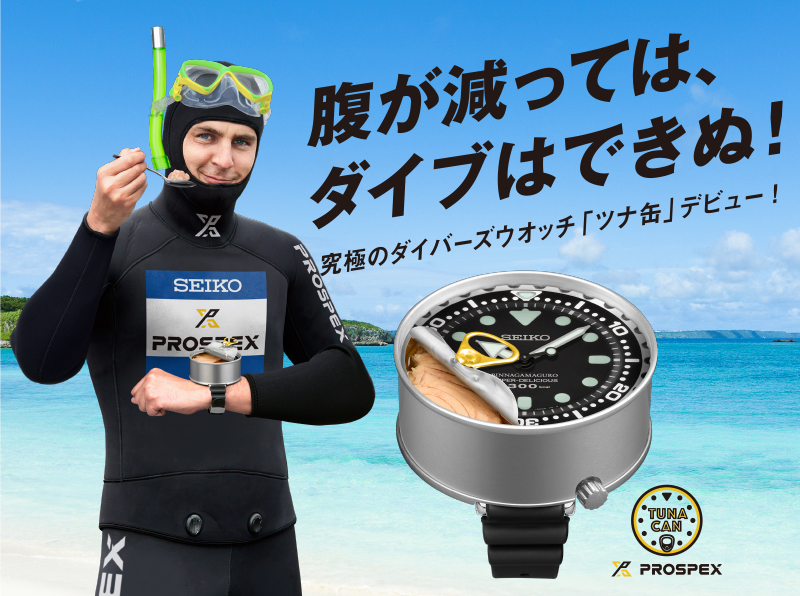 The joke was intended not just to be humorous, but also to convey the long-established tradition of design and highly advanced technology of Seiko diver's watches. The design format of the so-called Tuna Can is an inheritance that has been passed down within Seiko since 1975.
There were many more ideas proposed, but we conducted a survey among designers outside the team and colleagues in different departments and asked them which idea they thought was interesting, and as a result, we determined to go with this idea because it was the clearest and easiest to understand.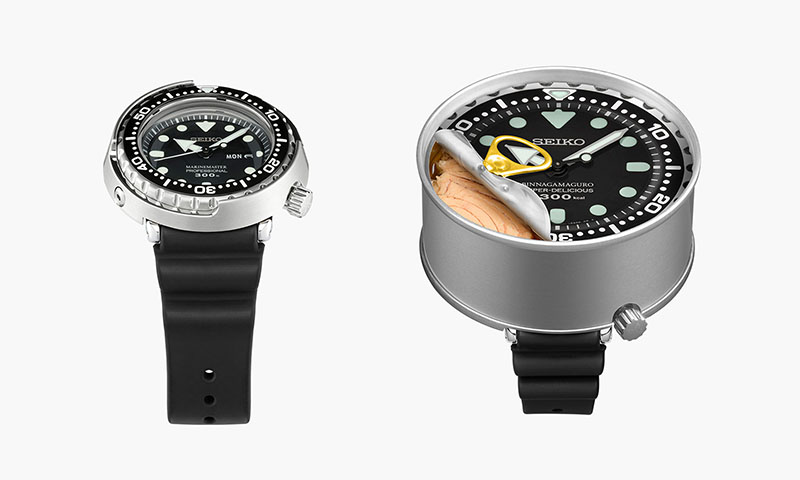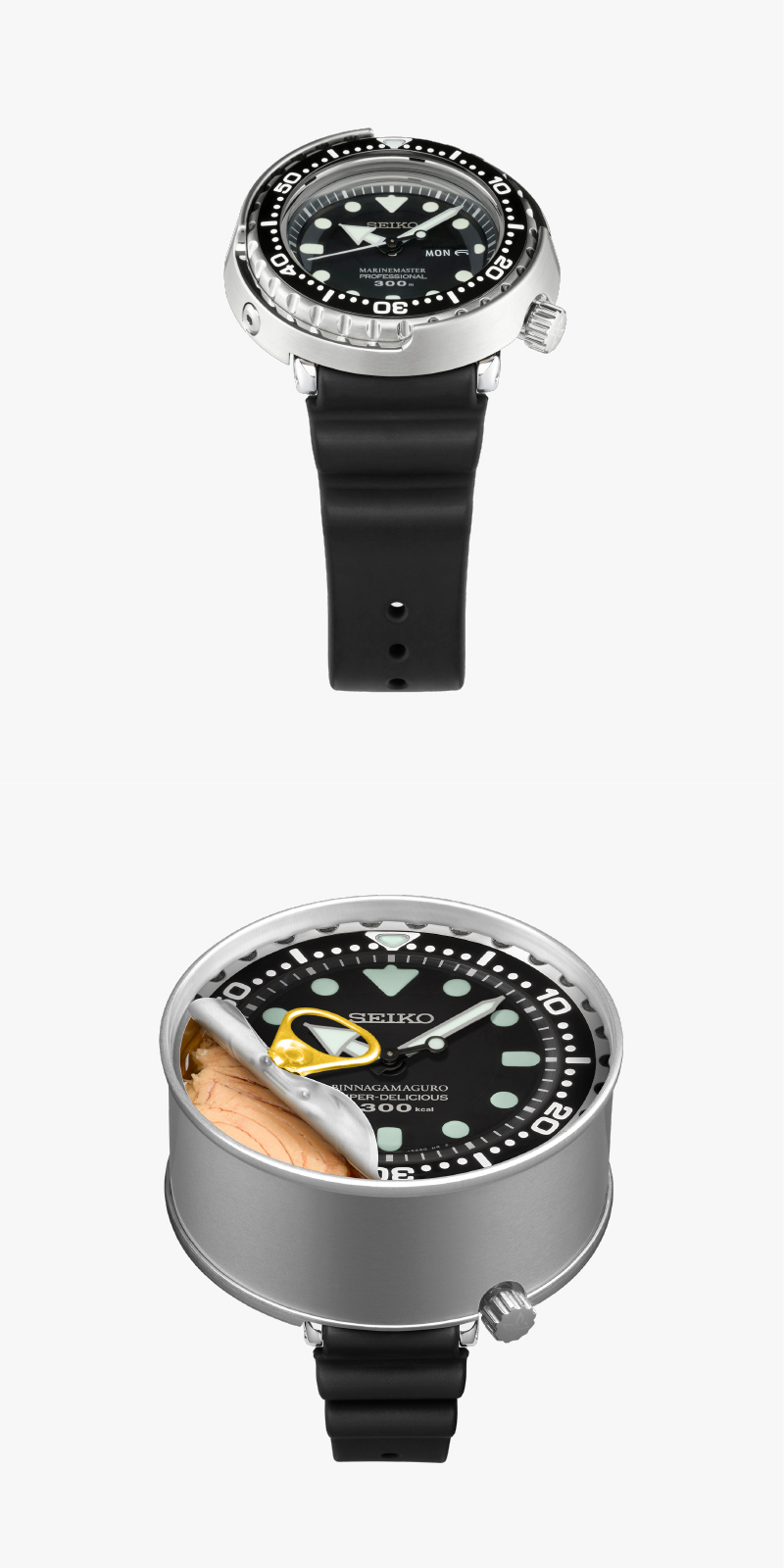 The project did not end on April 1st and we went on to create promotional items based on the Tuna Can idea in and outside Japan. We began to turn our attention more toward promotional business, something we had not normally given much thought to. I think this became an impetus for the Design Center Department to broaden our horizons.
The project was received even more favorably than we had expected, and was ranked No.1 in a PR research report on the most posted Web news articles about April Fools' Day. It was so successful that the internal expectation grew and created the kind of atmosphere where it was assumed "of course you'll be doing an April Fools' project in 2018, too, right?" So the second year was easier for us to work on than the first year.
The theme for 2018 was the Grand Seiko Spring Drive.
Hibayashi: In 2017, we needed to persuade people within the company, so we didn't set the direction of the project until January. This didn't leave us much time and made the work hectic, so we learned our lesson and started things rolling for the 2018 project well in advance. We were able to narrow the theme down to the Grand Seiko Spring Drive quite early on.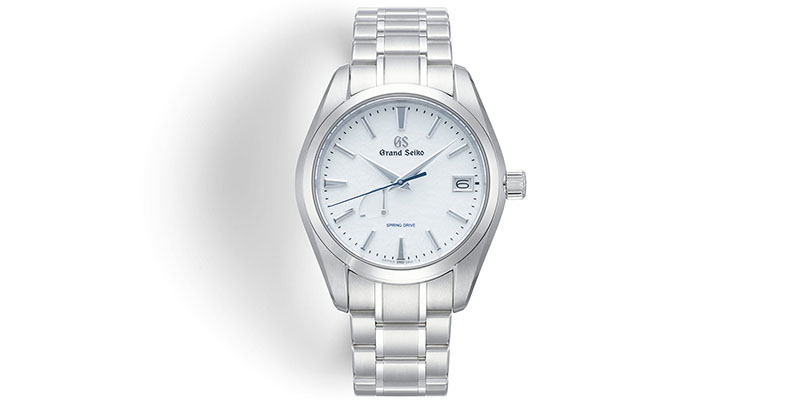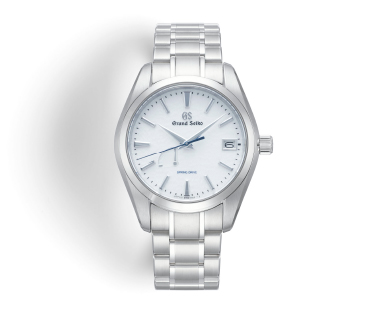 Spring Drive is an advanced technology that combines the power derived from a mainspring with the high accuracy of a quartz crystal, making it possible to deliver accuracy to within one second a day, which no other mechanical watches can achieve. Seiko had a strategy to market the Grand Seiko Spring Drive globally, so we determined to use that type of watch. With that theme, each of our team members once again came up with various ideas, but since this is different from our regular design work, it was quite difficult. Koriyama-san, you've been part of this project since 2017. How did you feel about it?
Koriyama: Because we had a lot of members suggesting various ideas, I always tried to propose ideas that other member wouldn't come up with, in order to expand the breadth of thinking.
Hibayashi: Right, I have the impression that you brought up some pretty wild ideas since previous year.
Koriyama: In 2018, for example, I proposed the idea of "S'pudding' Drive" where the watch itself was a pudding.
Hibayashi: Yoshida-san wasn't yet a member of the project in 2017, but joined in 2018.
Yoshida: Yes. While it was fun, it actually wasn't easy to generate ideas.
Hibayashi: Honestly, I think every member felt the same way.
Yoshida: We need to allow ourselves to think in a flexible way. But I think, as a consequence, we are now able to make use of this experience in our regular work. As a design is nearing completion, it sometimes occurs to me that it might be good to add a more playful touch to it.
Hibayashi: After much discussion within the team, we finally settled on the plan for the Ninja Watch as the April Fools' gag for 2018. Focusing on one of the Spring Drive's features—its silence—the idea was to present a watch made for ninja's clandestine operations.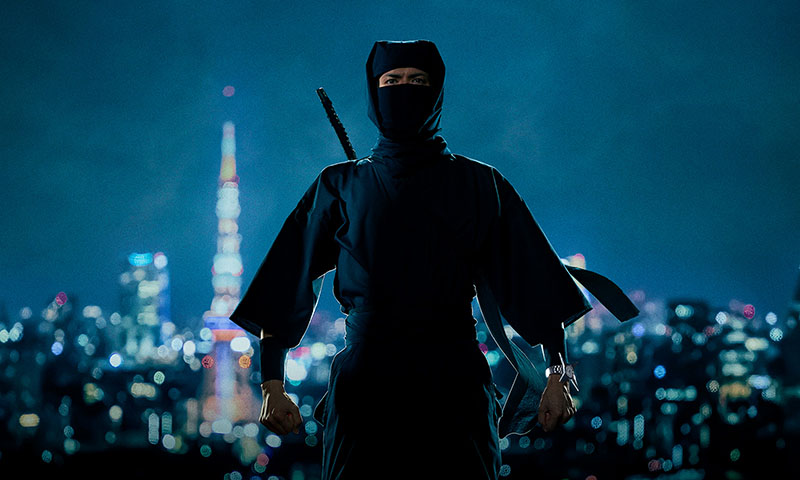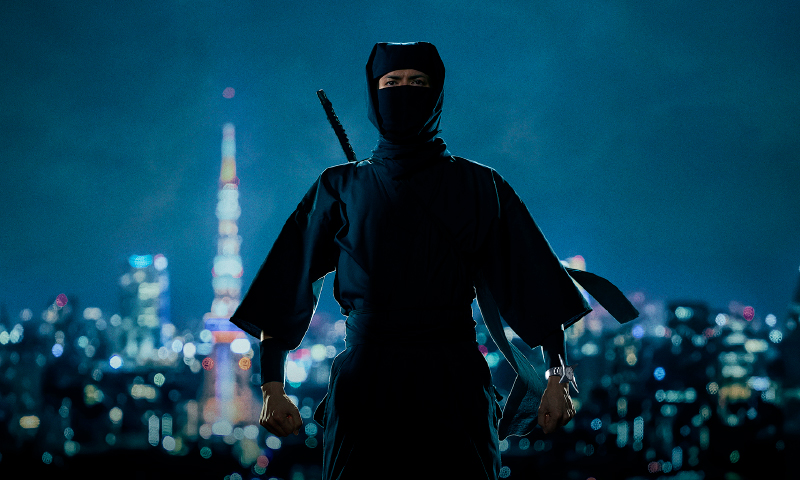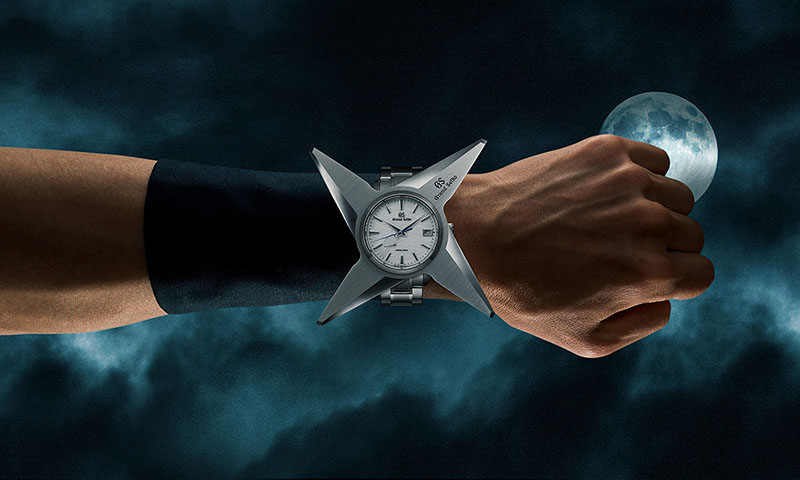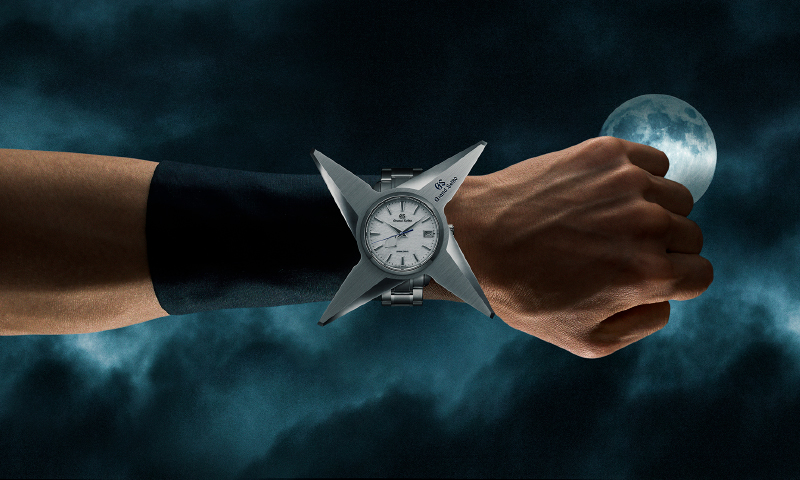 Hibayashi: Once we had decided on the idea of a ninja watch, we proceeded to determine the whole story, main images, and product details. Again, these were not easy tasks.
Advertising isn't our profession, and even in terms of product design, we tended to be serious and think "as a watch, it should be such-and-such a way" or "let's value the features of the Grand Seiko." As a result, we found ourselves trying to create a product that looked like it could actually be marketed. We had second thoughts when we began to consider that it might be lukewarm, and finally we settled on the concept of an unrealistic shuriken watch that can be detached and thrown.
Yet, we still wanted to include the essence of Grand Seiko in the product's details. For those design details, Sakai-san played a central part as he actually is involved in the Grand Seiko design.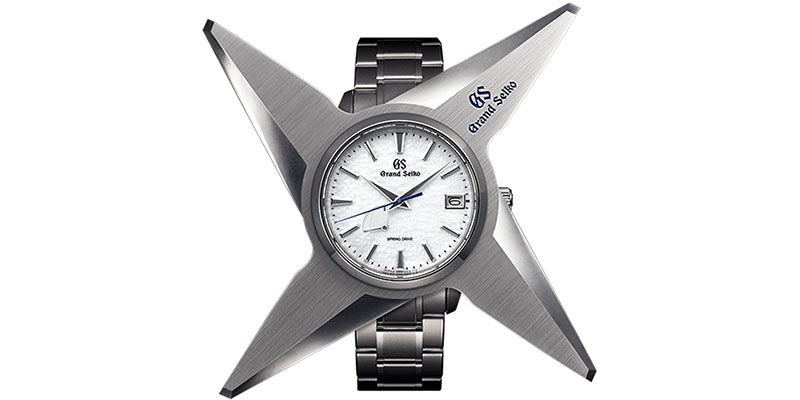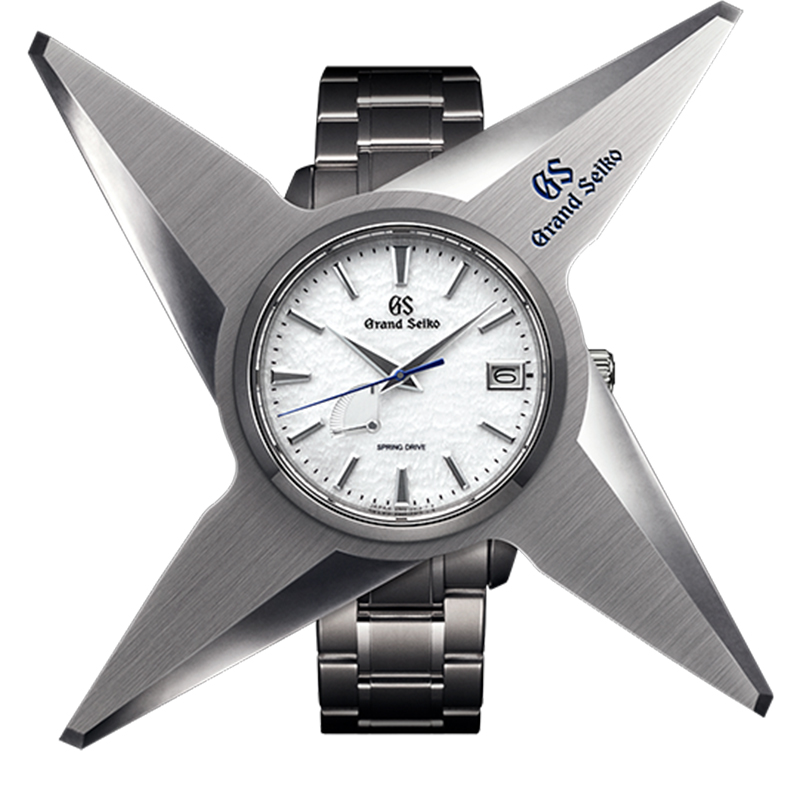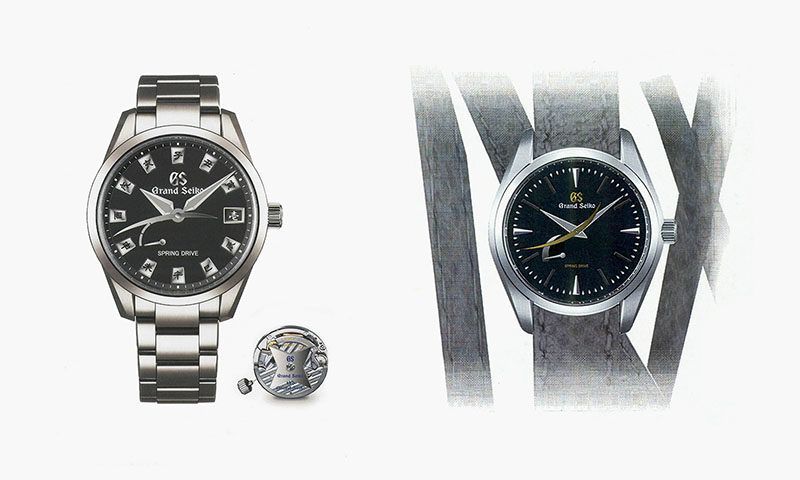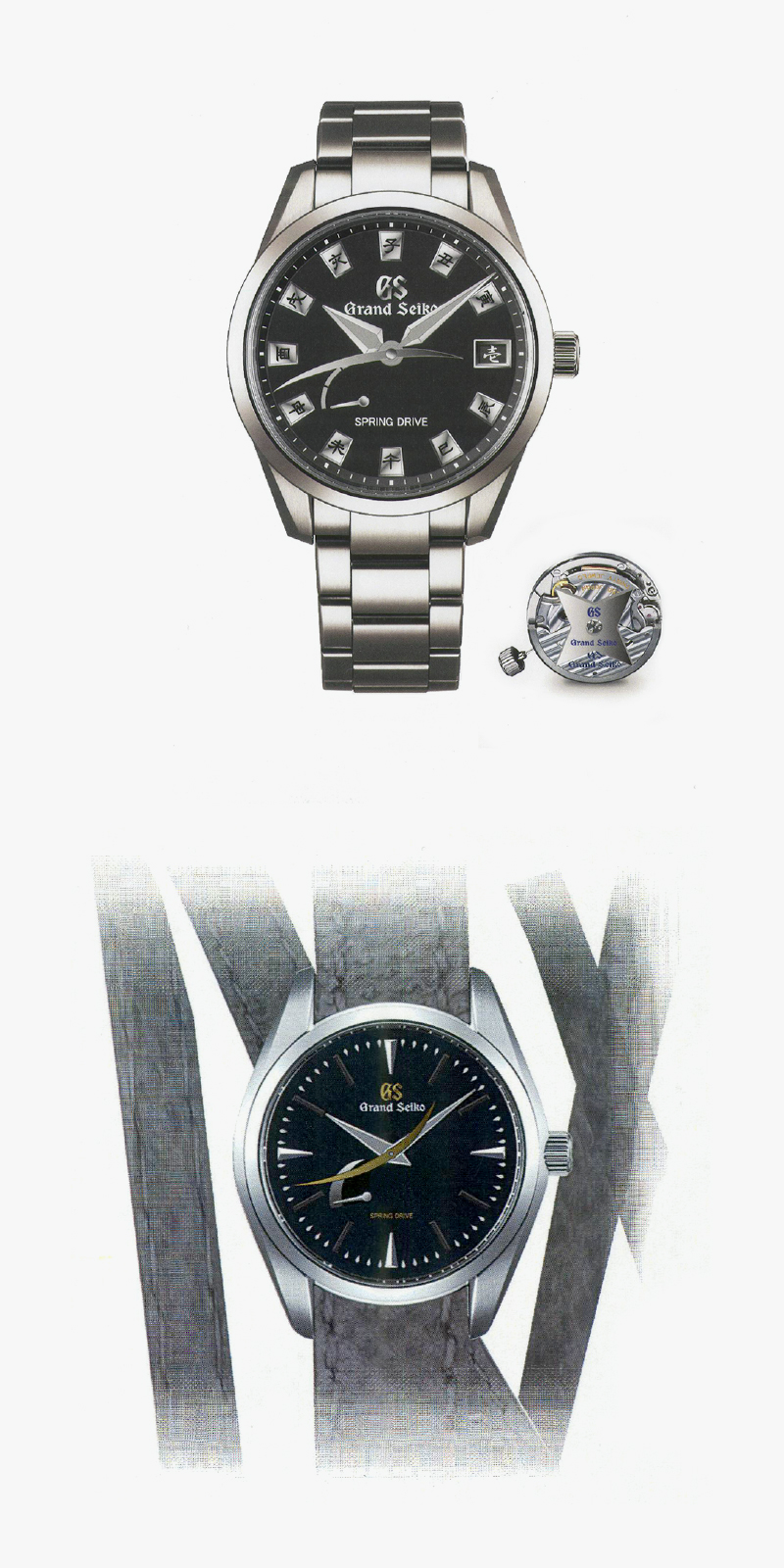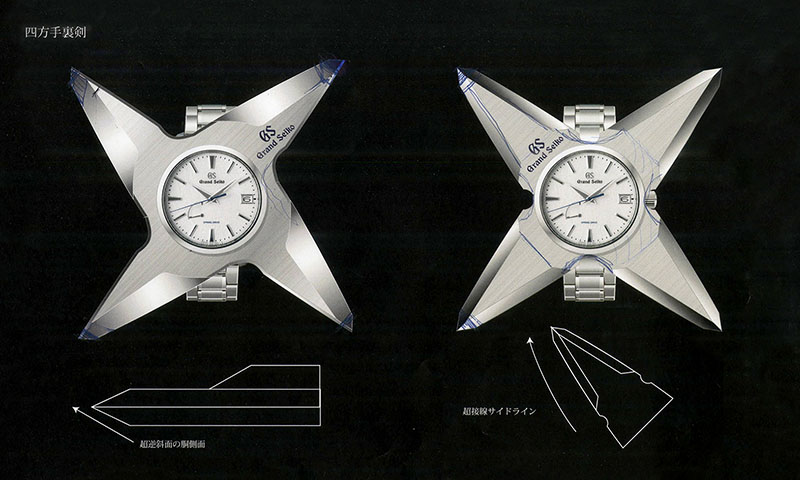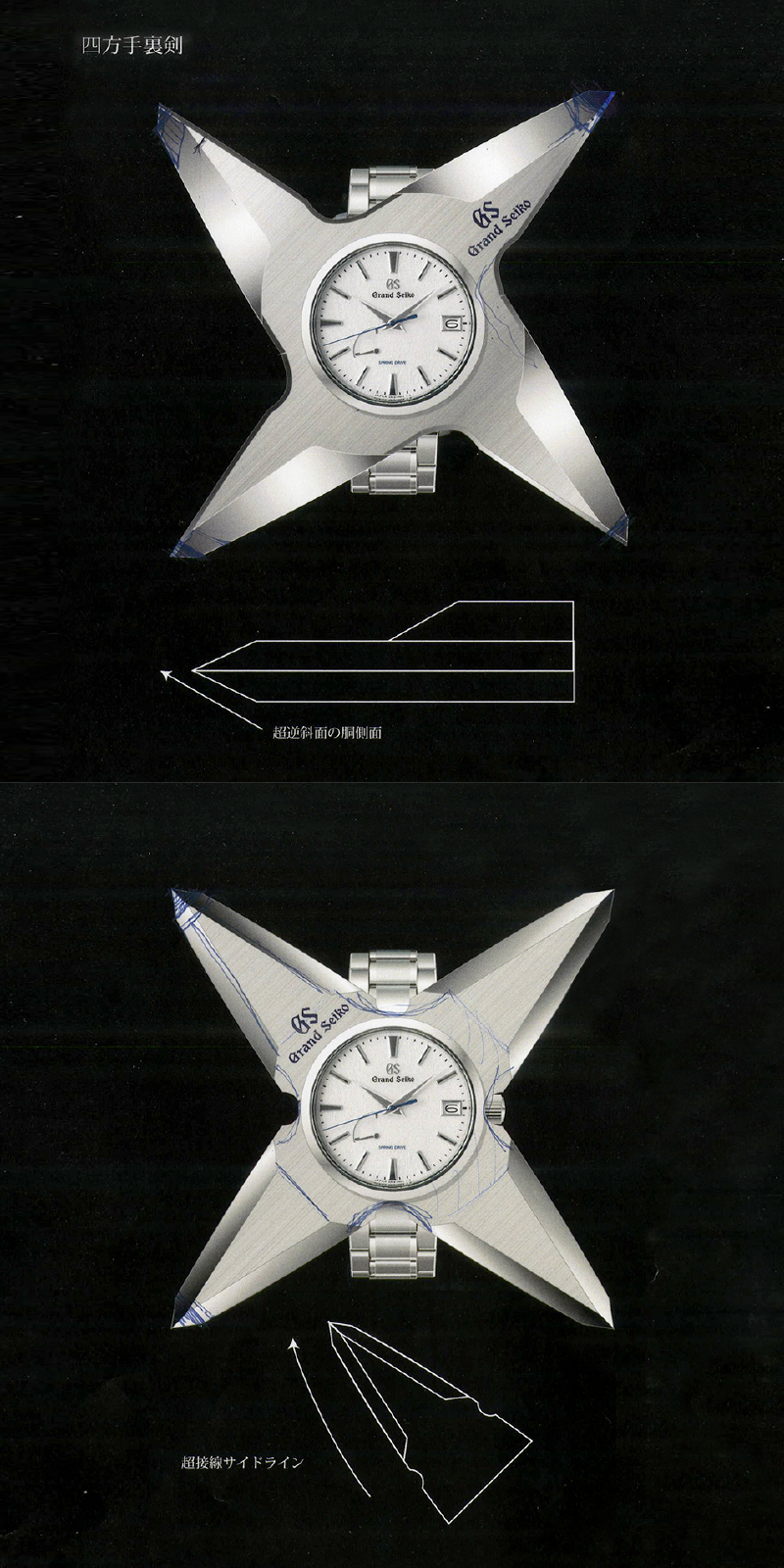 Sakai: An example of our attention to detail is the surface design created by hairline and mirror finish that are also used for the actual Grand Seiko watches. Also, a special Zaratsu polishing technique is usually used to finish the Grand Seiko case, so based on the premise of using this technique, we designed the shape of this Ninja Watch so that it could also be given Zaratsu polishing. Of course, this was a fictional product, so it didn't actually undergo such polishing.
Hibayashi: Although this product was fictional, we also had the thought that we didn't want to make something that could hurt someone, so even though it's a shuriken, this one is actually designed with safety in mind.
Sakai: Yes. If you look closely, you can see that the tips of the shuriken blades are actually chamfered and don't form sharp points.
Hibayashi: We also designed a women's Kunoichi (female ninja) model. We struggled a lot trying to figure out how to lay out diamonds beautifully on a product whose shape is clearly different from a watch. Because this was a fictional watch, we allowed extravagant use of diamonds. If this were actually manufactured, I think it would be terribly expensive.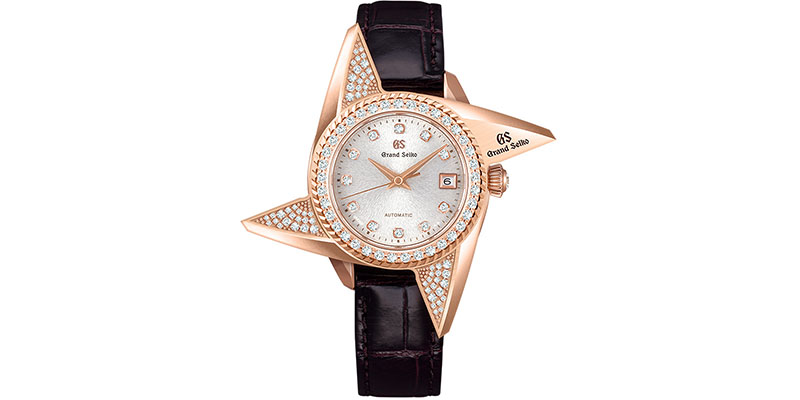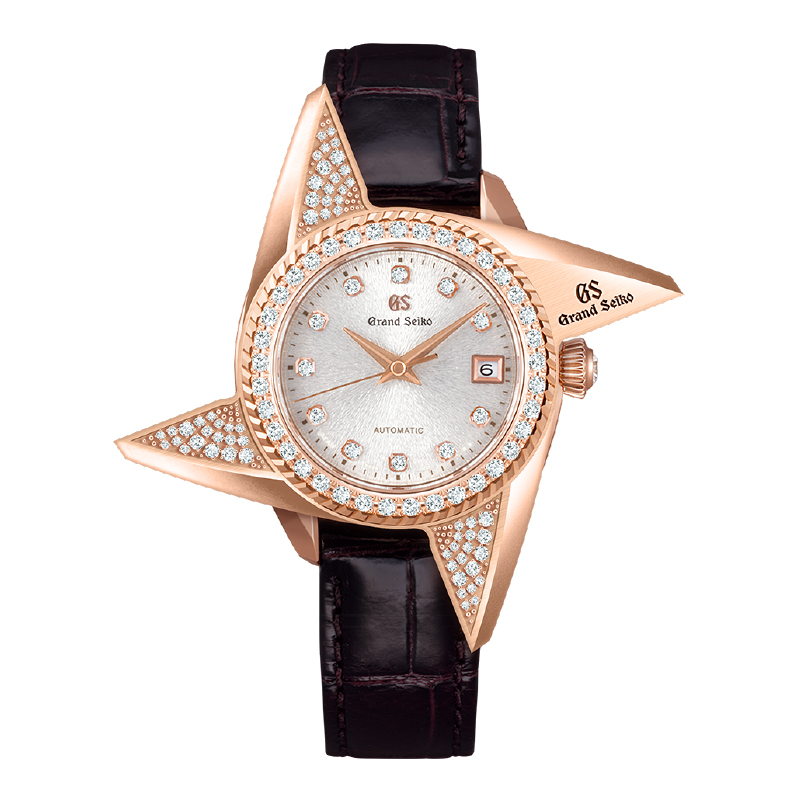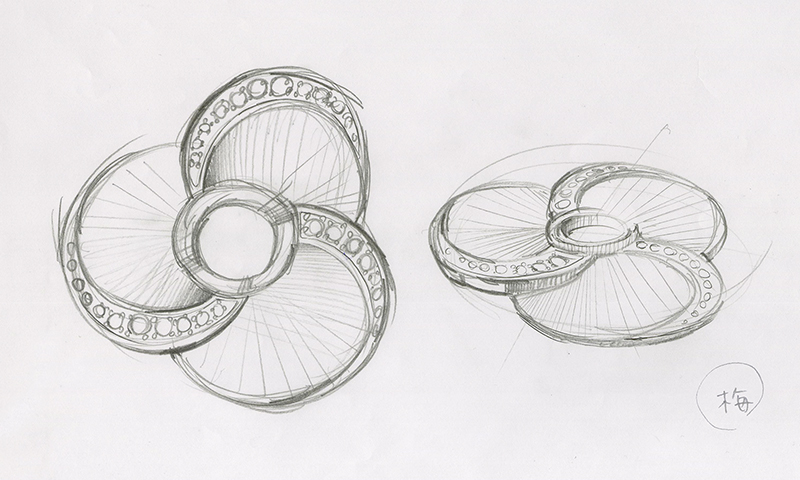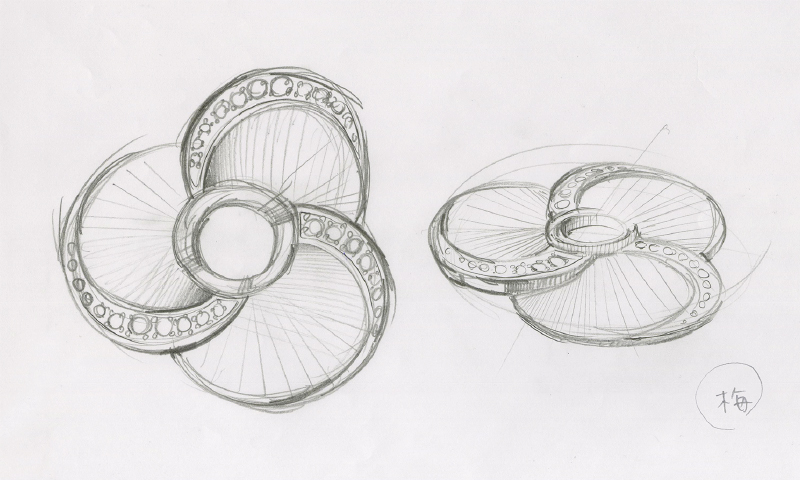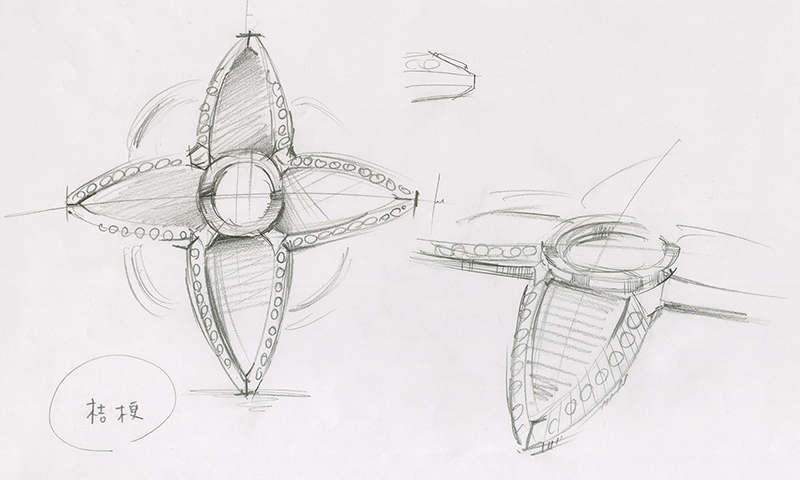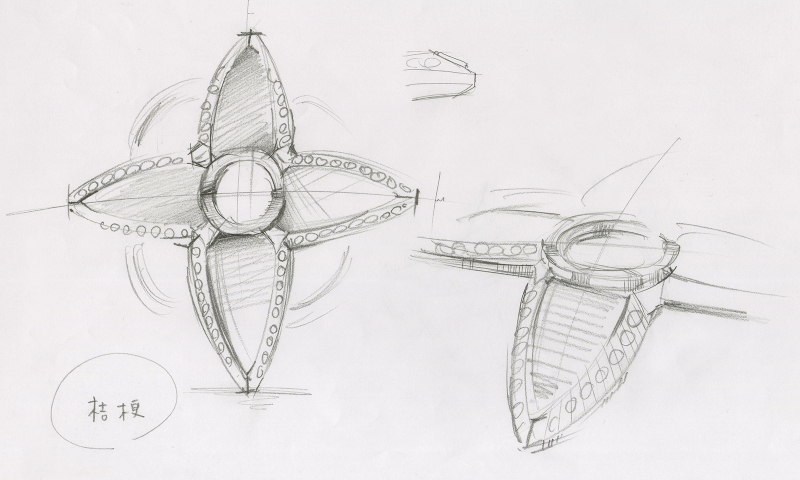 Hibayashi: In 2018 we also created a web video that was viewed by many people. In addition, we asked the renowned art director Yoji Shinkawa, who was an art supervisor on the Metal Gear Solid series, to create an illustration based on the image of the ninja watch. I directly made an appointment and gave him a presentation, so I was really happy when he accepted our proposal. In the sense of disseminating information to those who are not so-called watch-lovers, it was highly effective.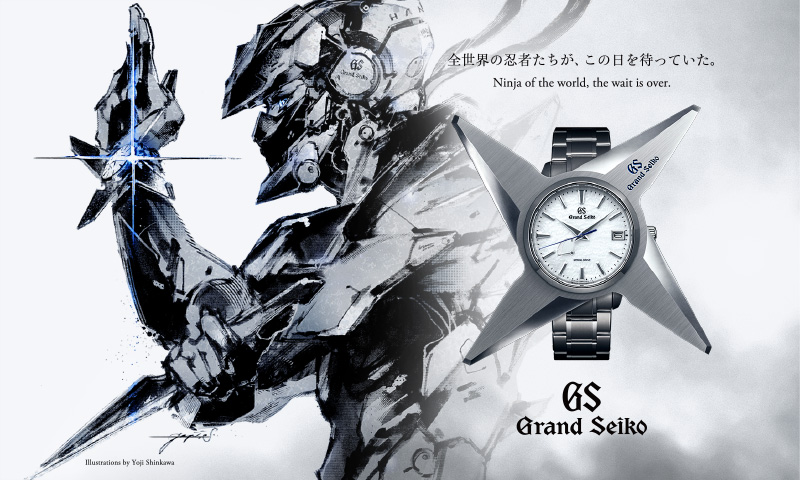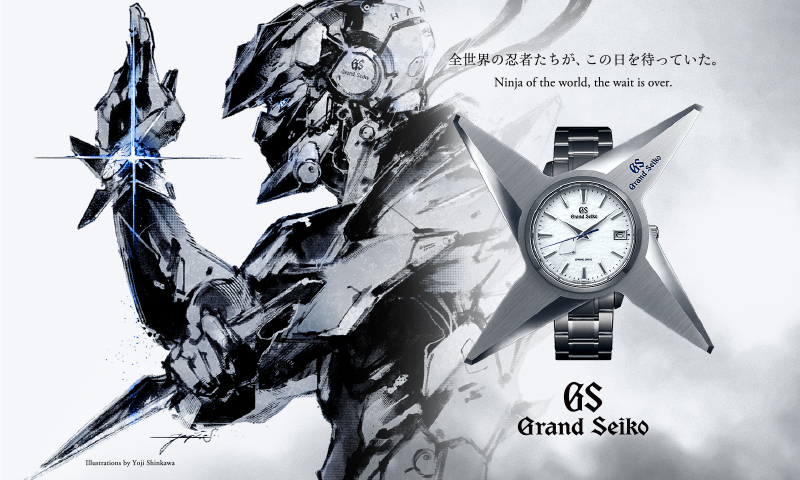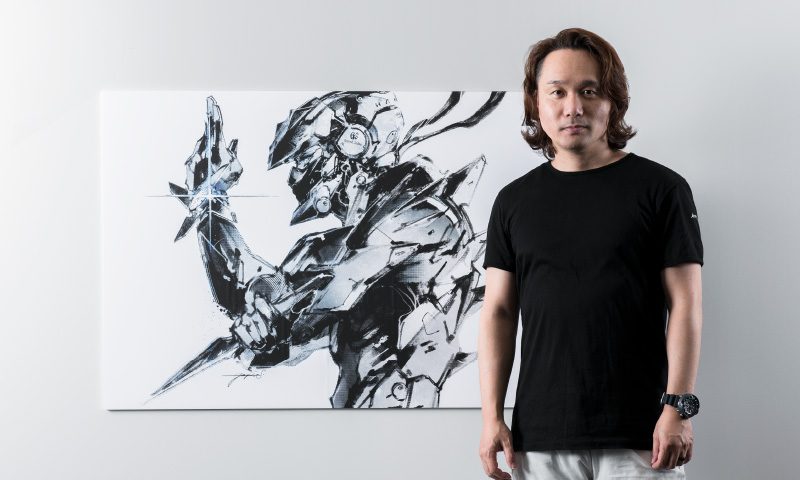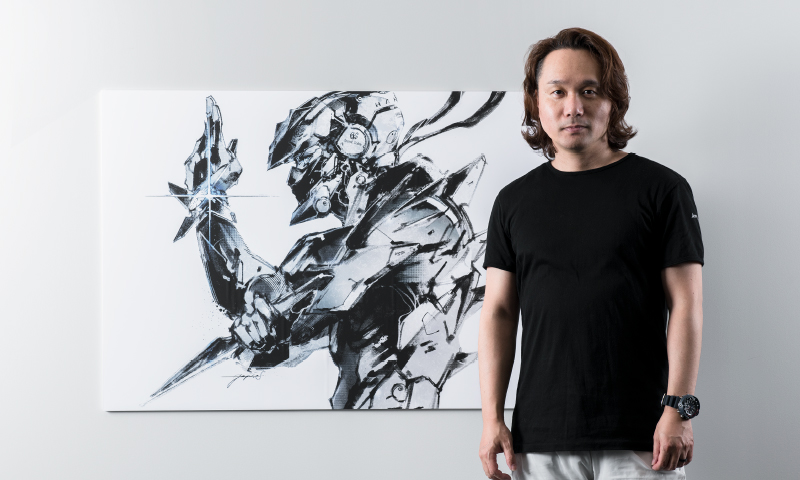 Hibayashi: Through these activities, I keenly feel the importance for watch designers to not simply design shapes of products, but to imagine the users and produce designs that incorporate consideration of user interaction. Also, I believe that having free-minded ideas and a playful attitude will bring enjoyment to people around the world and endear the Seiko brand to them.
As part of this effort, it is my hope that we will continue to press forward, beyond the scope of the April Fools' Day project, with activities that will expand the range of work and the breadth of creative ideas of designers at the Design Center Department.