Seiko Watch Corporation launched the Seiko School Time in September 2019. This is an analog solar watch designed for elementary school students. The design was developed with imagination and observation of children's physical characteristics and activities inside and outside school based on consideration of the question, "What should a child's first watch be like?" In this volume, Kento Ito talks about the design of the Seiko School Time.
(December 25, 2020)
The watch as a buddy for elementary school students.
Today I would like to introduce the Seiko School Time, a solar watch designed for elementary school students. Seiko has released several products for children, but there was a growing momentum within the company for creating a more fully-developed watch, and so development of the Seiko School Time kicked off. Just as we used to check the time on a watch when we were children, we want today's children to also be able to use watches and experience their appeal. We also thought that approaching the younger generation was very important to create the future for watches.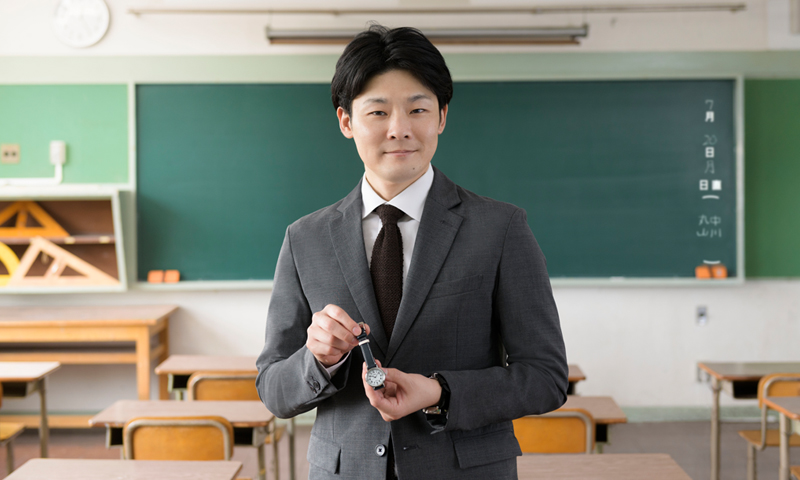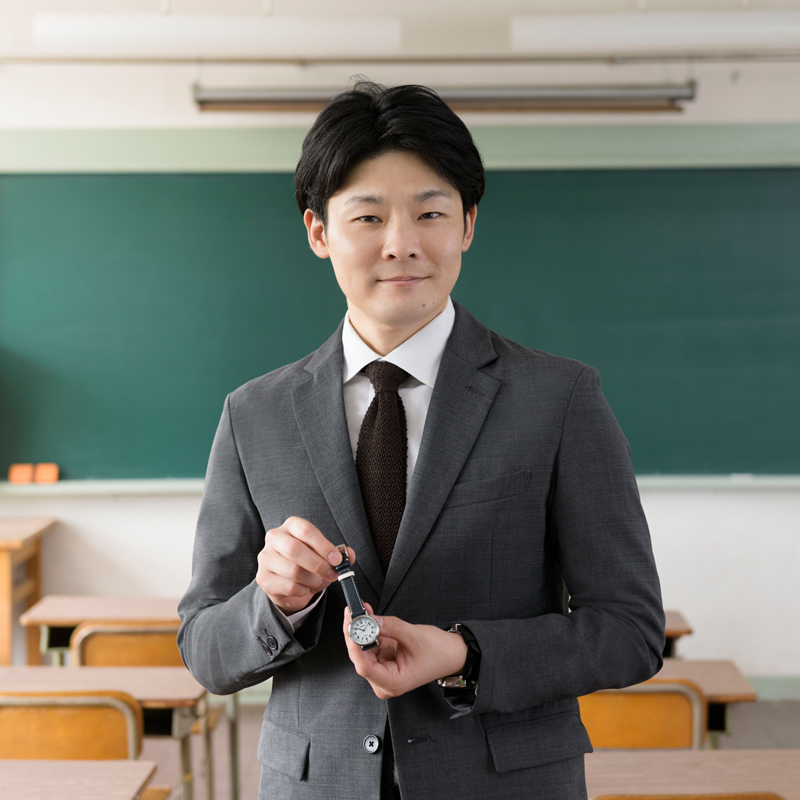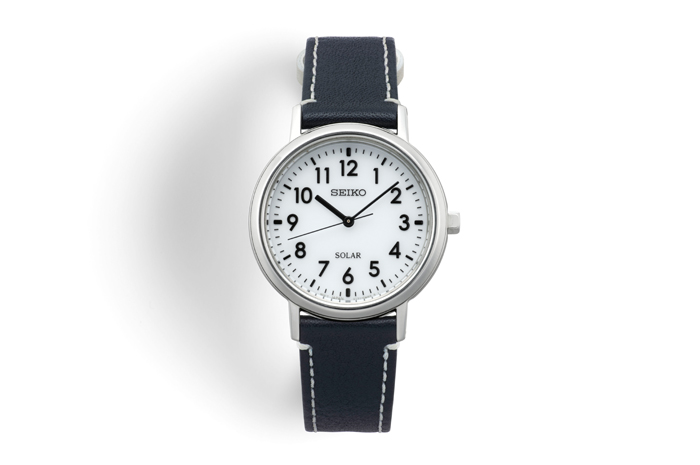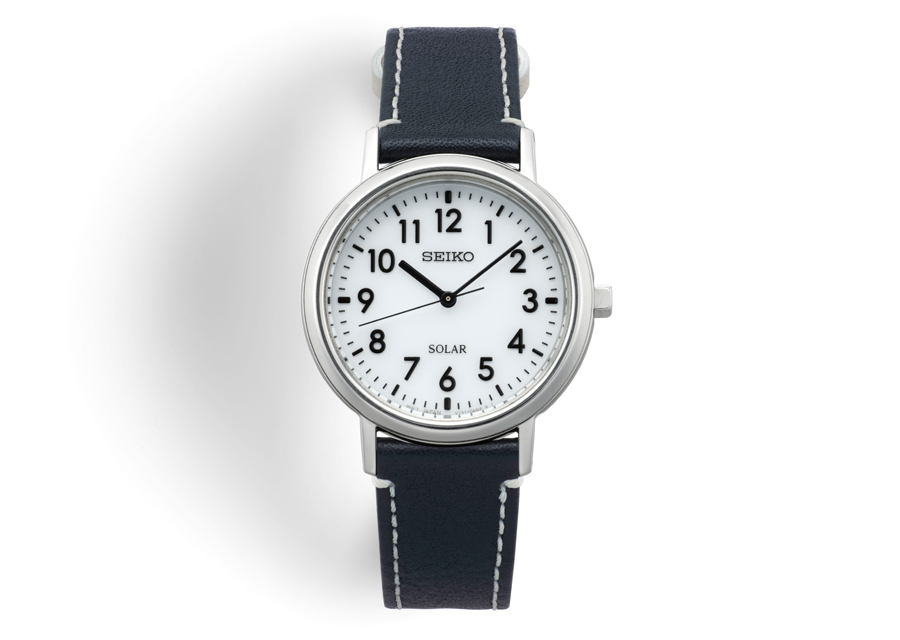 The first thing I thought when I started designing this product was that it would probably be the first ever watch a child would get his or her hands on. So I then thought, "What are the functions and designs suitable for a child's first watch?" As an extension of this thinking, we came up with the concept of a watch as a buddy that children can rely on in various activities they engage in.
For example, the size of the case. As a "buddy," what size would fit well on a child's wrist? After repeated verification with the assumption that the main target was middle- and upper-grade elementary school students, who are in an age range of about 9 to 12, we concluded that a diameter of 31.5 mm was suitable.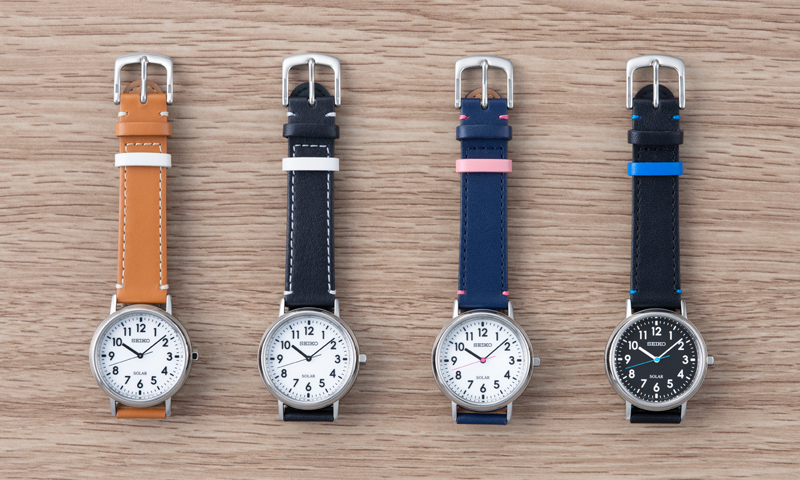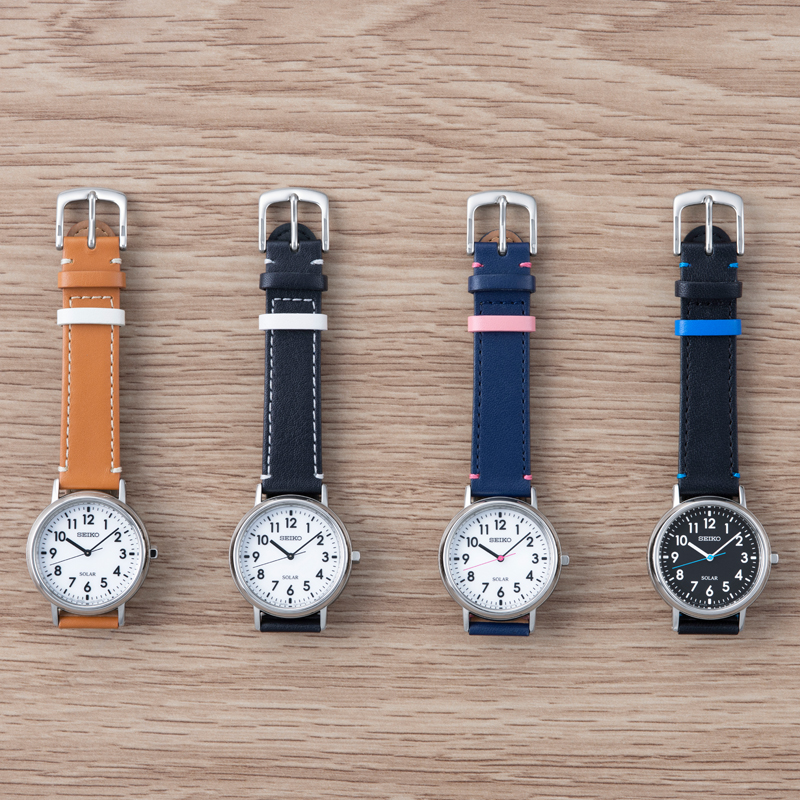 Among these color variations, there is no distinction for boys or for girls. To tell the truth, we thought about it at first, but then we thought that we didn't need to decide something arbitrary like "boys would like such-and-such a design," and in the end, we made no distinction according to gender. We decided to allow each child to choose what they would like as their buddies.
The ideal watch design is envisioned
by imagining the scenarios where it would be used.
When students reach the middle and upper grades, their range of activities expands as they start taking cultural lessons and going to tutoring schools. In addition, I assume that the number of occasions to dress formally for relatives' weddings, piano recitals, and interviews for junior high school entrance exams, for instance, will gradually increase. It's also a time when students are required to manage their time in order to study for tests and entrance exams.
With these scenarios in mind, we focused on a simple shape and ease of reading the time. Highly legible Arabic numerals were used to make the dial clear and easy to read.
Additionally, as a detailed design preference, the number font is slightly rounded at the corners to give it a sense of friendliness. Also, the numbers are printed over and over again, making them thicker and more raised. This is a special technique to accentuate the font.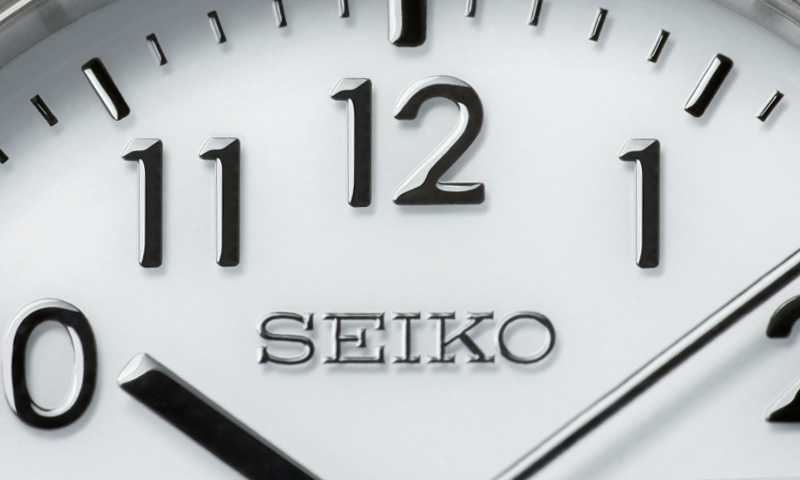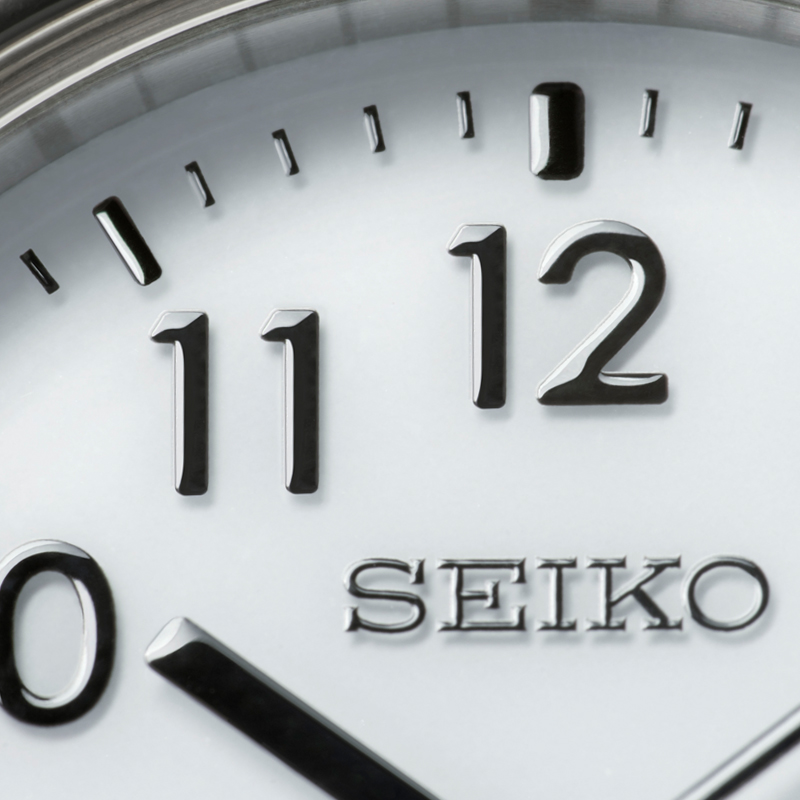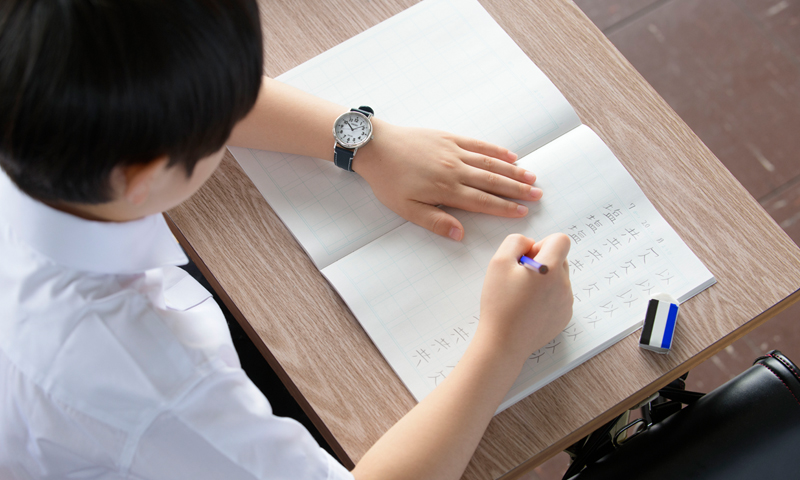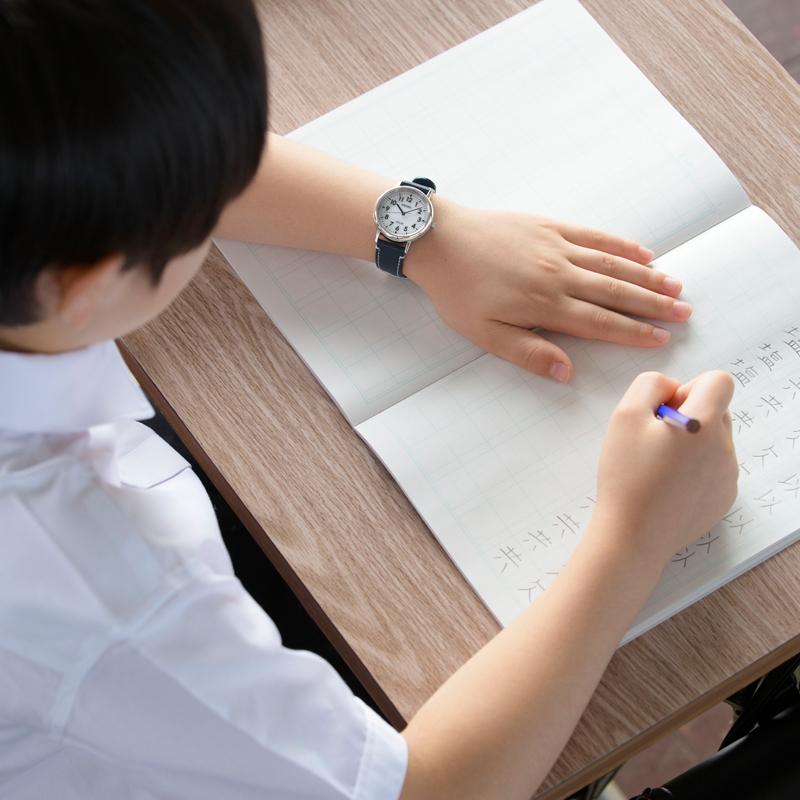 There are many watches that are designed with an emphasis on the 12 o'clock index. In fact, we did consider such a design idea along the way, but we abandoned that idea. Many of the clocks hung in classrooms, large clocks mounted on the outside of school buildings that can be seen from the school grounds, and clocks in stations and parks have 12 numbers of equal size arranged around the clockface. We decided that the Seiko School Time should have the same appearance as the clocks that children are used to seeing in their daily lives. The reason why this watch doesn't have a calendar function is based on the same idea.
There is also another reason for making the numbers equal in size. We tend to set our schedules on an hourly basis, like "from 1:00 p.m." or "from 4:00 p.m.," but elementary schools in Japan don't manage time on an hourly basis, because each class session is 45 minutes long. So we thought it would be better not to emphasize the 12 o'clock position.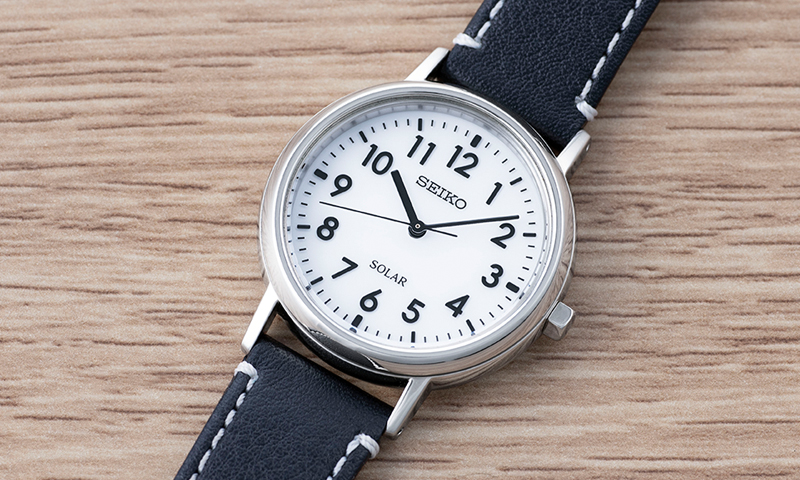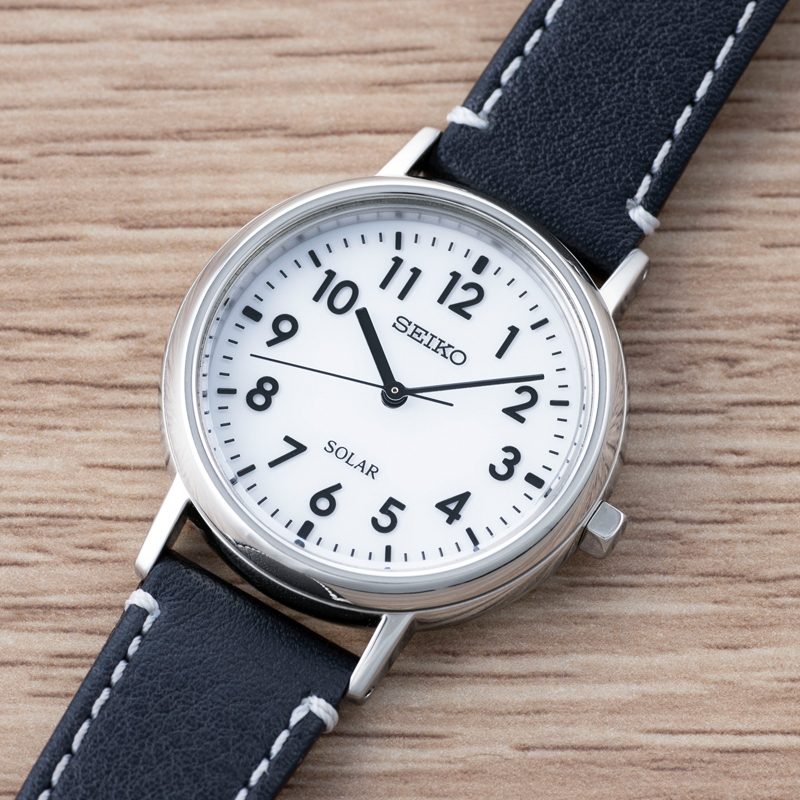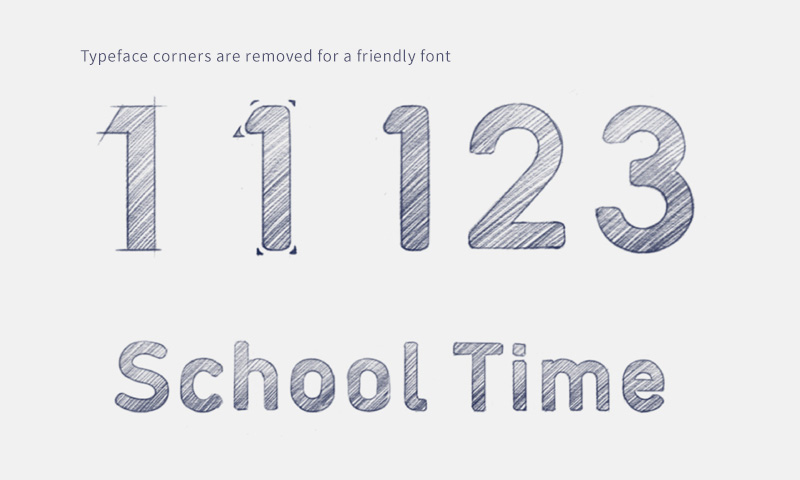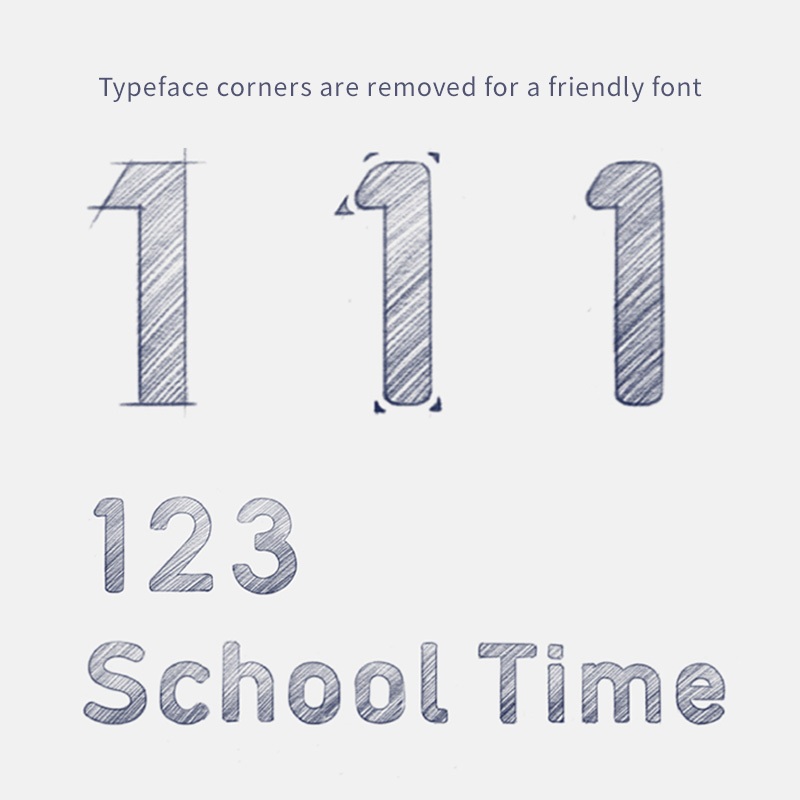 The strap is made of calf leather, which was selected so that the watch can be used with a child's best clothes and in formal occasions. The strap is stitched to give the impression of a well-made school satchel.
It's also made softer than a regular watch strap, so it will fit more comfortably on the wrists of children who are not used to wearing watches.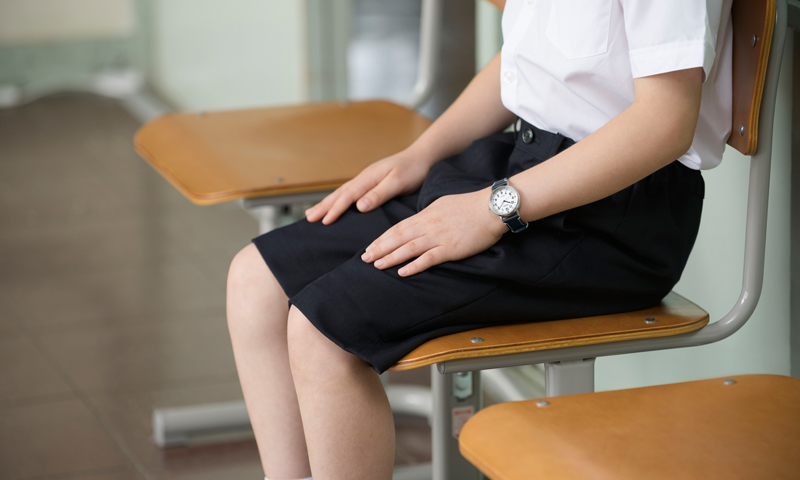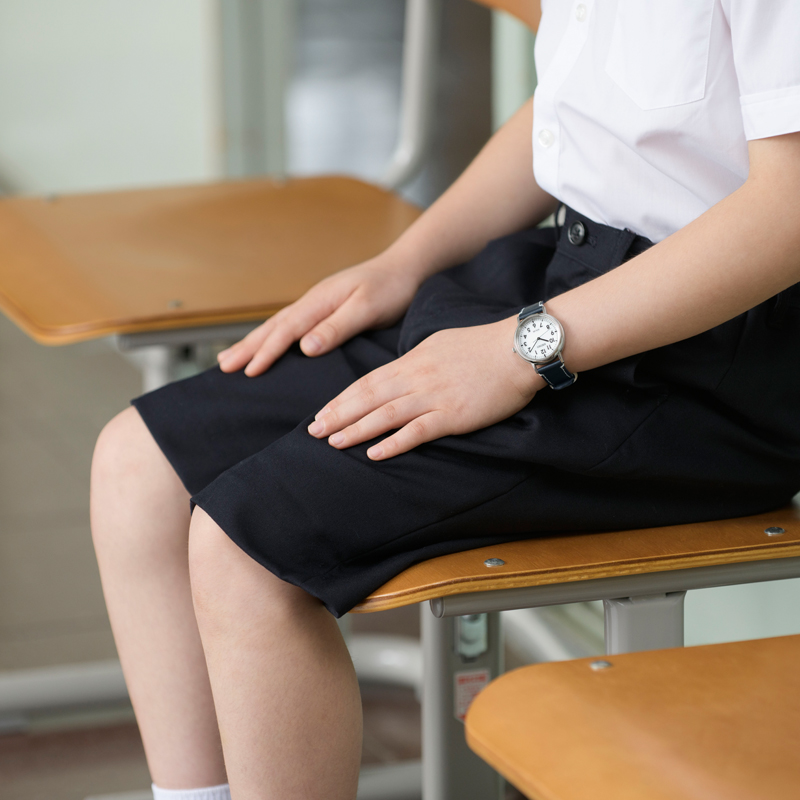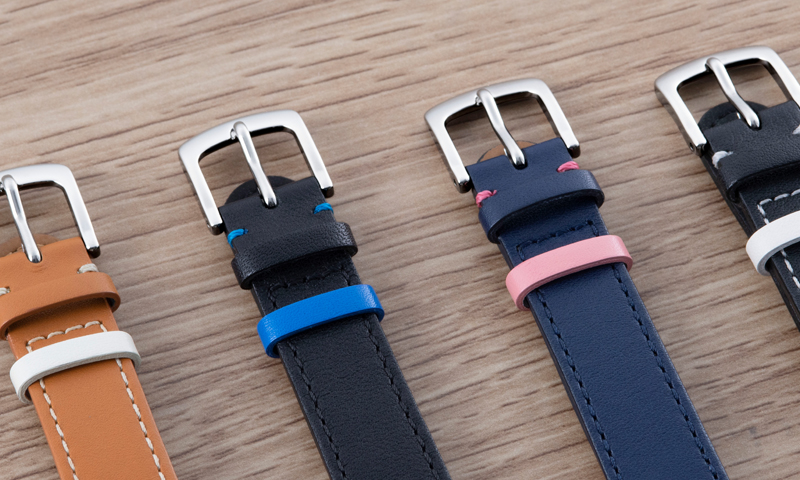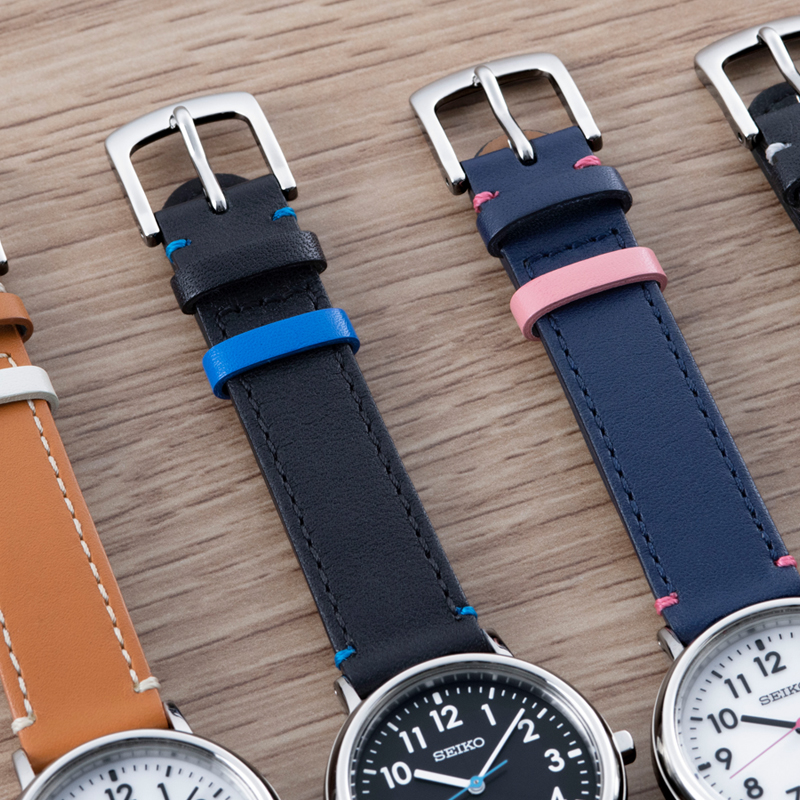 The Seiko school time has a slightly raised case edge and the glass is set at a slightly lower position. The merit of such a structure is that even if you accidentally hit your watch against something, the glass is less likely to be scratched.
Watch designers develop their designs while imagining the people who will wear those watches and the situations in which they will wear them, and this time was no exception. "What was it like when I was in elementary school?" "What is it like for today's school children?" The project team conducted research on these subjects and drew on their experiences of visiting and observing schools in person while working on the details of the design.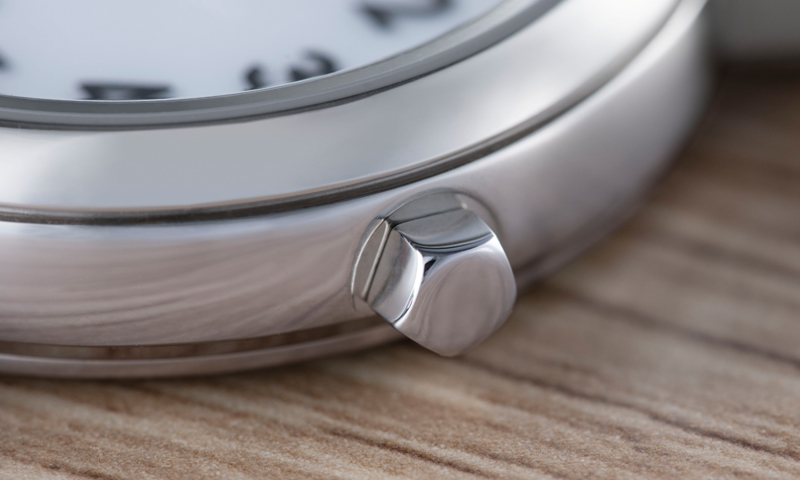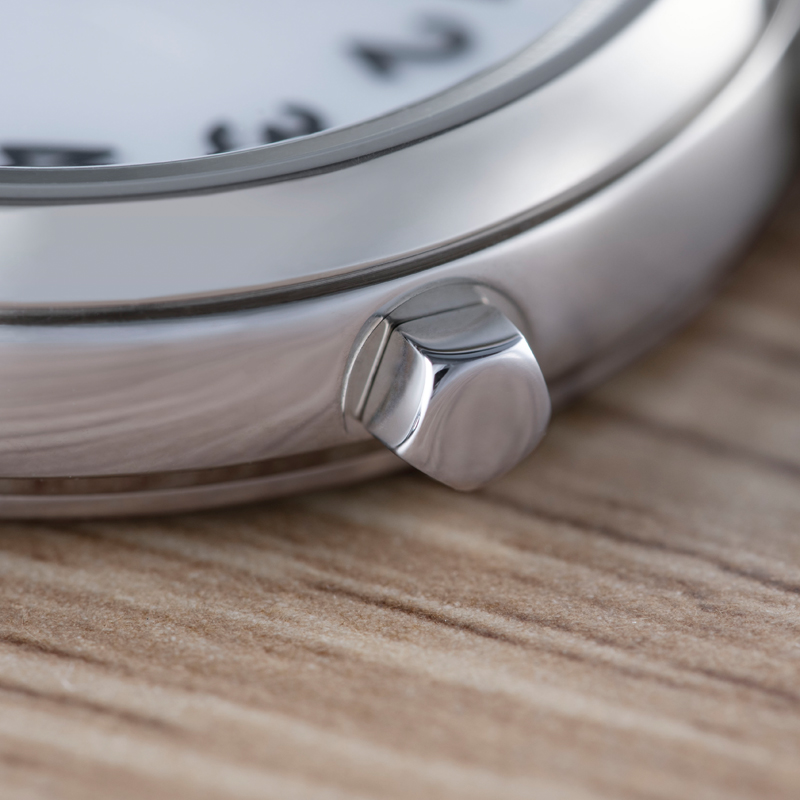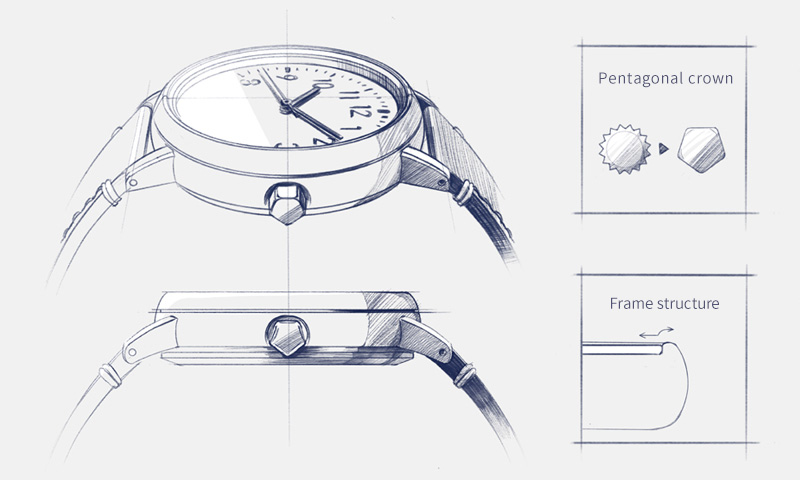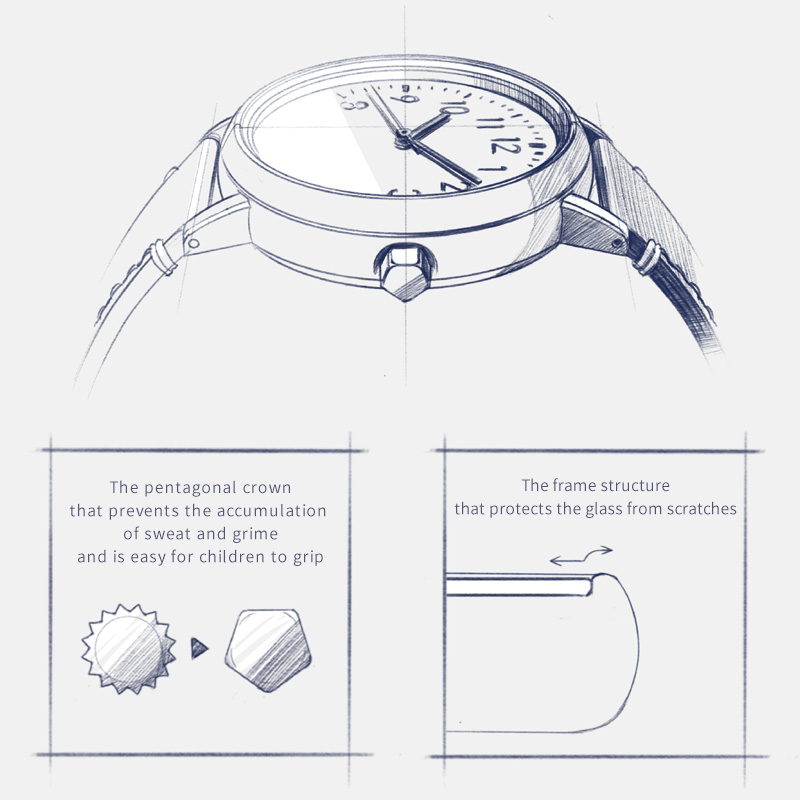 Hoping that this will be a chance for children
to get to know the appeal of watches.
With the widespread use of smartphones, there are more and more people who don't wear watches these days, but I think watches have a great deal more to offer than just showing the time.
Children who wear the Seiko School Time learn to deeply appreciate the appeal of watches, and when they eventually become adults, they will each find a special watch that will make them say, "This is a great design!" It would be wonderful if the Seiko School Time will be the first step of such story. And we hope we can continue to create attractive designs that will resonate with the sensibilities of each and every one of them.