Have you ever heard of barrier-free watches? These include tactile watches, or braille watches, that allow the wearer to check the time by directly touching the hands of the watch and talking watches that tell the time audibly with the touch of a button. These watches were developed to support people with visually impairment. In this edition we invited Ms. Chiaki Takada, a prominent athlete with disability, to talk about our renewed tactile watch and renewed digital talking watch that won the Good Design Award in 2020, not only in terms of their functions, but also in terms of the appeal of their designs. (Jun. 14, 2021)
The renewal process began by interviewing users.
Hasegawa: First, let me explain the process that led to the renewal of the barrier-free watches. I was responsible for the tactile watch design and Matsue-san was responsible for the digital talking watch design, neither of which had been changed for many years.
Matsue: The digital talking watch design had been unchanged for 11 years, and the tactile watch design had been unchanged for 25 years.
Hasegawa: As stated in Goal 10 (Reduce inequality within and among countries) of the Sustainable Development Goals proposed by the United Nations, we thought we should contribute to the participation of people with disabilities in society and change our approach to meet the needs of today. The renewal of these watch designs was realized based on this idea.
Matsue: That's right. I have always felt that designs should be updated according to the changing times.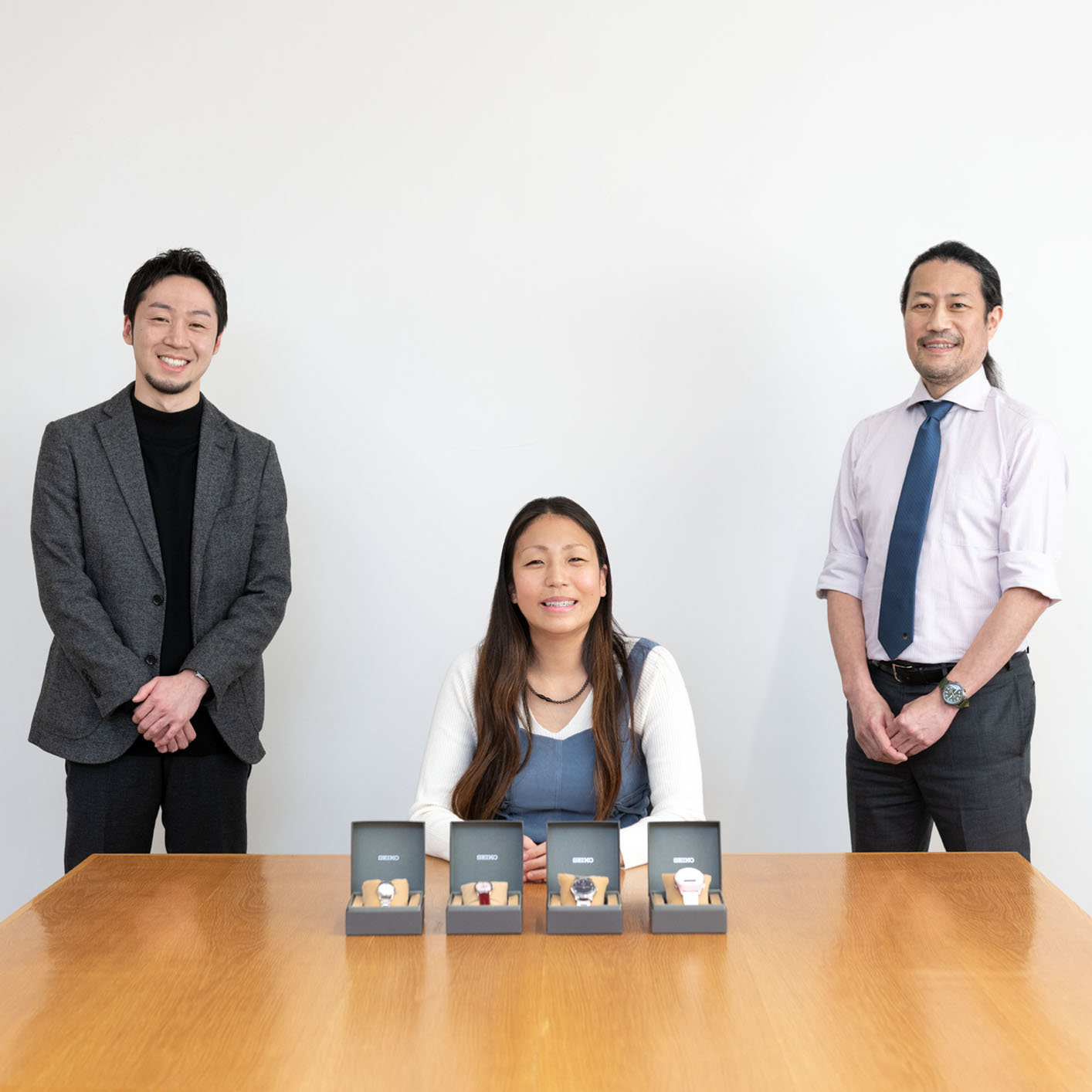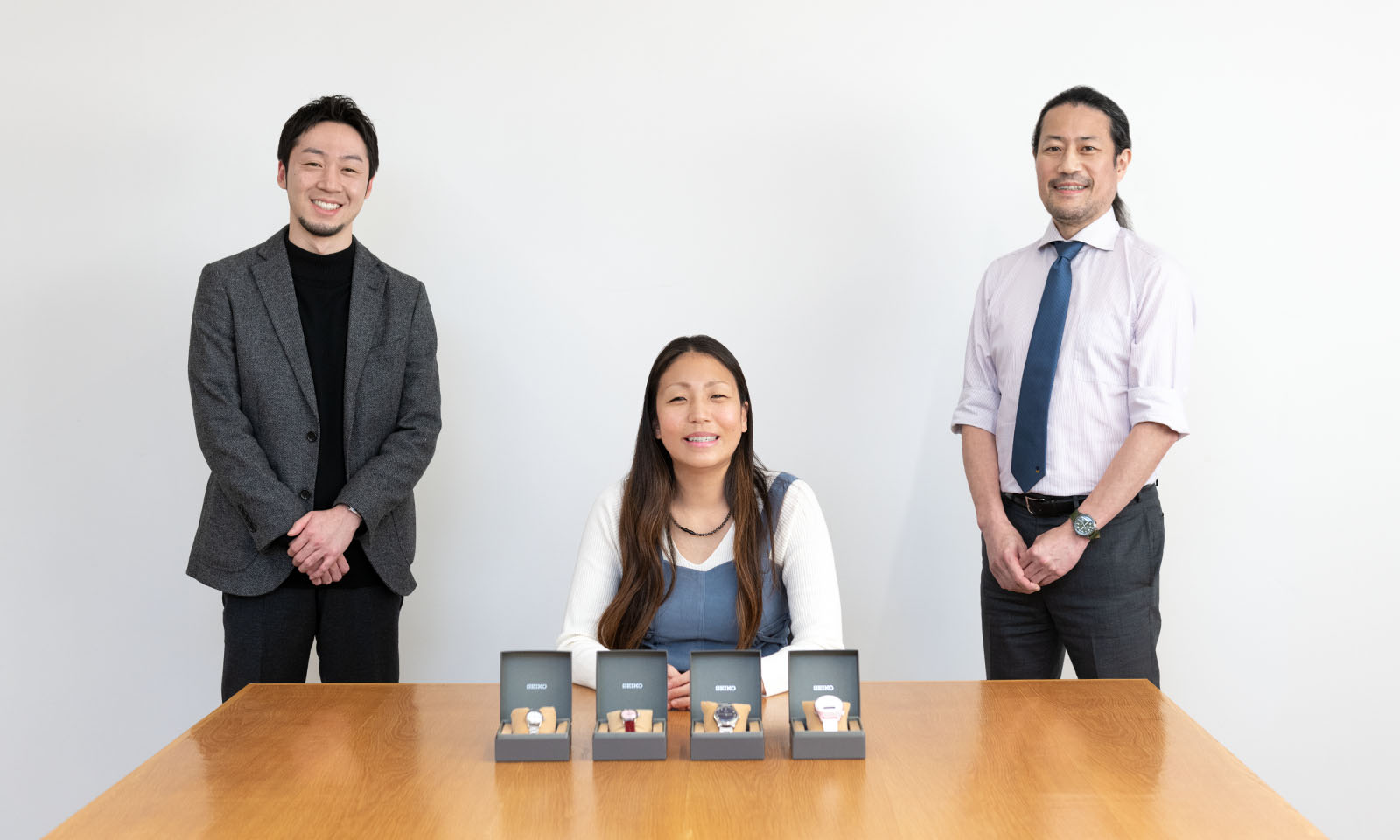 Hasegawa: For this renewal, we first interviewed many people with visual impairment. The interviews revealed things about their daily life that we would never have thought of, and revealed issues that needed to be improved in the development of a barrier-free watch. With this background in mind, I would like to have a discussion with Takada-san, who is a prominent athlete with disability. Thank you very much for agreeing to join us today, Takada-san.
Takada: Thank you for having me today!
Easy-to-hear talking watches are in demand in the sports scene.
Matsue: In preparation for this interview, we asked Takada-san to wear some of our barrier-free watches for a few days before the interview. We provided her with one model of the digital talking watch that has a pink gold case (SBJS016) and two models of the tactile watch, one with a silver bracelet (SQWK029) and one with a Bordeaux strap (SQWK033).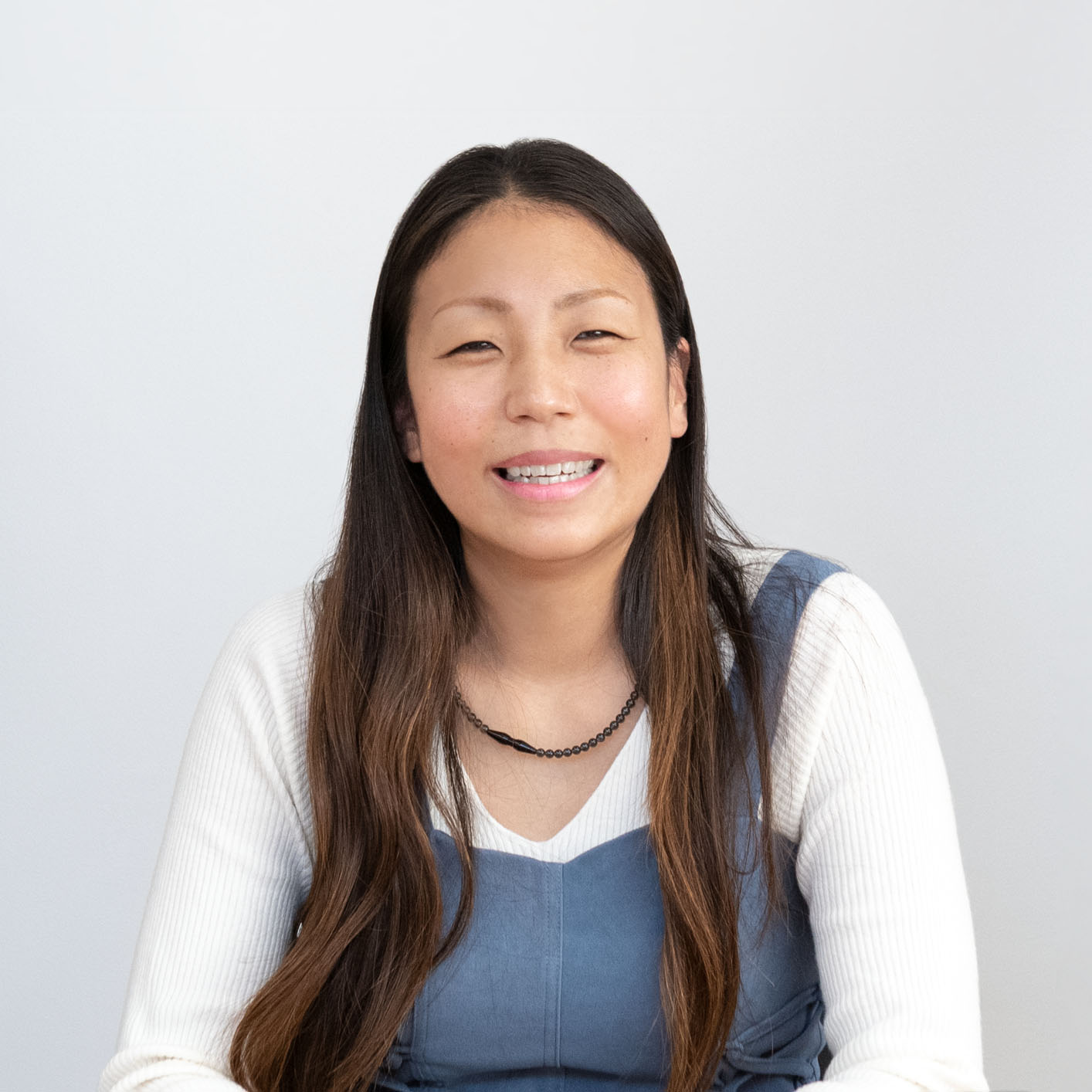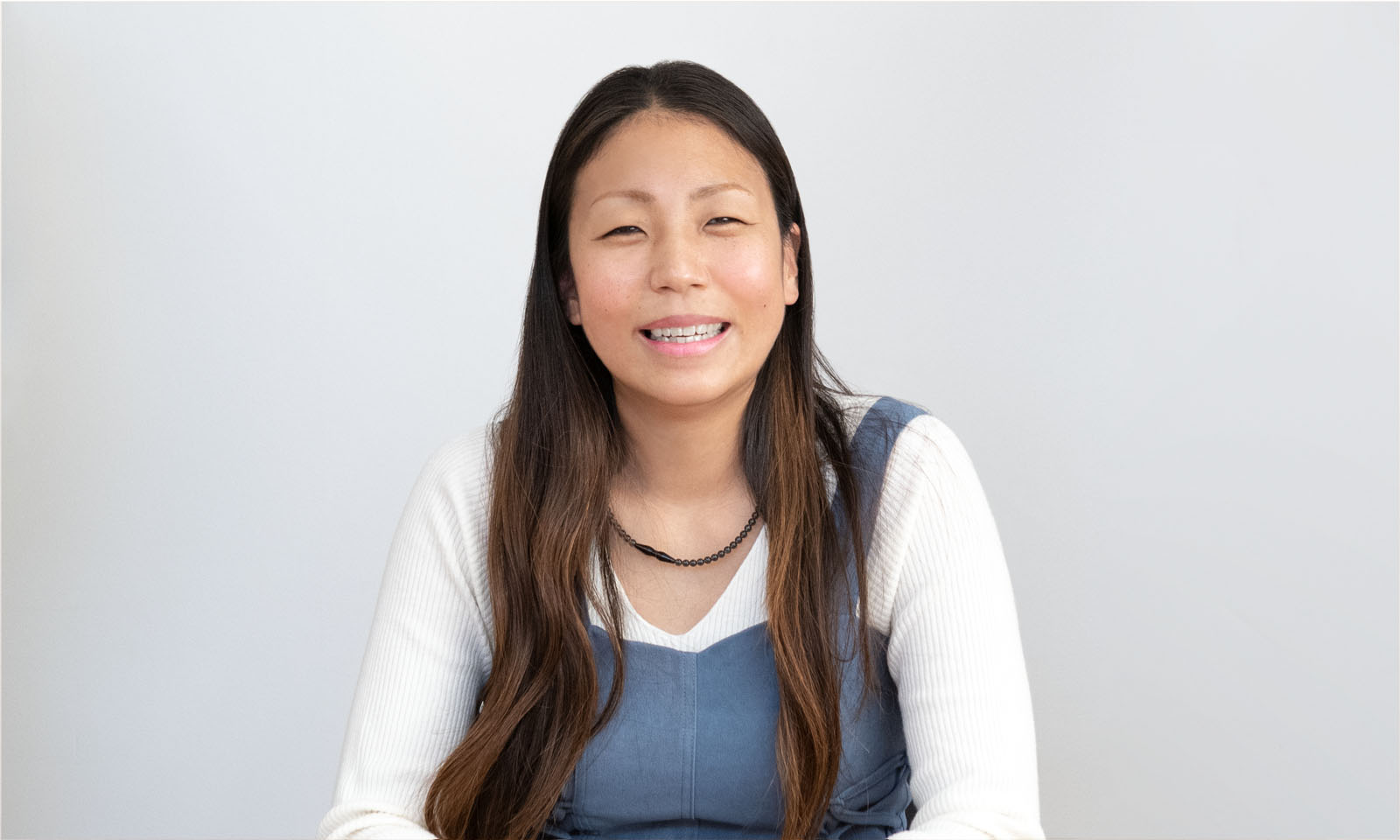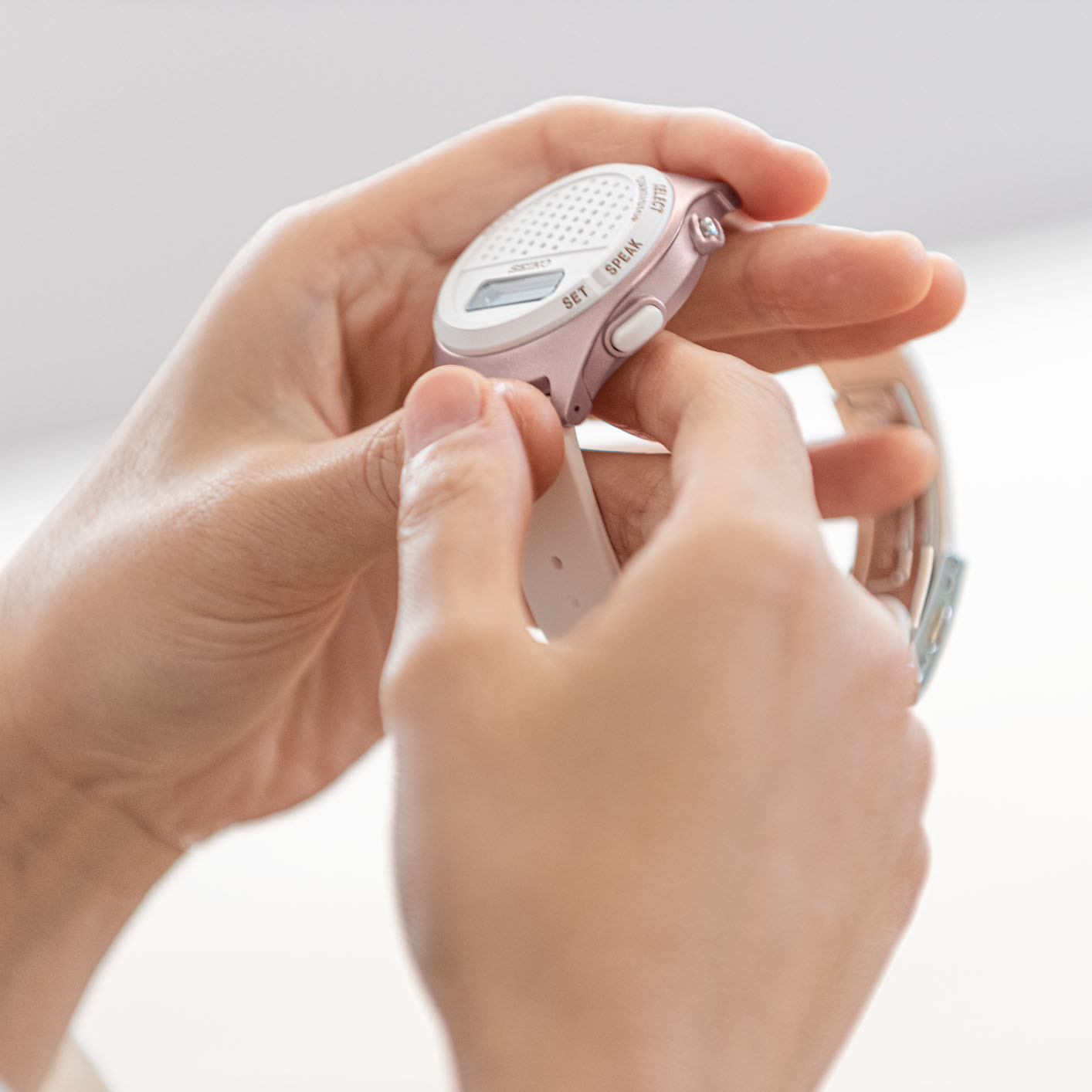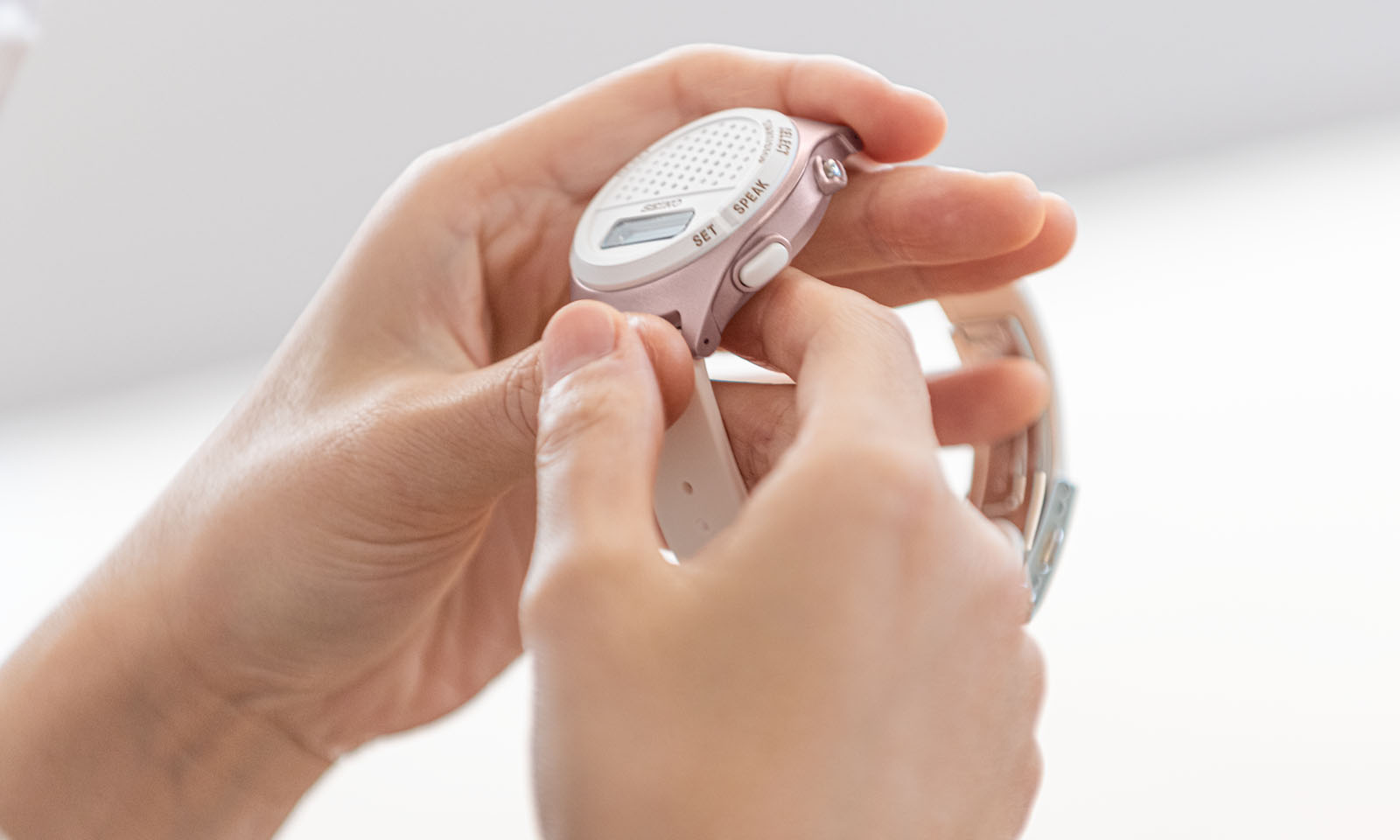 Matsue: First, I'd like to ask you about the digital talking watch. How did it feel when you actually used it?
Takada: Well, my first impression was that the voice was very easy to hear. I usually use a talking table clock at home, but the pitch of the voice from the watch is higher than that of my clock, so I thought it was easier to hear. Since blind people like me can't see, we are sensitive to sound, so the pitch and volume are very important.
Matsue: We paid special attention to the shape of the sound-emitting part during the development stage. I think it's easy to hear even when you're out in the city.
Takada: By the way, does it have any volume control function?
Matsue: Actually, we had a lot of discussions about that feature as we proceeded with the project. Adding an extra function would increase power consumption, which would make battery replacement more frequent. Considering this, we decided not to add a volume control function this time.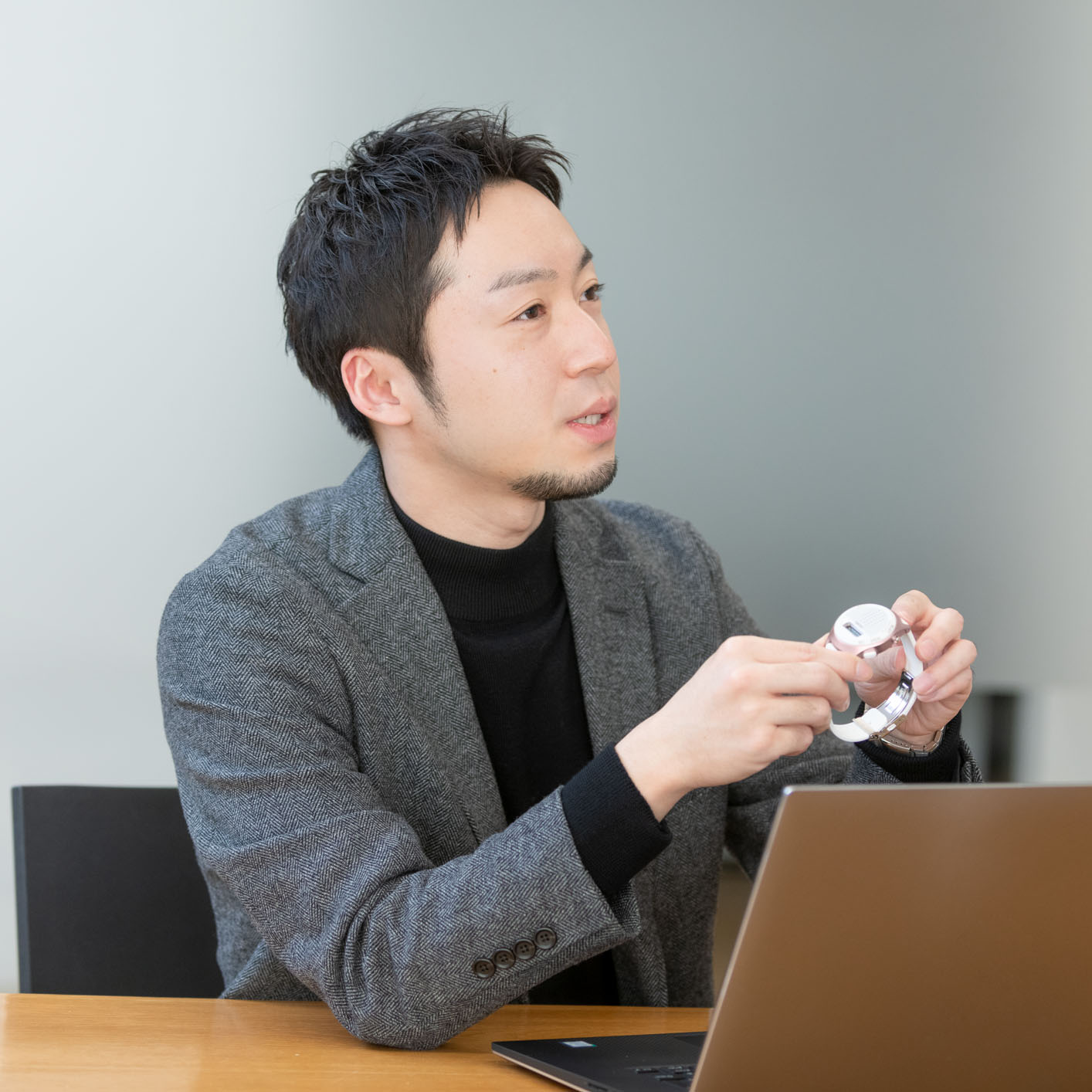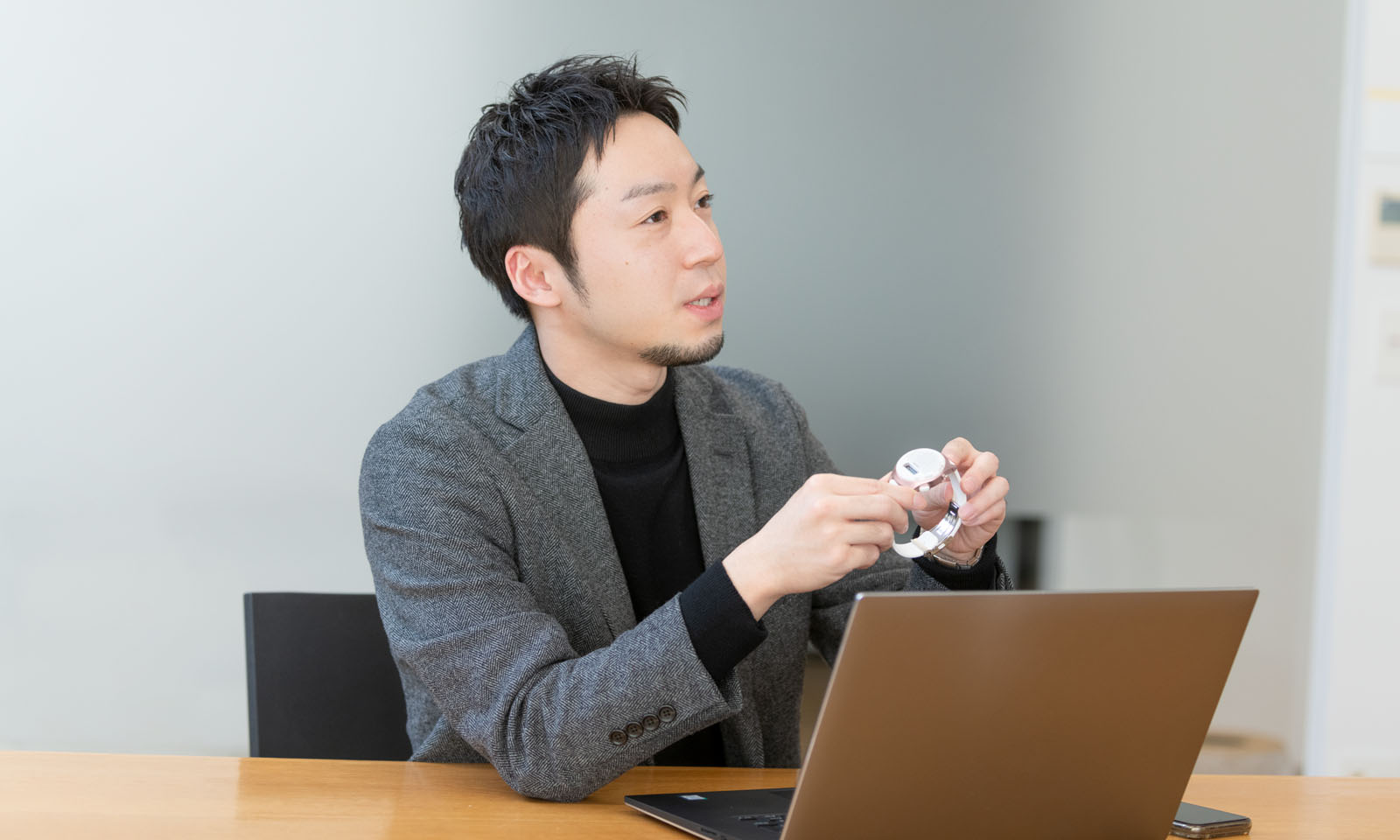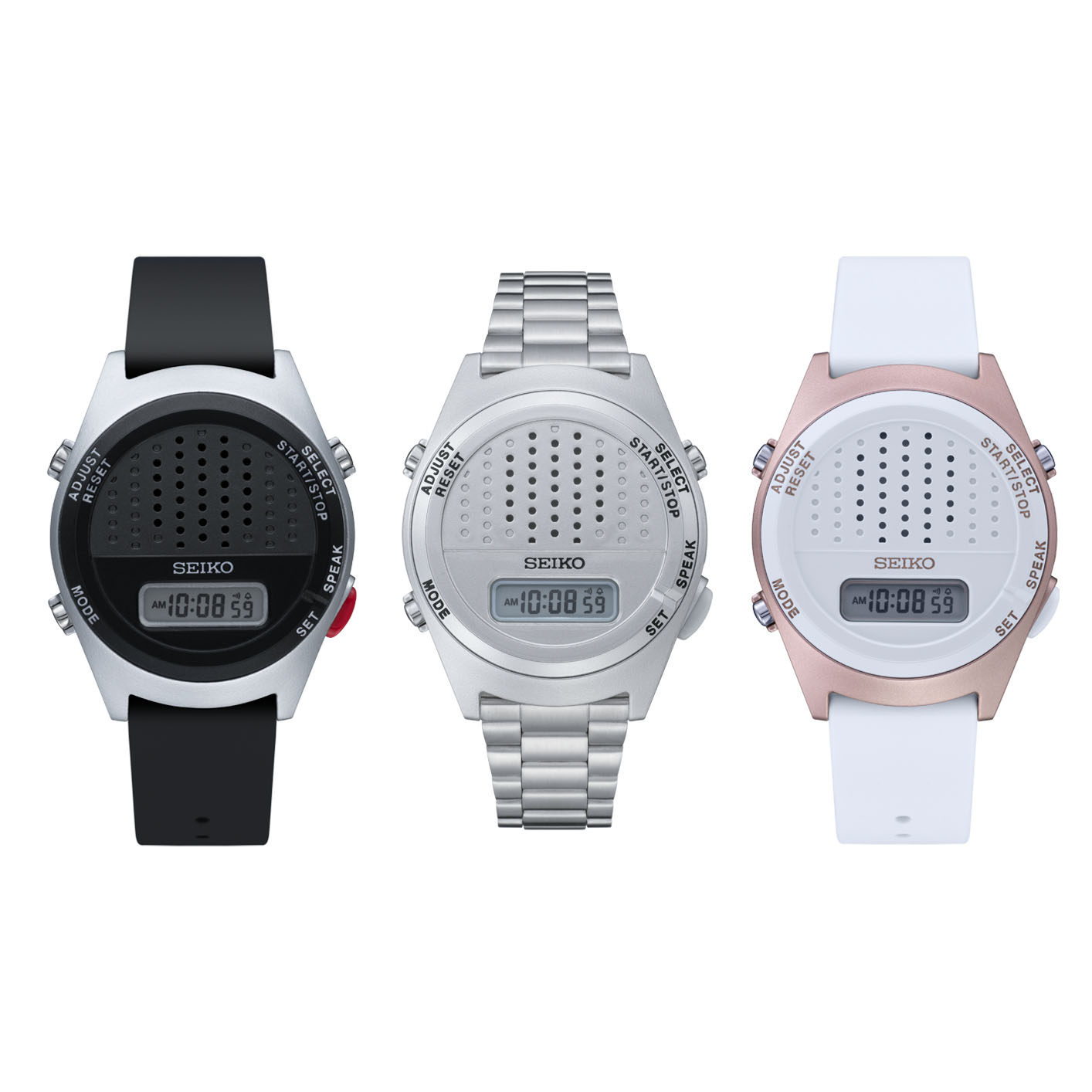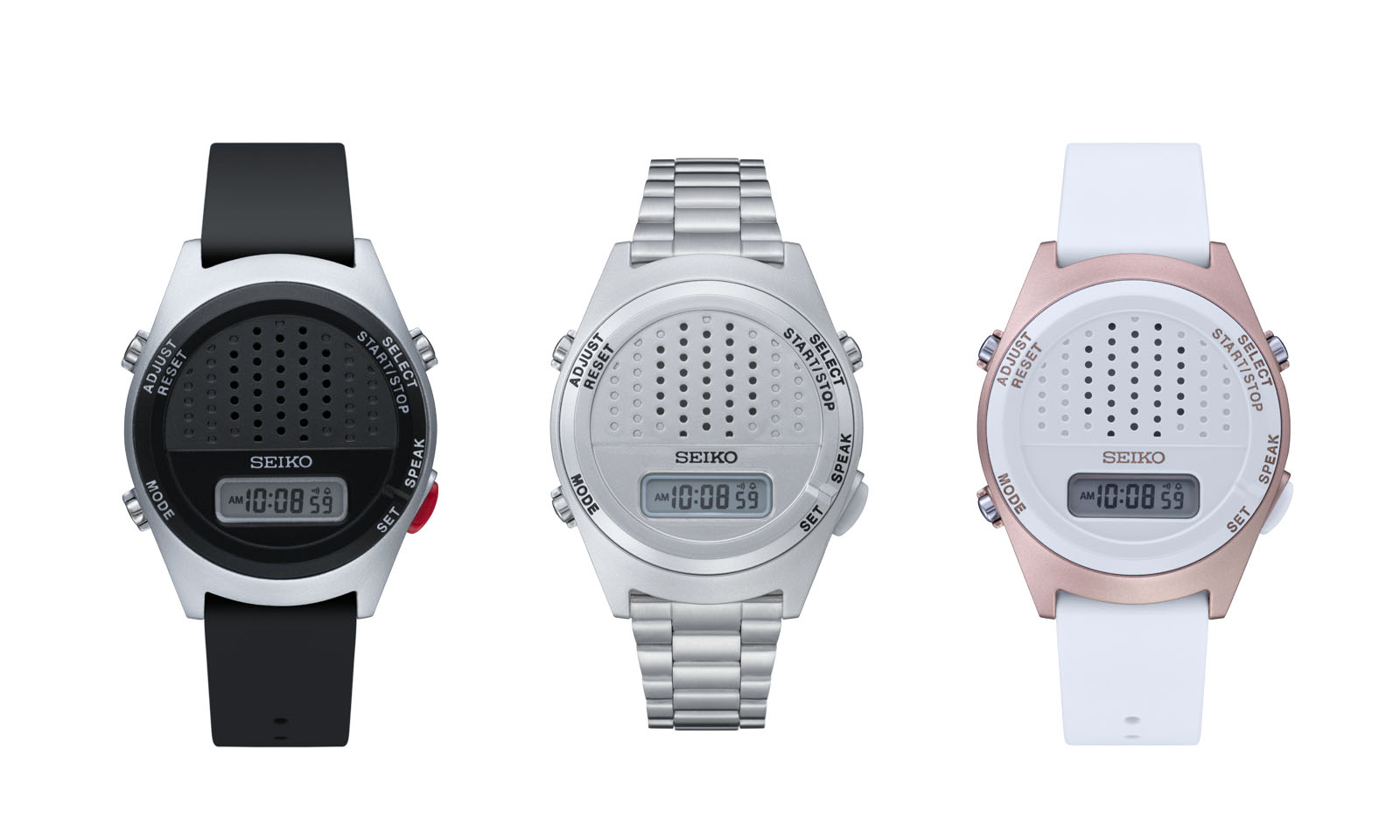 Takada: I understand. The more functions a watch has, the more complicated it becomes to use. However, changing the volume would be useful to address individual differences, and I thought it would be great for situations where it would be awkward to make a loud noise. Also, this model is very comfortable to wear. It is very easy to put on and take off, and I found it easy to use.
Matsue: In interviews during the development stage, we learned that there is a demand for digital talking watches among people who enjoy sports such as blind marathons and walking, so, for the first time, we have adopted a silicon strap suitable for sports as one of the options. We've used a clasp rather than a buckle, not only for ease of putting on and taking off the watch, but also for preventing it from falling off the wrist unexpectedly. From your point of view as an active athlete, how did you feel about this feature?
Takada: My specialty is the 100m and long jump, so I don't use watches during competitions, but when I move around according to the competition schedule, it's reassuring to have a watch I can quickly put on and use to check the time even without a coach or chaperone.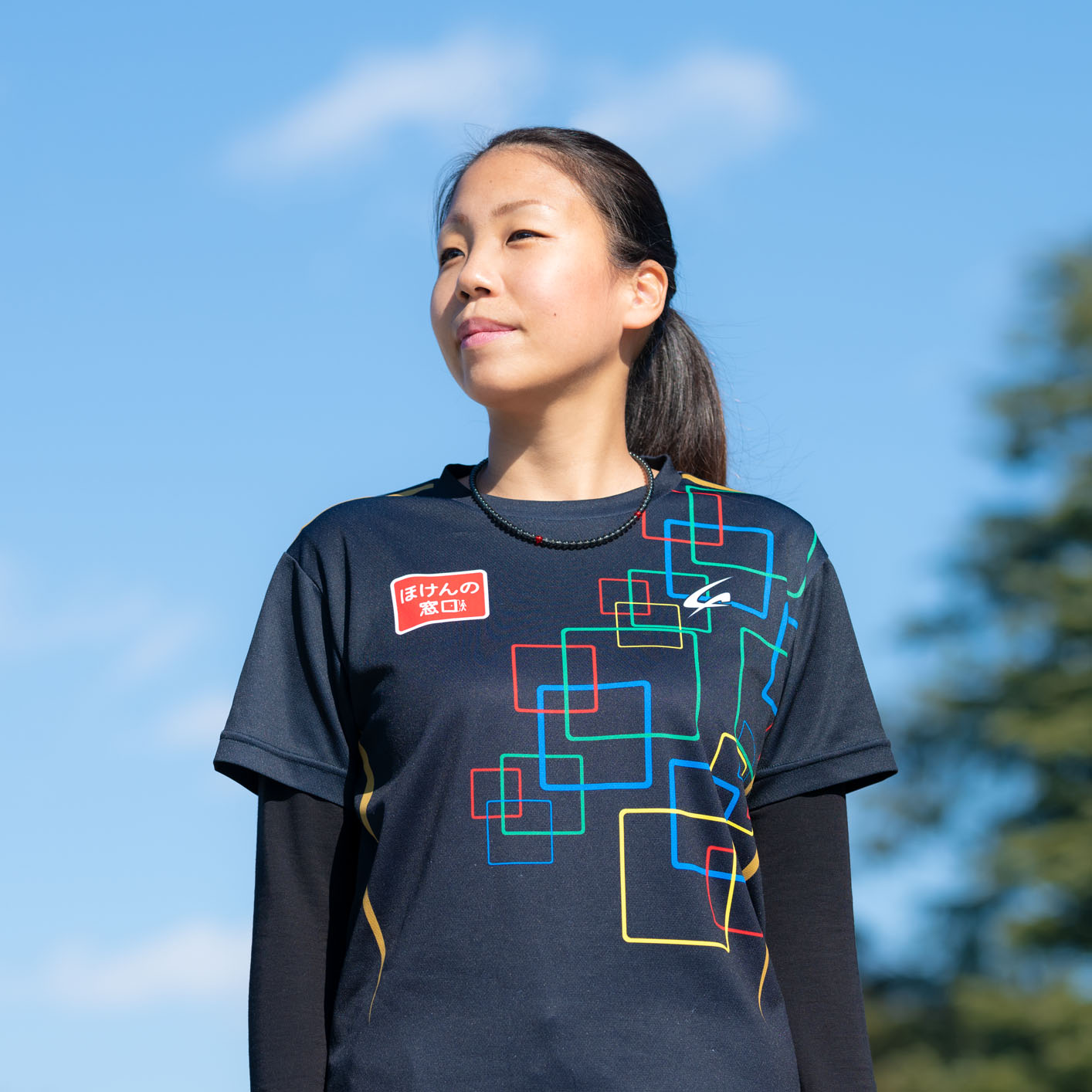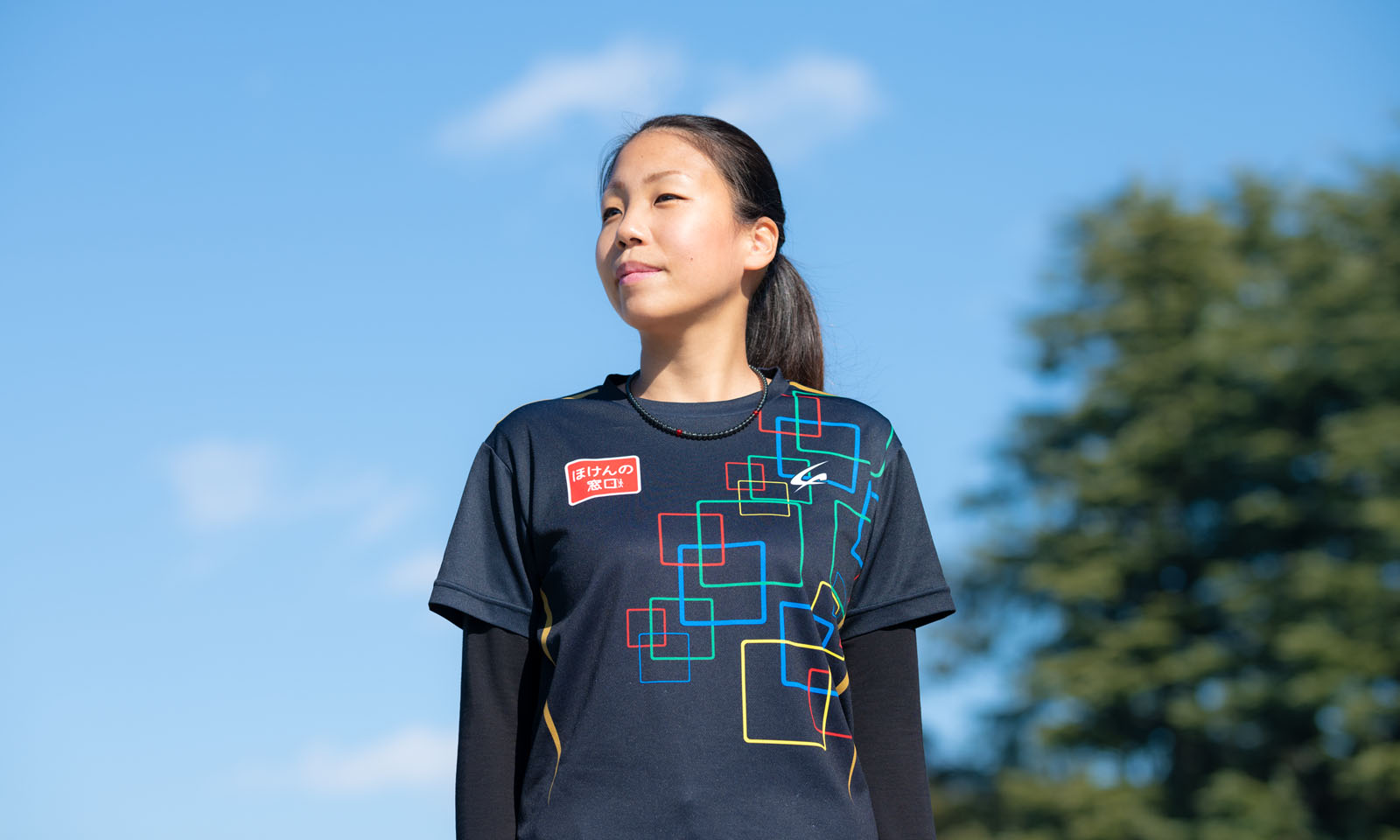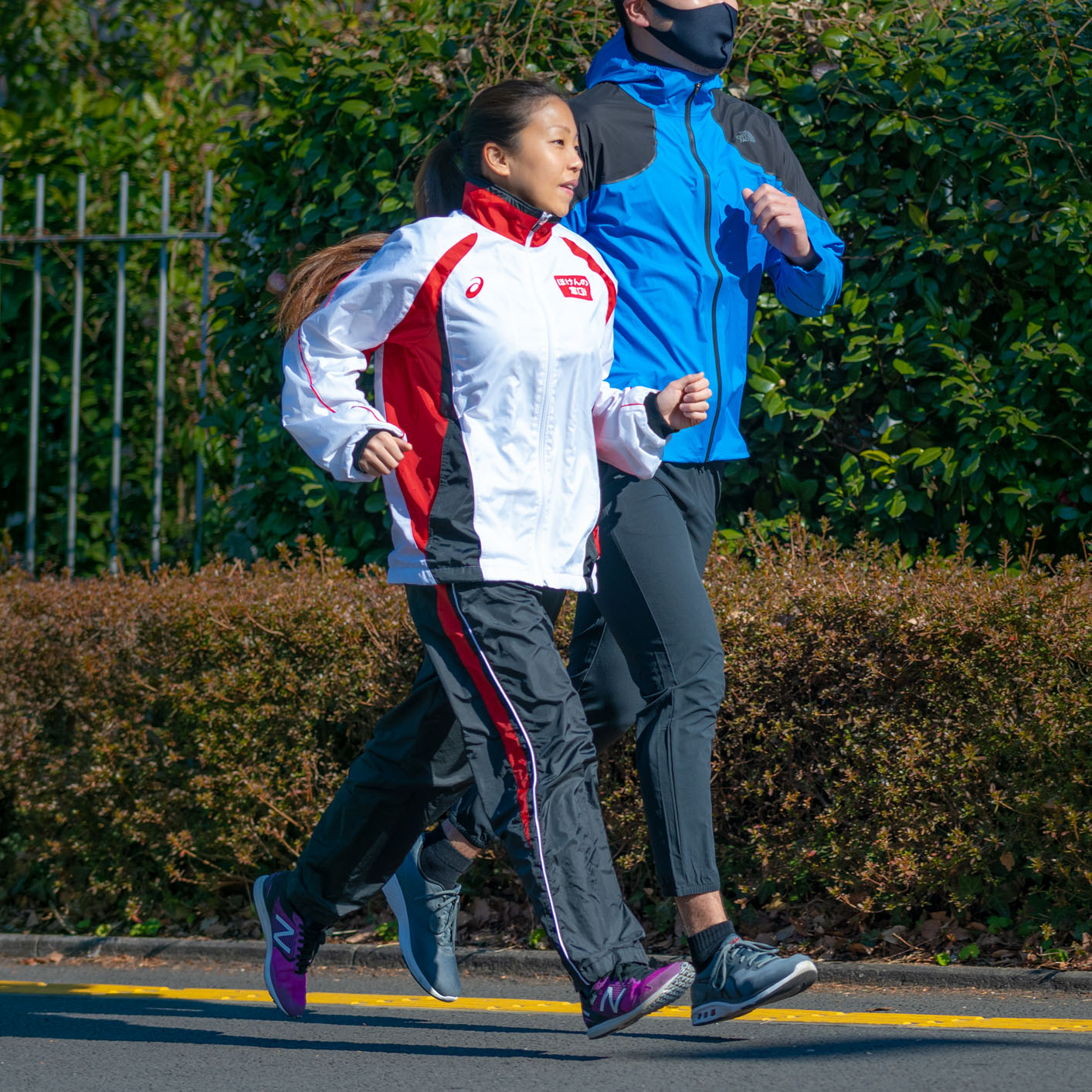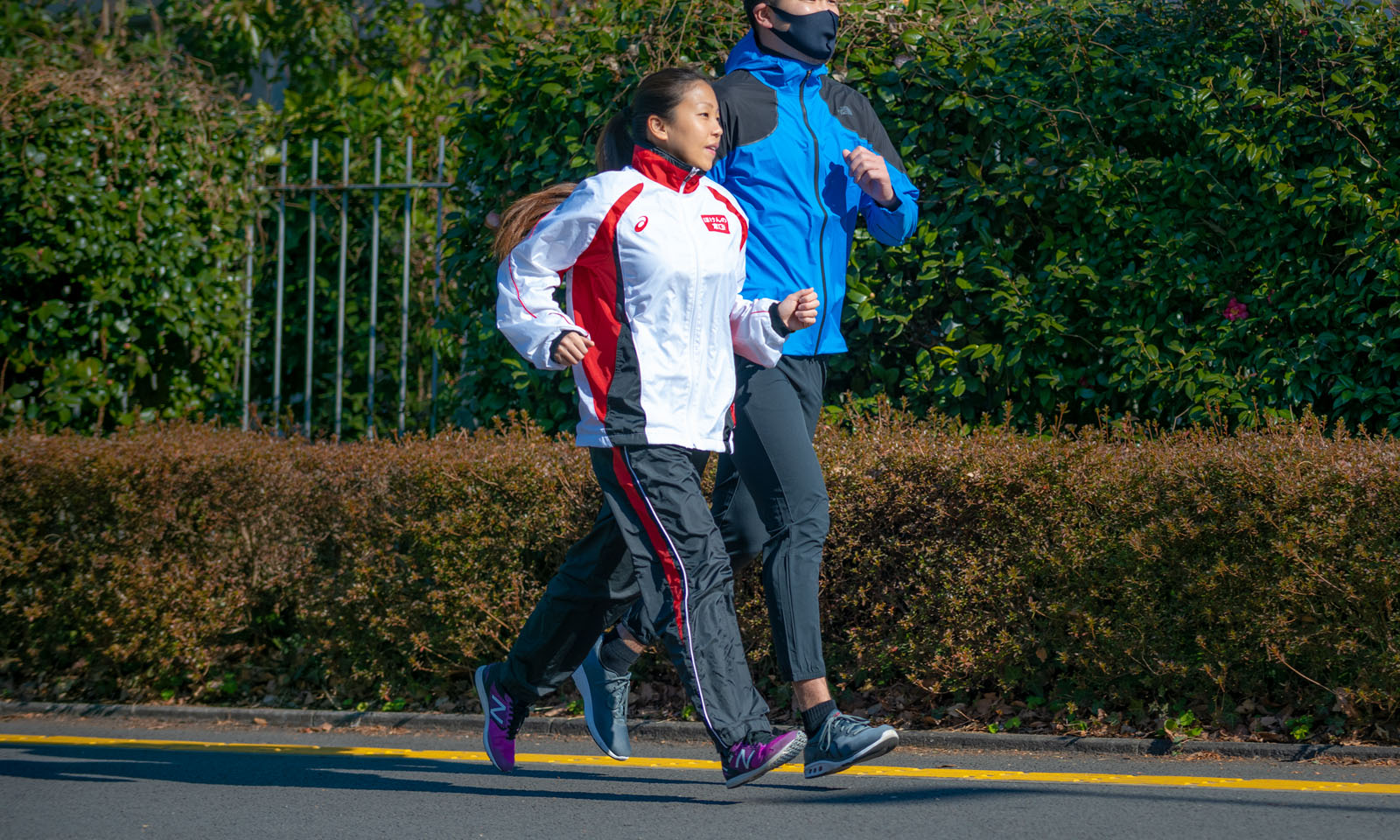 Matsue: After conducting interviews, we decided that in order to make the digital talking watch accessible to people of all ages and to give them more choices, we would use a pink gold case and a white silicone strap. The tactile watch that Hasegawa-san designed is also available in a variety of colors to meet the needs of customers.
A tactile watch design that makes you feel great when wearing it.
Hasegawa: During the pre-development interviews, we received several comments from people saying they would like to wear the same watch that sighted women wear. So, in addition to the conventional stainless steel bracelet, we designed a leather strap in a shade of red called Bordeaux. The dial color is also pink, which was highly requested.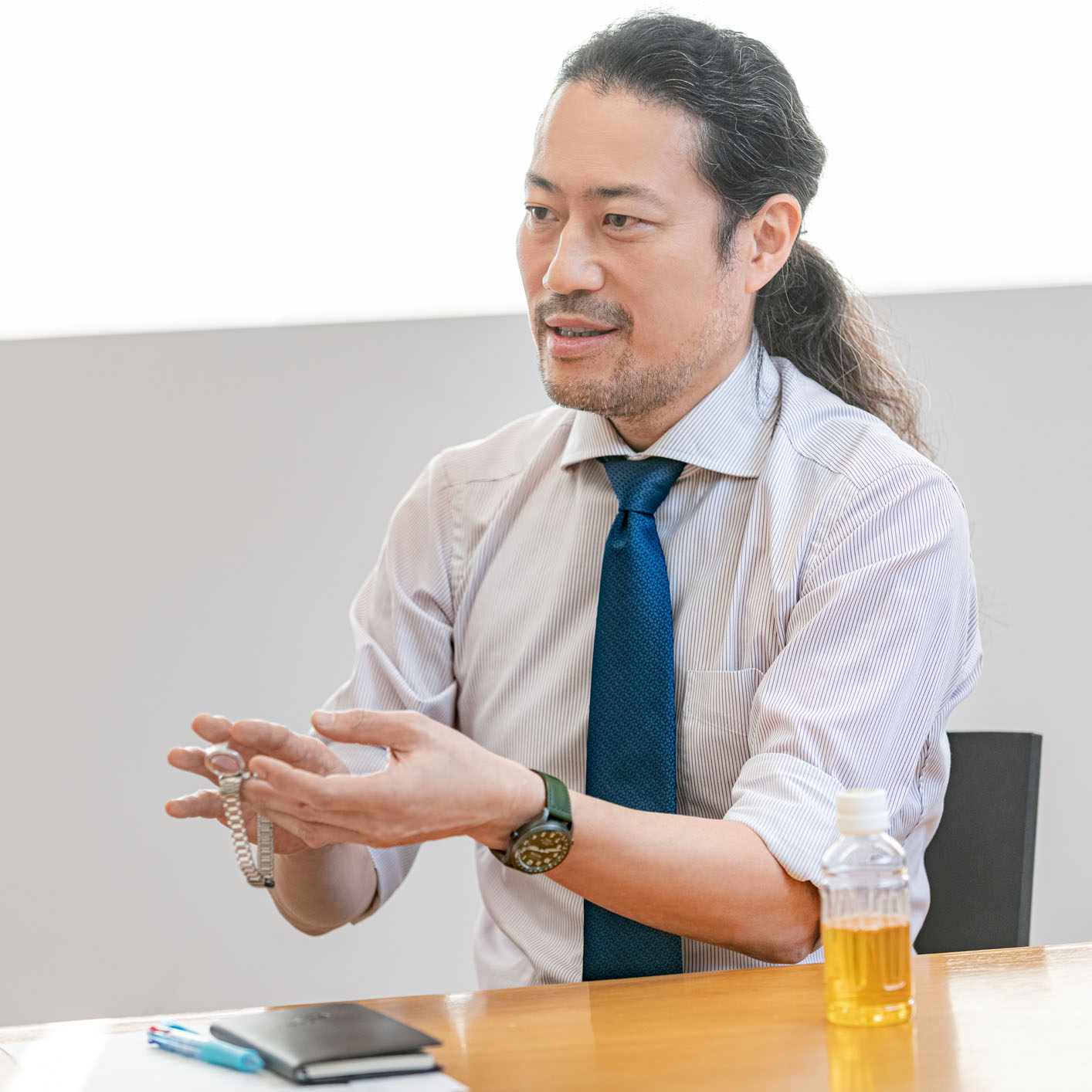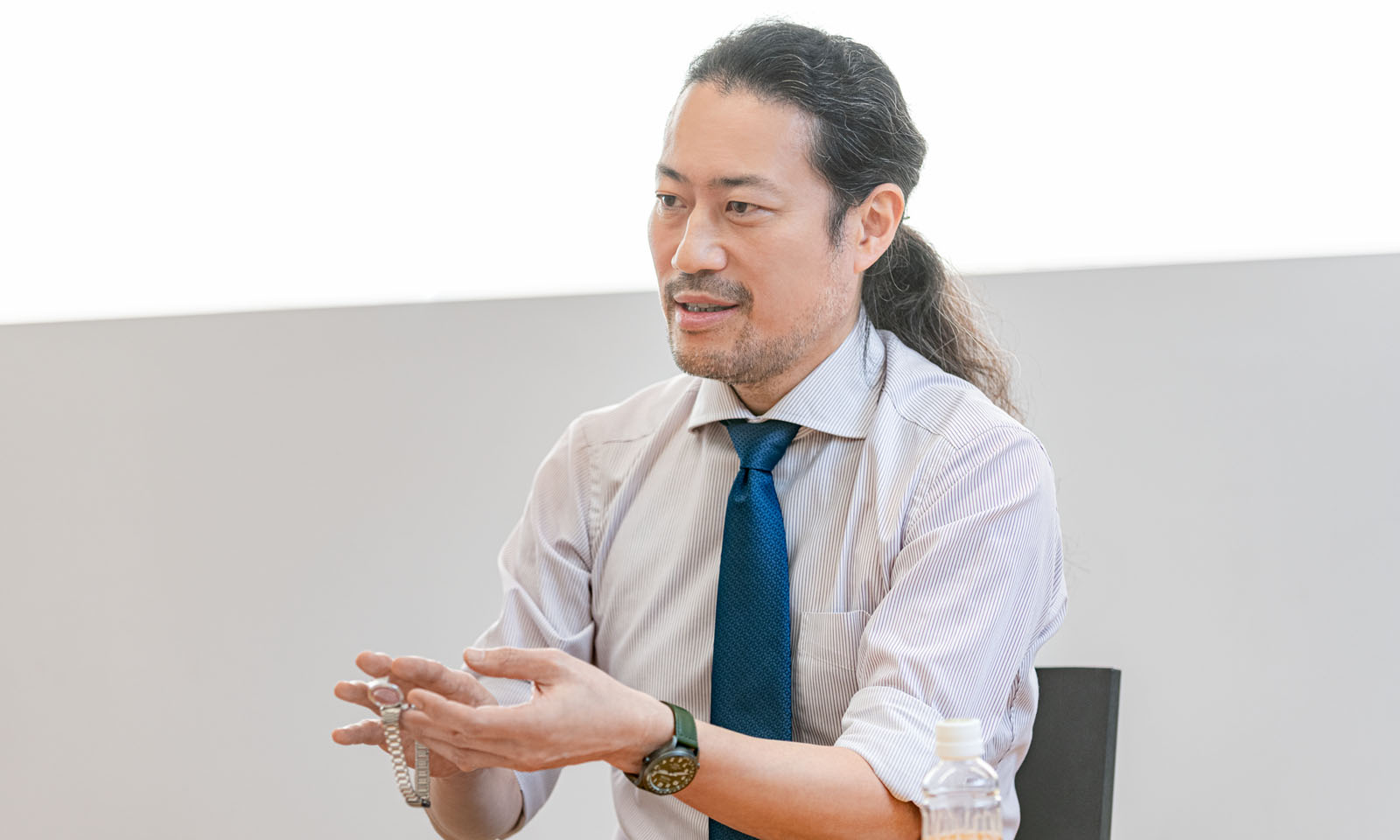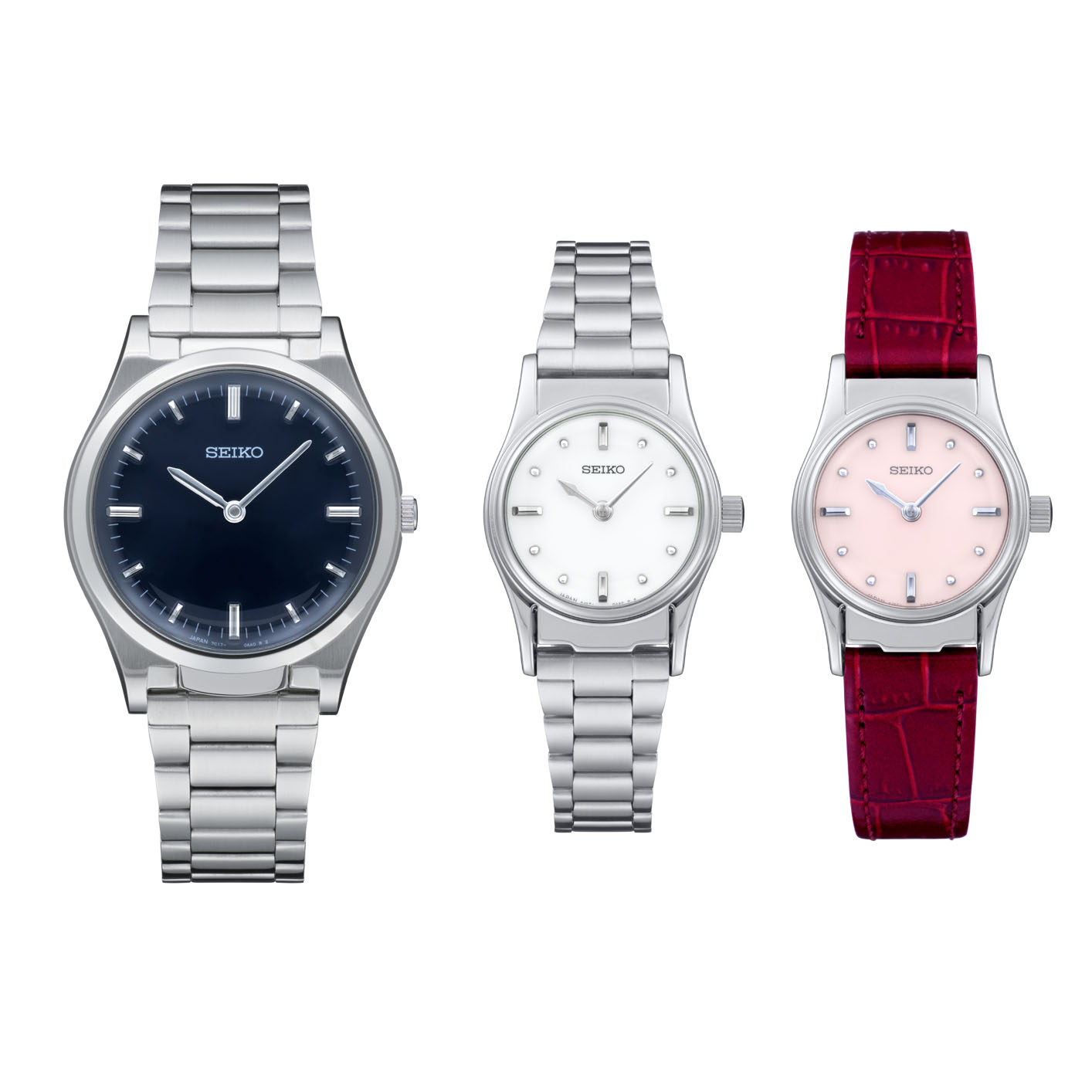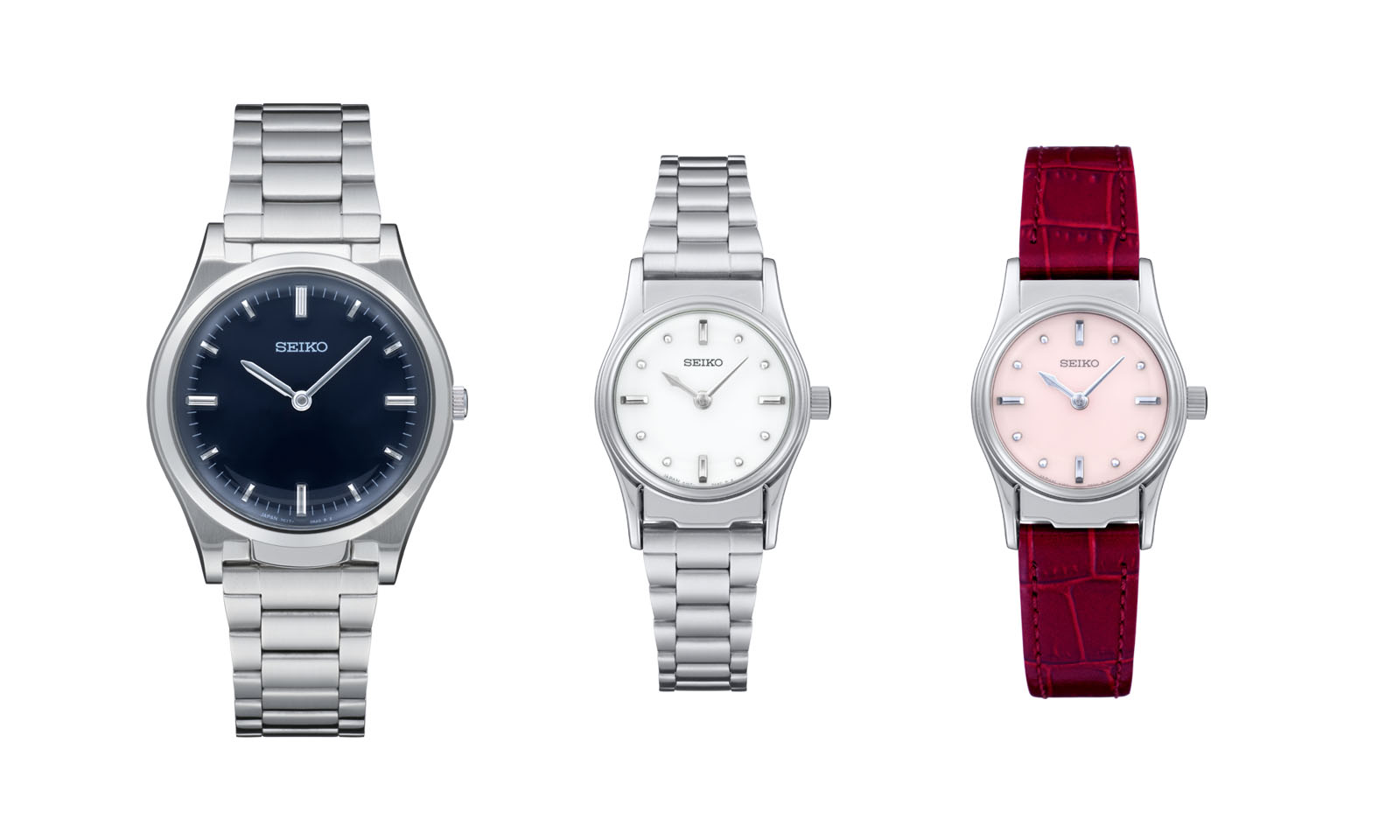 Takada: I like this one! I thought the colors were very pretty! The leather is red, and the dial is pink, right? Since I'm blind, I can only imagine what kind of red and pink it is after hearing the explanation, but I'm glad that I can use different watches for different situations. For example, I can match it with my personal clothes, or I can use the bracelet one when I dress formally!
Hasegawa: The Bordeaux red strap can be a highlight of fashion, and because the material is leather, it is easy to use on a daily basis.
Takada: That's really true. I'm very happy that it has a leather strap, because I had always imagined that tactile watches have metal bracelets. To be honest, the conventional barrier-free watches were not all that fashionable. Wearing a color you like makes you feel good. I'd be proud of it and say, "I'm wearing this! Isn't it nice!"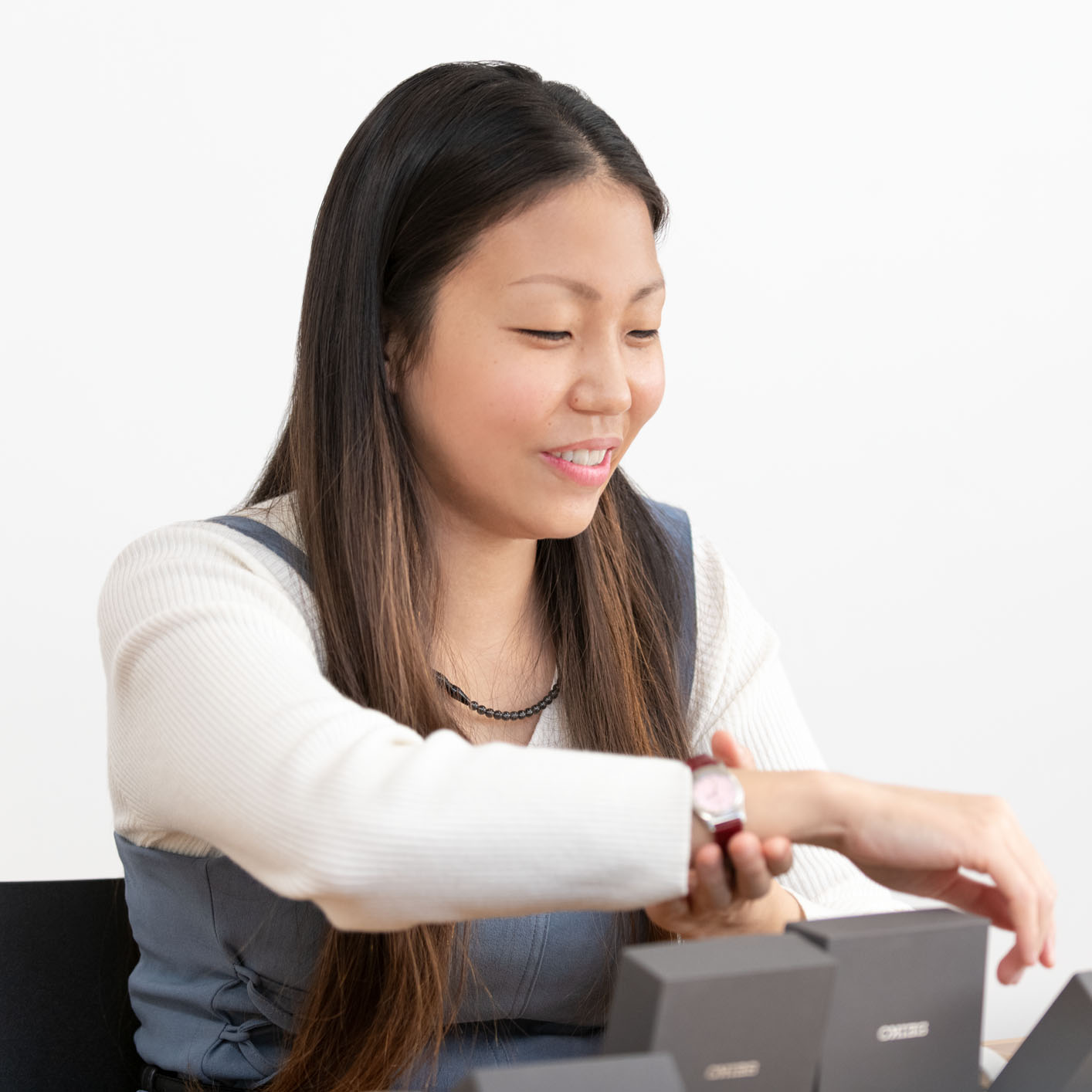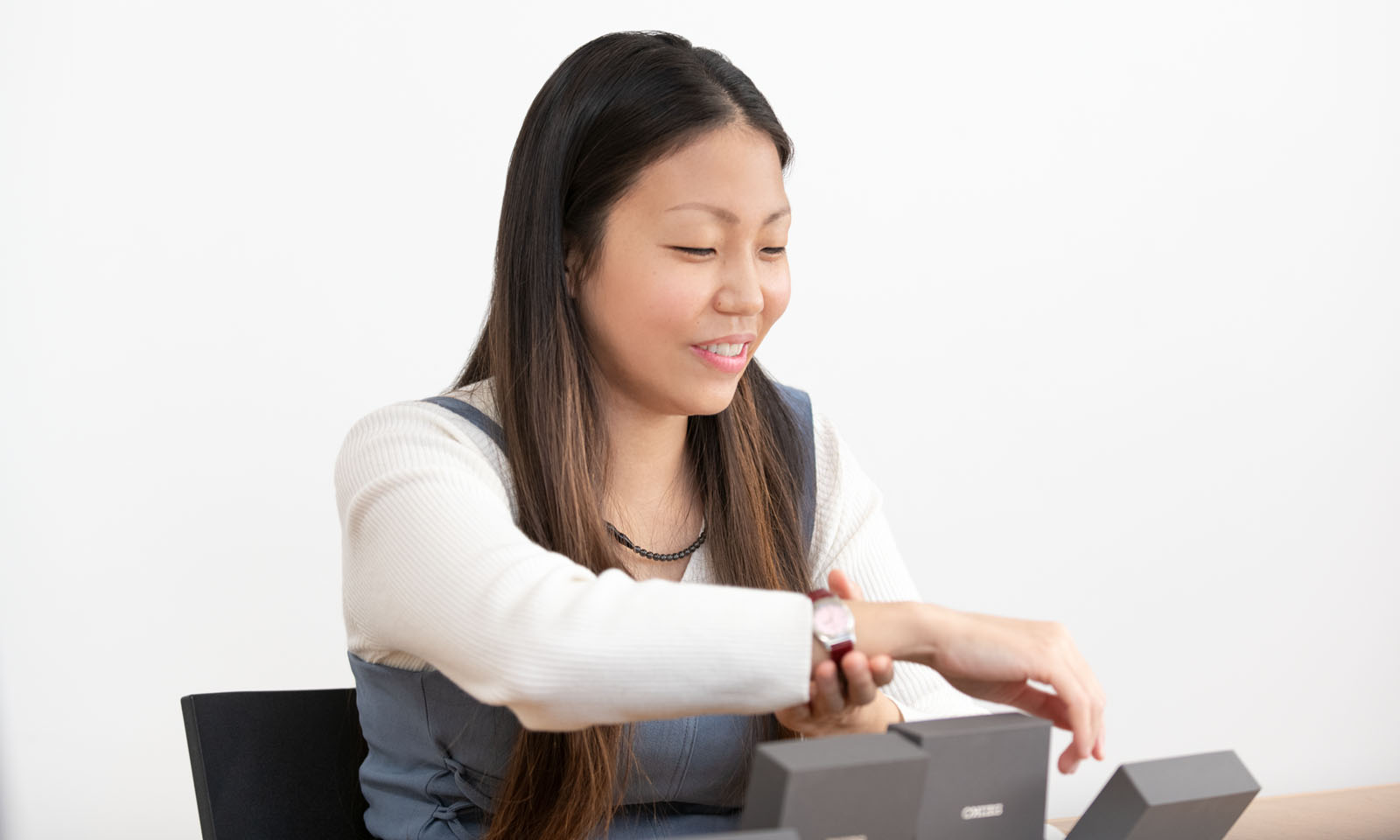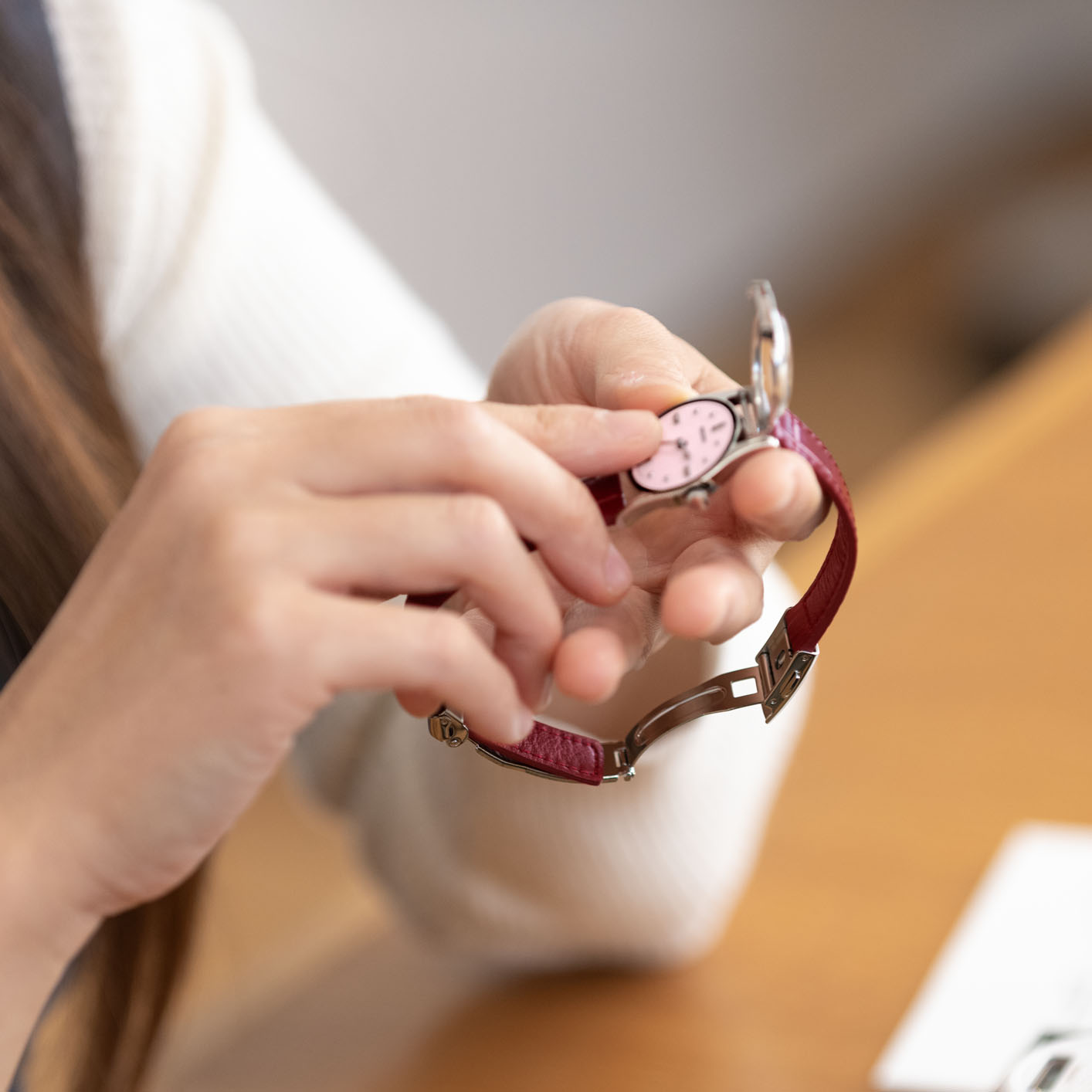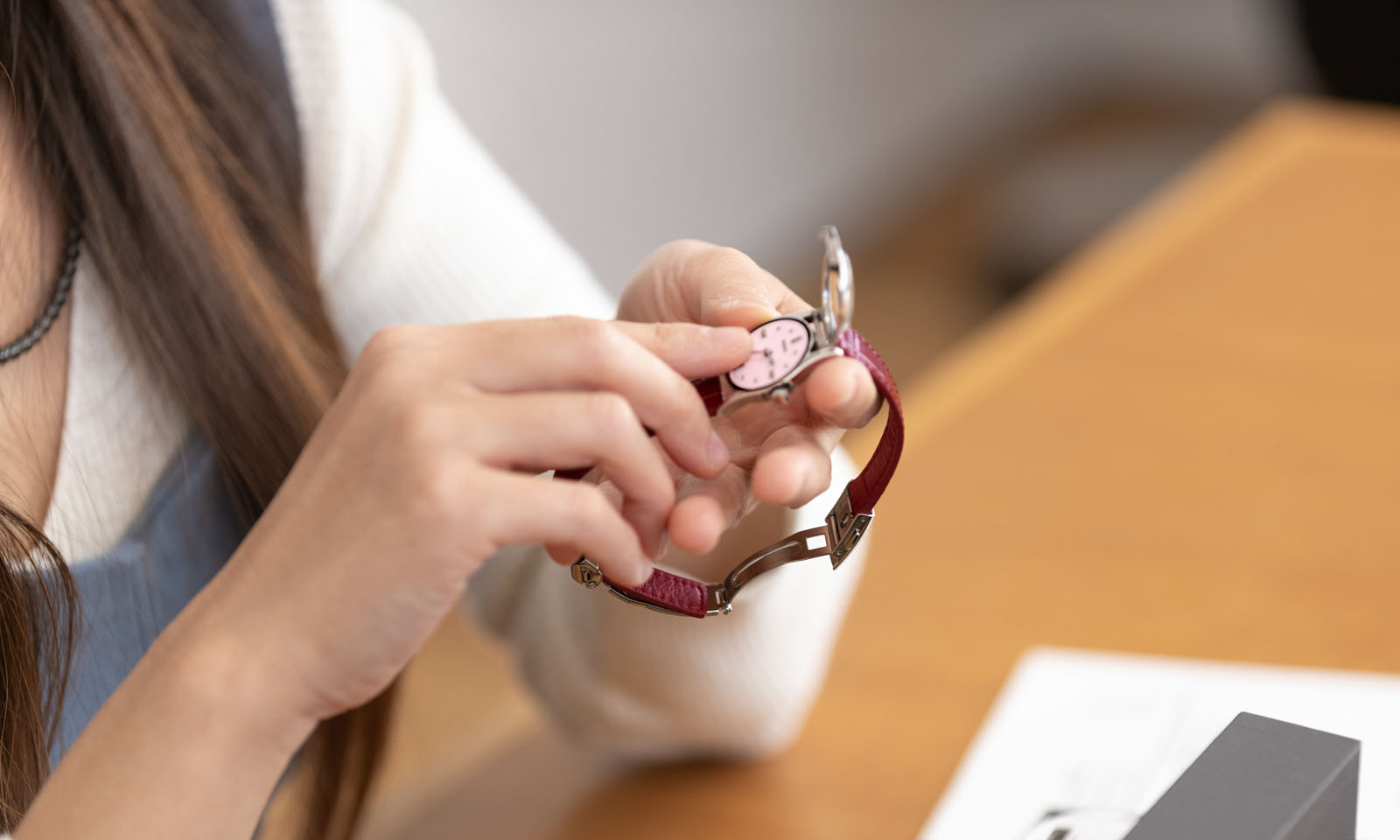 Hasegawa: Thank you very much. I hope you will show off the watch. By the way, how often do you use a tactile watch?
Takada: To tell the truth, I don't use the tactile watch very often, and usually use my smartphone's voice reading function to check the time, but I think the tactile watch is very useful in situations where you don't want to make a noise, such as during a discussion like we are having right now. I'm also a speaker, so it's nice to be able to casually check the time without worrying about being seen.
Hasegawa: Yes, that's right. I also heard that one of the issues with tactile watches is that if users are not used to them, they may cause the watch hands to shift as they touch them and so they lose track of time as a result.
Takada: As blind people, we have a better sense of touch than most people, but we still need to get used to a tool before we can use it well. So it would be nice if the watch hands don't slip out of place so easily.
In pursuit of a more ideal barrier-free watch.
Takada: I have a simple question. Is it difficult to make a talking watch with a dial and hands just like an analog watch, instead of a digital display?
Matsue: If we were to put the functions of talking watch and analog watch together, it would make the operation more complicated, so we currently divide them according to their purposes. The more functions you have, the more you need to learn how to operate it, so we have tried to keep the design as simple as possible so that people of all ages can pick it up.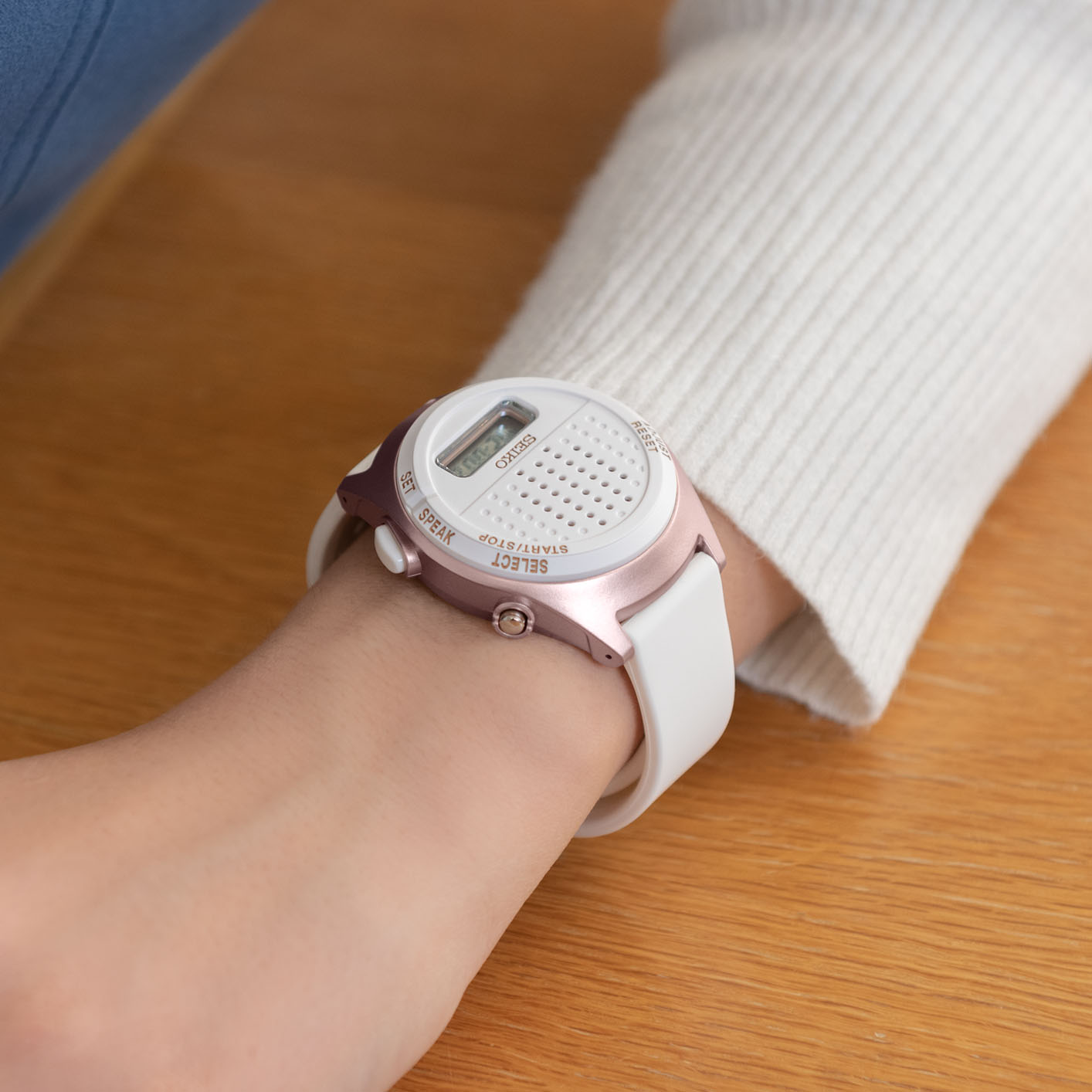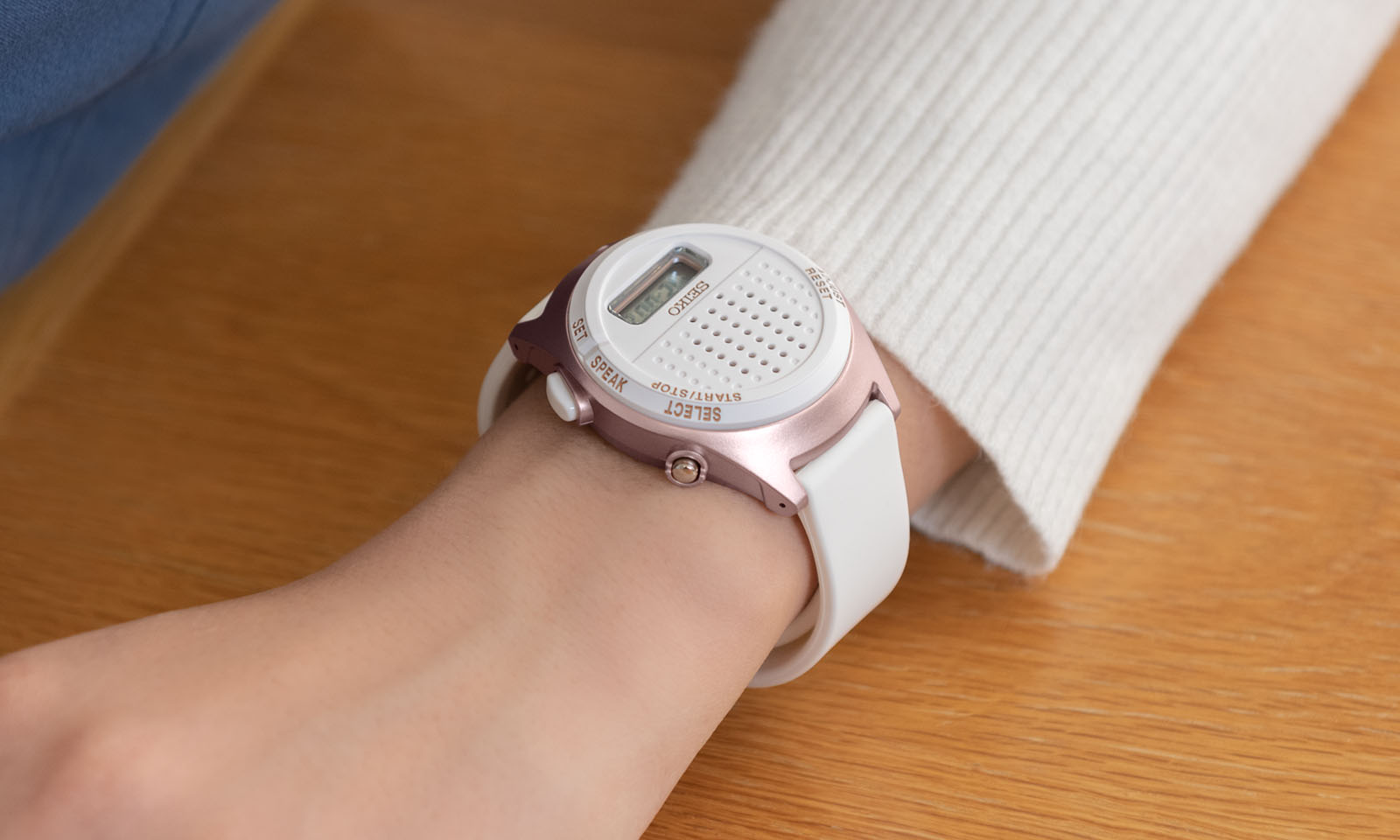 Takada: I see. I think this digital talking watch has a digital time display, but sometimes I have to ask people around me to check the time, so I think an analog version would be more convenient for them to check at a glance.
Matsue: I see. So there are situations like that. I will use this advice as a reference for future watch development.
Takada: Also, I had the impression that digital talking watches were not really normal looking watches. I want to wear something that looks like a normal watch, so I thought that an analog watch with talking function would make me want to use it more!
Hasegawa: Hearing this from you makes me feel that barrier-free watches still have a lot of potential. For this renewal, we designed the watches by conducting interviews with various people based on the idea of "inclusive design," but we have not yet been able to cover all the needs of all customers.
Takada: The term "visually impaired" can be used to describe various degrees of visual impairment. I was still able to see until I was 20 years old, and then I became totally blind. But some people are completely blind from birth, while others have low vision and are not totally blind, so there are many different types of visual impairment. So, naturally, what is considered "easy to use" will vary from person to person. Today, I've said a lot of things just based on my personal opinion.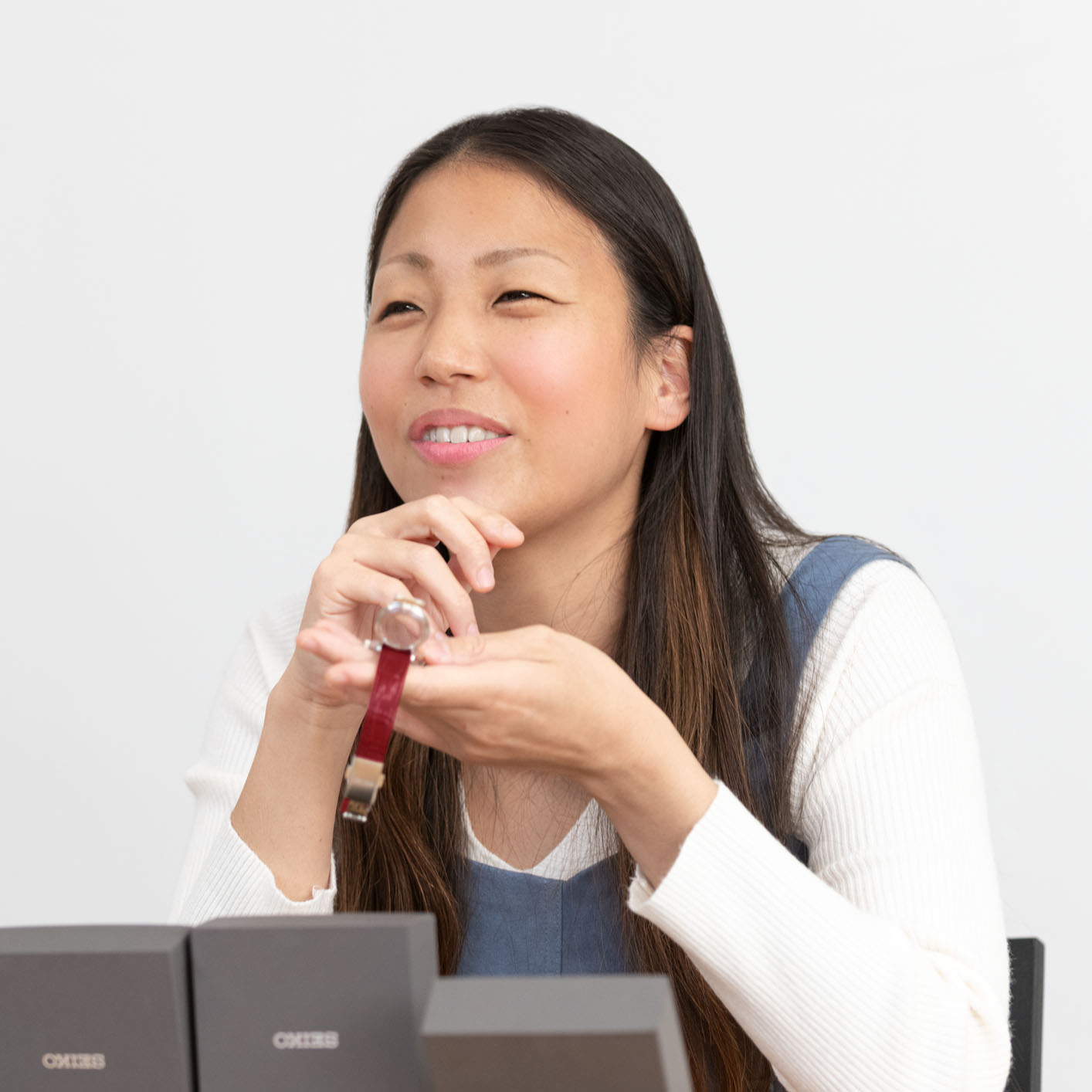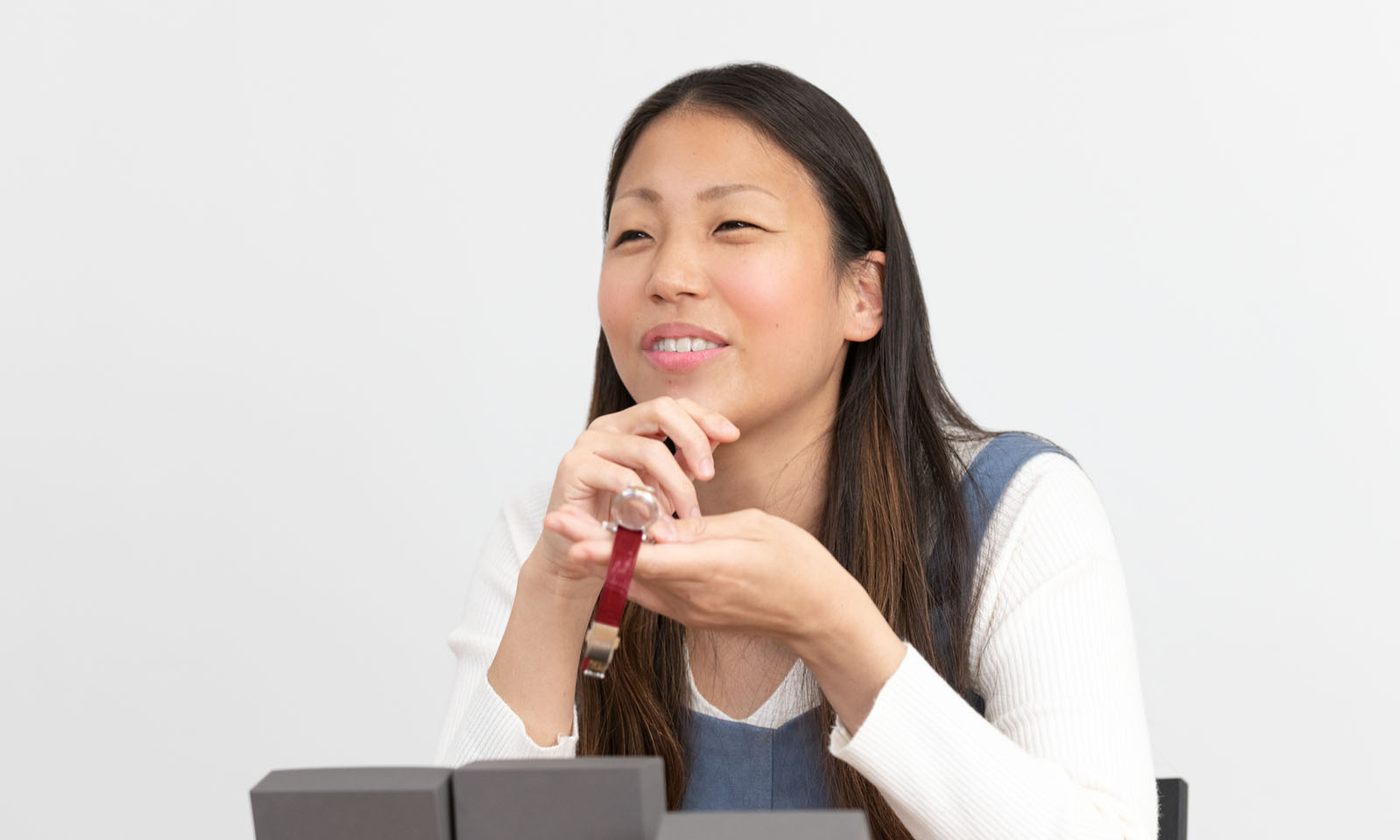 Hasegawa: No, I am grateful for all these helpful comments. As you said, there are still many issues to be addressed, as there are still few variations of barrier-free watches available, so the range of options is limited.
Takada: However, greater range of color options is very significant. Since we can't see, we tend to choose safe colors for our clothes so that we don't mess up the coordination. But a watch is a key element of fashion, and if people can choose their favorite colors, I think more people will want to wear them.
Hasegawa: By the way, what color do you like, Takada-san?
Takada: Hmm, I'm not sure…. But right now, I'd probably go for gold, the medal I want to win in competition! If my watch is gold, to me it would be gorgeous.
Matsue: A watch colored like a gold medal; that would be nice! We are very grateful that we have already received responses from many customers for these renewed models. We also received the Minister of State's Excellence Award at the Awards for the Promotion of Barrier-Free and Universal Design. With this inspiration, I want to continue to explore the ideal form of a barrier-free watch. Thank you very much for your time today, Takada-san!
Takada: Thank you very much!
* This dialogue was conducted with due consideration for personal safety amid the COVID-19 pandemic, including the wearing of masks except during photography, maintaining a safe distance between the participants, and ventilating the room.